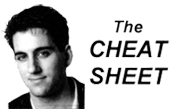 by Flip Michaels
Light speed! Ridiculous speed! Ludicrous speed!
My 14,400 bps modem was making me cry. It was slow. I wanted something new, something big, something with fins, something I could use to travel across the planet in a second, to meet obsessive Jesus-loving radio perfectionists and rabid ALF fans. You see, I suffered from hardware impotence (yes, I have seen the Computerologist since). My remedy...move over to an Internet service provider and ISDN access! Best thing that ever happened to me. Worst thing that ever happened to my waistline. Surfing has become even quicker for me since I "graduated" from that Internet on training wheels (otherwise known as CompuServe, AOL, etc.). Now, checking out the latest radio station sites is just a quick click away!
Ted Young's MIT list soon became a famous bookmark in my version of Netscape. Ted Young, of WBMR radio at MIT is well past the 500 mark in his de-facto master list of stations with a web presence. It should not be missed. You'll find it at: http://wmbrmit.edu/stations/list.html.
Another mighty page of radio links comes from Tim Lux at WOOD-AM radio in Grand Rapids, Michigan. It includes a cool guest book page, allowing you to sign in and view an impressive list of previous visitor sign-ins...http://www.woodradio.com.
European radio buffs can mouse on over to "Algonet," a page with TV/radio links from over nineteen countries. Check out national and local broadcasters, stations and networks, news and other broadcasting resources at http://www.alonet.se/~nikos/broadeuro.html.
The last of this month's hotlinks comes from a San Francisco consultant firm. BRS Radio Consultants' claim to fame is that they are the home of "the most comprehensive directory of radio stations on the Web. We're the Internet's first choice for radio!" The BRS Station Directory is a very nice hyperlink resource of stations including frequency, power, format and impressive antique radio graphics: http:// www.brsradio .com/stations/index.shtml.
A shock wave in Des Moines?
Production Director "Skyy" of Louisiana's KKDM, 107dot5 gave my little world a shake after suggesting I check out a "Shockwave link" on his station's homepage. This is a MUST pit stop. http://www.kkdm.com/
Death by Telecommuting From Your Jacuzzi:
Did the title get your attention? Good, 'cause that's not what it's about!
Roland DM-800 users: Have you been looking for an easier way to cut the pre-roll silence out of each of your recordings? Roland Pro Audio Tech Support says to use the Sound Search Threshold function to remove the silence at the beginning and/or end of a phrase. To trim the silence from the start of the phrase, just pick what you want to edit and select "Trim in." To automatically trim silence, push the up arrow key (this will activate the sound threshold search). After a second or so, push "Execute." Voila! As you read this, you might be thinking "Hey, I didn't know Flip uses a DM-800 at WAVA." I don't. But did Orville Wright have a pilot's license?! Seeyagottagobye.
♦