EQUIPMENT NEWS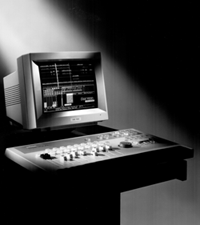 ORBAN recently unveiled a powerful digital effects upgrade for its RAM-based, 8-track DSE-7000 digital audio workstation. The upgrade package includes a replacement DSP board with 24-bit internal processing and new version 6.0 software. Available effects types, each with presets specifically tailored for broadcast applications, include Orban parametric equalization, Optimod compression, digital delay, and Lexicon digital reverberation. The effects upgrade will be standard on all new DSEs, and there will be no increase in the DSE's list price. The upgrade package may be retrofitted into existing DSE units, and the complete hardware/software upgrade will be provided at no cost to those customers who purchased a new DSE 7000 after January 1, 1996. New version 6.0 software will be shipped free to all users regardless of the unit's age or previous ownership, although the DSP hardware upgrade (available at nominal cost) is required to realize the software's full potential. For more info, contact Amy Huson at Orban at 510/351-3500, fax 510/351-0500.
ENCO SYSTEMS has changed the name of their popular audio delivery system from DAD486x to DADPRO to reflect their expanded support of the latest Pentium/PCI computer hardware. 800/362-6797, fax 810/476-5712.
Popular music sequencing programs are starting to include digital recording/editing capabilities. VOYETRA TECHNOLOGY's Digital Orchestrator Plus features typical cut and paste editing, multiple sample rates, digital effects and more. Amount of tracks dependent upon computer hardware. Only $159. 914/966-0600, fax 914/966-1102.
In the same vein, CAKEWALK MUSIC SOFTWARE releases Cakewalk Pro Audio ($399) which also adds digital audio recording to the MIDI sequencing program. The Windows based program features cut and paste editing, variable sampling rates, audio scrubbing, EQ, and more. Current users can upgrade for $99. 800/234-1171, fax 617/924-6657.
TASCAM has two new MiniDisc units. The MD-801R is the record/playback unit, and the MD801P is a playback only version. One nice feature of the unit is the ability to record in mono, making it possible to double the recording time on a MiniDisc from 74 to 148 minutes. Includes a jog function and both analog and digital I/O. Look for a Test Drive soon! 213/726-0303, fax 213/727-7635.
YAMAHA has an interesting little box in the SU10. It's a small, portable stereo sampler that will store up to 48 stereo samples with variable sampling rates. Up to four "songs" can be stored in the unit to play the samples. A touch-driven "ribbon controller" enables special effects such as "scratching," filter effects and more. 714/522-9011, fax 714/739-2680.
ALESIS unveils the NanoVerb, a low cost, 1/3 rack space digital effects box. For just $179 you sixteen effects including several types of reverb, delays, flange, chorus and a few multi-effects. Front panel controls include a selector switch and input, output, mix, and parameter adjust knobs. 310/558-4530, fax 310/836-9192.
TRACER TECHNOLOGIES has announced the availability of DART Pro (Digital Audio Reconstruction Technology). The original DART software was designed to remove clicks, pops and surface noise from any Windows Wave file. DART Pro builds on this by adding DENoise, DEHiss, and updated Wave manager and a spectrum analyzer. $399 or $49 to upgrade from original DART. 717/843-5833, fax 717/843-2264.
SONY has a couple of new tapes for digital recorders. The DARS-116 is a metal evaporated 8mm tape for the DTRS format and the DASV-40 is for S-VHS format recorders.
The new dbx 1046 Quad Compressor is a 4-channel compressor that can be operated as two stereo compressors or four mono compressors. Ideal for studios with several mikes. 801/568-7660, fax 801/568-7662.
SOUNDSCAPE DIGITAL TECHNOLOGY announces Version 1.7 software for their SSHDR1 disk-based multitrack workstation and two plug-in modules for additional effects: the Reverb/Delay module and Pitch Shift/Sample Rate Conversion module. 805/495-7375, fax 805/379-2648.
SOUNDCRAFT introduces a new, low cost, 8-buss console. The Ghost features 24 channels with 4-band parametric EQ, two of which can be switched to a "B" mix. There are six mono and two stereo sends and four stereo returns. A remote control panel enables remote control of various outboard recorders and even includes a scrub wheel. Prices start at under $4,000. 818/227-1800, fax 818/884-2974.
SFX/MUSIC LIBRARY NEWS
NETWORK MUSIC, INC. announces that its music, sound effects, and production elements libraries are now available for sampling live via the Internet. Persons accessing the Network Music home page at www.networkmusic.com can listen to demos by using an application called RealAudio. The program can be downloaded for free and installed on your computer, enabling your system to listen to "streaming audio" from any site using the RealAudio system.
THE MIX
SPOT SELLER PRODUCTIONS introduces The Radio Writer Copywriting System, a new software package designed to streamline your broadcast copy system. The Program incorporates a word processor, 45,000 word thesaurus, spell check, word counter, search engine and more. A built in archive data base keeps track of your work. See the insert in this issue for more information or call toll free 888/702-7768.
Craig Jackman/CHEZ-FM, Ottawa, Ontario announces the creation of Suite 500 Creative Services, a new division of CHEZ-FM, Inc. which will act as an in-house ad agency/production house providing advertising and production services to anyone, whether they're a station client or not. Good luck, gang!
Congrats to Klem Daniels/KidStar Radio in Seattle on their recent 1996 Soundie Award for Best 90-second Station Montage, a collection of station IDs! 206/382-1250, fax 206/624-7956.
Jon Hogan, Creative Director at 92.2XSFM/Magic 828/98.6FM invites you to check out the station's new Web site at www.monster.co.nz.