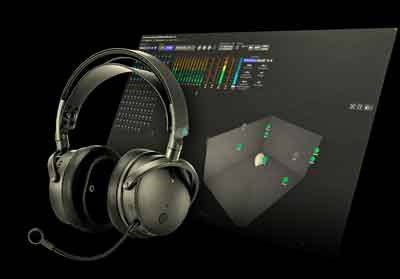 Audeze announced the beta launch of a significant firmware upgrade to its award-winning Maxwell headset - head tracking support - which will be compatible with the Dolby Atmos® Renderer for professional mixing. Utilizing built-in hardware already included in every Maxwell headset, this integration transforms Maxwell into a powerful tool optimized for content creators and audio engineers mixing in Dolby Atmos.
"We plan to use the head tracking capabilities of Maxwell for future collaborations, and expect to foster a growing community of Dolby Atmos creators," said Sankar Thiagasamudram, Audeze CEO and founder.
With virtual and remote collaborations growing amongst the creative community, Audeze's enhanced Maxwell headset is suited to meet the needs of this growing field. In parallel, the creativity community is fully embracing Dolby Atmos, making the Maxwell headset a great tool for creatives looking to break free from the traditional constraints of stereo to deliver unparalleled immersion and clarity in their mixes. All users need to do is open up their latest Dolby Atmos session, connect the Dolby Atmos Renderer application, and plug in the USB dongle or USB cable to create and monitor Dolby Atmos mixes with real-time head tracking, providing a highly immersive preview of their audio creations. It's your studio on-the-go.
Maxwell's new integration for the Dolby Atmos Renderer will offer a streamlined user experience. Users can create and monitor Dolby Atmos mixes with real-time head tracking, providing a highly immersive preview of their mix.
Head tracking follows the orientation of your head and allows you to interact with the virtual room in real-time when monitoring binaurally with headphones. It creates a more lifelike experience that mimics the studio environment with speakers. This can lead to greater accuracy when placing objects in the three-dimensional space. Additionally, because it approximates the mix room, you may find that you can spend more time comfortably mixing on headphones, especially for those occasions when you're traveling or otherwise away from the studio.
Dolby Atmos is an innovative audio experience that envelops you in an immersive soundscape. While music mixed in stereo is limited to left and right channels, music mixed in Dolby Atmos is freed from channels, allowing artists to now place individual sounds all around you. They can also decide the volume, size, and diffusion level of each vocal, guitar, or drum to reveal nuanced details in the music. Artists can now deliver music in Dolby Atmos through several leading streaming services and the most popular devices for streaming music, including mobile, smart speakers, and even auto.
For more information on Audeze, visit our website at www.audeze.com.