Two of radio's most unique creative forces, Splat! Radio Imaging and Sound Freqz Sound Design, have announced the launch of a new co-branded project - Splat!Freqz Audio Production FX.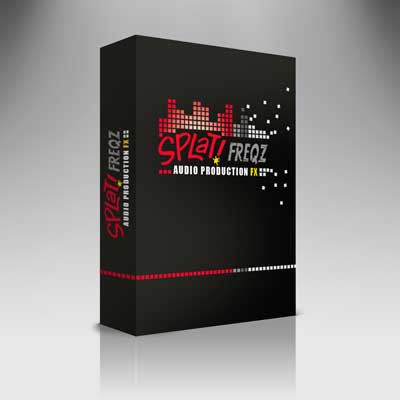 Splat!Freqz is a 125 track buyout FX package produced by renowned sound designer Joe D'Agostin and shaped to the specifications of radio producers who demand easy to use, high-impact, sonically superior audio effects. Logically designed and structured, Splat!Freqz integrates seamlessly with CHR, Urban, Rock, Talk, Sports, Alternative and any format that requires functional, highly creative production sounds.
Industry buzz for Splat!Freqz has been instant, and it's already on the air and making an impact at stations including Hot 97 New York, CHUM-FM Toronto and WMMR/WMGK Philadelphia.
WMMR's Imaging Director, Tony Maddox, praises Splat!Freqz for its ease of use and sound quality. "Splat!Freqz sounds fit perfectly in the mix--no time wasted EQing or fiddling around trying to get them to cut through," he said. "You literally plug them in and BAM! Good to go. Love it."
Sideshow "Sidey" Mike Anderson from Triple M Imaging, Southern Cross Austereo in Sydney, Australia offered more praise for the creative sound design. "I've always been a big fan of Sound Freqz. I love the effects, they're great for getting some real impact," he said. "There are plenty of nice real organic elements but also a good mix of sounds that really makes your ears bleed when you wanna cut through the rock!"
Among other early believers is Ryan Drean, Creative Director at TM Studios and host of The Producers podcast. "The whole package is awesome," said Drean. "The variety of useful elements help me bang out sweeps and stagers in bulk. Great for multiple formats too! VERY Solid!"
Created to provide an affordable, high-quality option for radio stations and freelance producers, the project collaboration was conceived by Dave Marsh, President of Splat! Radio Imaging. "For years imaging producers have been asking us to create a fun and focused buyout package like this. Now is the perfect time, and SoundFreqz were the perfect partners for us," he said. "The sound design really stands out as unique in the market. This collaboration has been a blast, you can hear the results in the package!"
Joe D'Agostin, Owner of SoundFreqz Sound Design says "It can be a challenge creating something compelling for users. The imaging landscape is really changing and there are a lot of buyout fx packages out there. We aimed to do something useful but unique," said D'Agostin. "Producers want fx that sound amazing and make their work easier. I consciously try to produce packages that have a well-rounded array of contrast between the elements, which differ sonically and are functional! I feel that this offers more value and variety. Users are also looking for quality and reliability, so it is a big plus for them to know and trust the brands - Splat! and Sound Freqz. It's a match made in imaging heaven."
Splat!Freqz Audio Imaging FX is available for a one-time buyout license and can be purchased now at www.prodfx.com