Gary McClenaghan, Imaging Director, Bell Media, Edmonton, Alberta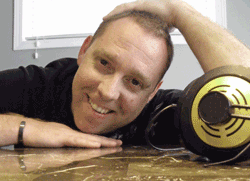 by Jerry Vigil
If you've been keeping up with the RAP CD and Soundstage over the past few years, you've probably noticed the work of Gary McCleneghan appearing quite regularly and getting better with time. So good in fact, that he picked up not one, but two first place trophies in this year's 25th RAP Awards. One was in the Medium Market Promo category, and the other was in RAP's new Imaging category. This month's interview picks Gary's brain on the two trophy winners, and we focus a bit on his growing freelance work, both in imaging and voiceover.
JV: What was your first radio gig and how did you get it?
Gary: I started out in Saskatchewan, which is the province beside Alberta here. It's the unknown province -- nobody knows what it is. I actually was enrolled to go to school for radio, and then I got called in to a radio station in my hometown, and they told me you can either go to school or you can take the job. I decided to take the job, and that's kind of how it all started back in 2000. I had earlier done an intern program in high school at the radio station because I knew the producer there, so they called me and asked me to come back and that's where I started.
JV: What were some of the jumps along the way to where you are now?
Gary: Well I started doing the imaging for the station. It was an awkward situation for me, which I'm sure has happened to a lot of other people. I was a young guy, about 19 at the time. My boss had left the industry, and I expected that I was going to get a promotion to be the Production Manager there, but obviously, I wasn't prepared at 19 years old to run a department. So they hired another guy that was a former on-air guy, and I actually had to train my boss to image a radio station and do commercials and stuff. When I look back now, it was really a great opportunity for me to teach somebody and at the same time have them basically school you in life.
So from there I got good enough that I applied in Regina, which is the capital city in Saskatchewan. I was hired and worked there for about five years. I got solid enough and in really good with the clients that I was promoted to the Production Manager position, and then I took over as Creative Services Director and ran the writing and production departments.
Then I found out that management wasn't my thing. I just wanted to do the imaging side. I'm a creative brain, and I felt like in Regina the management part was just sucking a lot of life out of me. So I was definitely willing to drop that and get back into the fun stuff, and that's kind of where I'm at now. I was lucky enough to land this job in Edmonton in January of 2013, and I've been here ever since. Love it every day, man. It's great.
JV: What stations are you imaging there?
Gary: I'm Imaging Director for two stations here in Edmonton and then one in Calgary, which is about four hours away. There's 100.3 The Bear and TSN 1260 here -- a rock station and a sports talk -- and then I do the rock station in Calgary which is CJAY92.
JV: Are you voicing any of these?
Gary: No. Our voice guys are Jamie Watson, who does The Bear. He's the guy on the Work Day IDs. And then there's Rob Naughton who does CJ, and then David Kaye does TSN, which is actually a little different because most of TSN up here is networked, but David Kaye and me had a really good relationship, and when they hired me they brought him on TSN as well.
JV: The RAP Awards Best Imaging category – it was our first year for that category, and you are the first imaging trophy winner with your Work Day sweepers. I believe that was all you and Jamie Watson. Tell us about the creative process on these winners.
Gary: Yeah, that was Jamie and me, but I bounced that idea off a couple other guys and girls at the station. One of our morning show guys, Yukon Jack, is hilarious; so anytime I have a concept in my head I usually bring him in and bounce the ideas off him. He bounces a few ideas back at me, and then I kind of take it from there and bounce the idea around the office. I like to know how they're all feeling in terms of what I'm trying to create, and everybody's got different input.
A lot of those Work Day IDs are from real life. I live in a construction zone. I built a new house and I'd be out walking around with my young son, watching all these construction guys, and I would literally talk to them. I got to know what kind of funny things happen on site. Plus I have a lot of friends that work in trades as well, so it's all stuff that I'm kind of familiar with through other people. I just tried to take those things and apply them to the imaging to really speak to our P1 demographic, and it obviously worked really well.
I had done a series of Work Day sweepers around the construction stuff first, and then I said to myself, well lots of people listen to us in the office. I work in an office and there are a lot of stupid things that happen around here. I'm sure there are a lot of stupid things that happen around everywhere else, too. I'm all about the stupid. I like stupid things.
JV: One thing that stood out for me was how you brought the level of the office chatter down quite a bit. I imagine some program directors might say, I can barely hear that. Bringing the levels down that low gave the sweepers a great sense of realism, but I thought it might have been too low for people to hear. I take it the air chain helped carry those low passages over the air.
Gary: I find everything I do carries over the air well. I've done a lot of study into what's going on with the air chain. The first thing I do when I start a new job is talk to the engineer. I'm going to find out what kind of things work and what doesn't work, and I test everything. I'll put things to air and listen to them and make sure that it comes over on multiple mediums. I'm listening to them on my phone. There are a lot of things in my processing chain that I've dumped. I used to do a lot of reverse vocal stuff. I've actually gotten rid of it all because I find that it just drops out too badly.
But as for the creative stuff, if I said that I didn't take some direction from John Frost I'd be a complete liar. My stuff is very loosely based on his kind of material. I'm big into scenario production, and I've gotten really good at it over the last year-and-a-half, two years, just from doing it so much. That's kind of how we do our stations in both Edmonton and Calgary. We try to do little funny scenarios for our listeners that really speak to them, and put ourselves in their situations as well.
But I'm glad you noticed that because I did drop the levels. I had Jamie obviously being a lot louder, and he's EQ'd. Then what I ended up with was just through trial and error. I used a 2k filter to strip the bass out of the people because when you're outside listening to people talking, nobody's really got a lot of bass in their voice. So I don't want any bass within the actual mix. I just want them to be as flat as possible, and that way I find it makes it sound like you're kind of outside. Then I just try to marry that with the sound effects in the background.
The details are everything. Like maybe there's going to be a lawnmower in the background. I try to put myself in those situations, and if I hear drills or saws in the background, like in a construction zone, then there's going to be drills and saws, you know? But there's also going to be birds, and the more detail you put in, the more believable it's going to be.
JV: Your second trophy was for Best Promo Medium Markets, the "Lazy Bastard" promo. Again, that was you and Jamie along with Rob Vavrek on this one helping with the copy. What's the story on this one?
Gary: That was a lot of fun. That's actually the first in a series of promos. They just haven't brought the promotion back yet. It's an annual promotion we did and I'm actually disappointed we haven't brought it back yet because I want to run these other three that I've written. They're basically the same thing, they're just different scenarios off the top and in the middle of the promo where you come back and talk about sitting in your comfy chair for 14 waking hours of the day. It's just a lot of fun to write. Again, I'd be lying if I said I didn't bounce the idea off a lot of different people. I actually consulted Google images on that and just looked for lazy things and lazy sayings and stuff. I mean lots of them are original and ideas of ours, but I'm not going to say that I haven't stolen the odd idea and applied it with my own purposes too.
It's research basically. I find all my best promos are where I have time to actually do some research into the topic. So I use catch words and I'll go to the Urban Dictionary, or I'll go to Google Images or wherever I have to go. Funny t-shirts, believe it or not… if you're looking for some good ideas "funny t-shirts" usually can drive you to great ideas.
JV: I read that you were on Audition 3.0. Are you still?
Gary: No, we've actually gone to CC now. I like it. There was a learning curve, and I was on Audition 3.0 for years and years, probably eight years. But I like the upgrade. I'm really a fan now. There's a couple effects that were stripped out of it, like Dynamic EQ, so I had to reinvent my favorite EQ, which I think I've got but I don't think it's perfect yet. But it's a great program. I think they basically took some of the features of 3.0, some of the features of 1.5, and some of the features of CS6, and slapped it all together. One thing I don't like about it is that there's no preview available. Before, if I wanted to open sound effects, I'd usually just go to File, Open, and click on them and they would automatically play. That's gone now, so now I have to actually have a preview pane open and click play on them, so it slows down my productivity slightly but it's not anything that I haven't found a work-around for. That's the thing with these programs; you just have to find a way to work around and redevelop your way of doing things. But it's a good program. Those guys know what they're doing.
JV: Are you using their cloud for storage?
Gary: No, I'm not. We're all network here, so I've got all my stuff saved locally on a network.
JV: Tell us about the freelance side of Gary McClenaghan. How many hats are you wearing in that area?
Gary: I'm not overly busy on the freelance side of things. I do some imaging through Benztown. I only do one station down in the States, and I also voice that station, too. That's in New Bern, North Carolina. I also do some voicing down in the States on a couple of other stations as well, like WQLZ which is in Springfield, and then I do a station called Hits Now which is in Arkansas.
JV: What came first for you, freelancing the production stuff or the voiceover stuff?
Gary: Freelancing the production. I basically touched base with Benztown, and we found a happy medium where we could work together. I'm on retainer for the one station in North Carolina, but I also did a one-time job for a station in New York, WFAS. I also launched Nash Icon in the States, too. That was through Benztown, as well.
JV: So you've done a few different formats for them.
Gary: Yeah, that's the one thing about me; I can do anything. I've done every format in my career, so I like to think I'm pretty well versed in everything. I think that adds to your ability when you can do more than one format. There are differences in each one, like differences in the way I set levels in a mix. For example, I'm big on Alien Imaging and I'll use Alien Imaging for any format. It's just a matter of how much I turn it down. If I'm doing an AC format, Alien Imaging still works great. I just have to turn the effects down a bit more so they're not so much in your face.
JV: What kinds of elements are you producing for Benztown? Promos, sound design, beds, sweepers, all that stuff?
Gary: Everything. It's mostly sweepers and quickies and that kind of stuff, and I do the odd promo here and there, but it's mostly just the general imaging of the stations.
JV: What kind of freedom do you get when you're producing for Benztown? Like when you do a promo, do they give you the copy and say go nuts or do they specify a lot more of the structure?
Gary: It depends on the station. The guys in North Carolina that I do, the PD pretty much trusts me to do what's right by him. I'm in direct contact with their program director now. With the other stations that I've done, which are kind of just one time deals, I just touch base with Justin Case at Benztown, and he and I will kind of brainstorm. He directs me on what they're after, and then I maybe do a couple of demo pieces and send that to him, and then we find the right sound and go forward.
JV: You have a very versatile voice from the imaging stuff to the commercial work. You do a lot of character VOs. I often hear advice that says to pick your strong area and just stick with that, but you seem to be pursuing many sides of your voice.
Gary: I started out doing commercials like most people, and I'm like a lot of the other character voice people that sat in front of their TV as a kid and repeated everything they heard and tried to do a stupid voice. So I kind of grew up doing that, and then I developed characters that I use in my production every day that I kind of try to marry to whoever the voice guys are. I kind of consider myself a secondary character voice.
And just within the last year I really have been working at developing the imaging side of things at the prodding of lots of imaging voices themselves -- guys like Jamie Watson, David Kaye, and Rob Naughton. These three guys are saying to me, "It's the next step in your evolution. You should really start trying to work at doing this." So that's what I've done, and then one day I just remember having an aha moment were I was like, okay, that sounds good. I think I can do this.
So I like to do everything. I just like to voice. It's a lot of fun to do. I've realized that you've got to take care of yourself a whole lot better, that's for sure. I mean, I've got a cold right now and that's not going to work. I've got to fix that up as quickly as possible. And it's a lot of fun to do the character side of things. I'll do anything. If it's challenging and looks fun to me, I'm going to try it and I'm going to try to hit a home run with it every time.
JV: One other thing you do that's different from most is singing in commercials, but it's more like a character trying to sing rather than a professional jingle singer, but the impact that singing gives to a commercial is still there. What's an example of a commercial where you've done this and it has worked out well for the client?
Gary: I did one in Regina when I was there. It was just a doughnut and we filled the middle with copy and those guys were absolutely blown away. They thought it was the best thing ever. It was sung but it was sung poorly. But that was the deal. It was like I try to sound good without sounding that good, you know what I mean? And it fit their brand. They were trying to be kind of goofy and stupid, and it worked really well and they were happy. Those guys are still running it there, and it's been two years, so that says a lot.
JV: What has been your biggest help to you in your VO career thus far?
Gary: Oh, Jamie Watson definitely. He's done a lot of coaching for me. He's kind of helped me develop my sound, my characters. Just listening to him is educational. Anybody that produces Jamie Watson will tell you that you get an audio file back that's 30 minutes long, even though you've only sent him a 60-second promo. Most guys are going to be like, oh God, how am I going to sift through this? With Jamie, you get some popcorn, sit down and get ready for some entertainment. He is a genius. He is literally a creative genius. Just to go back to the Work Day IDs… I wrote lots of that stuff, but Jamie made them better. He took my funny stuff and made it even funnier. He's just so good. So yeah, he's helped my production and he's helped my voicing, as well. My demos all were bounced off him. He told me what I could improve, what I could change, and I did that. Anything he says, I take it, as he knows what he's talking about.
JV: Do you get more excited about some VO work, writing some copy, or getting behind Adobe Audition and producing?
Gary: With writing, I like somebody to write the bare bones for me and then I like to take that and revise it. I'm not really a good scratch writer. I'm a more of an expander, I would call it. Production obviously is my first love but the voicing is lately what I've really been into, just practicing on that. But if you're producing the guys that I get to produce every day, I mean you've got to look forward to the production every day. Like I've got this promo that I'm working on right now that I'll send you. It's a "Hottest Mom" contest, and I literally was giddy with excitement to come into work today to get to work on this thing.
JV: What do you like most about your work?
Gary: I can do it with no pants on! Everybody says that, though, eh? I mean, it's true. It's like my job is just really relaxed, like I don't take anything too seriously. Nobody's dying here. It's just a lot of fun to do. I feel like my job matches my personality so well that it's just the perfect marriage. I'm a fun person. I like to have fun. I'm stupid, I'm goofy, and it just equates so well to what I have to do on the air. And I don't have people coming up to me knowing me in a bar which is great, too -- like the poor on air guys, man. I feel so bad for those dudes.
■
Gary welcomes your correspondence at This email address is being protected from spambots. You need JavaScript enabled to view it.. Check out www.Garyvoice.com for more info and audio.