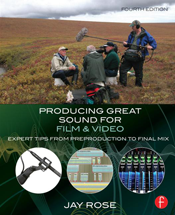 ► In Producing Great Sound for Film and Video, Fourth Edition, audio guru Jay Rose revises his popular text for a new generation of filmmakers. You'll learn practical, time-saving ways to get better recordings, solve problems with existing audio, create compelling tracks, and boost your filmmaking to the next level! Here you'll find real-world advice and practical guidelines for every aspect of your soundtrack: planning and budgeting, field and studio recording, editing, sound effects and music, audio repair, processing, and mixing. Rose's combination of solid technical information and a clear, step-by-step approach has made this the go-to book for producers and film students for over a decade. This new edition includes: Expert insights and from-the-trenches tips from Oscar- and Emmy-winning professionals; Advice on how to get the best results from your equipment, including DSLRs and digital recorders; How to deal with new laws for using and licensing wireless mics; Easy-to-understand descriptions of new regulations for broadcast loudness, along with tips on complying… and free software to measure performance; More techniques that work with any software or hardware and an expanded "How Do I Fix This?" section to solve problems quickly; GreatSound.info — A companion website with downloadable tutorials, demonstrations, and diagnostics. Jay Rose is one of the most respected sound designer / engineers in the Northeast. He has mixed or edited the soundtracks for mainstream theatrical films, network documentaries, commercials, and countless corporate and independent projects. He's designed processing software for major studio manufacturers. Radio and Production Magazine called him "the mad scientist of audio". "A lot of great people gave me guidance when I was starting out, and it made a big difference. This book is my way of 'paying it forward', sharing principles and techniques I've learned in a long and happy career." - Jay Rose, Author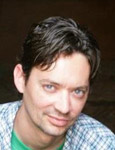 ► Three winners were selected for the 2014 Radio Show Creative Edge Panelist Challenge: Kelly Jarvis, digital director, 95.1 SHINE-FM Baltimore; Jason Skaggs, production director, WGN-AM Chicago; and Rick Balis, program director, KSHE-FM and KIHT-FM St. Louis. These individuals will participate on a panel titled "It Starts at the Top: Reinvigorating Station Creativity." The Radio Show, held September 10-12 in Indianapolis, is produced by the Radio Advertising Bureau (RAB) and the National Association of Broadcasters (NAB). The Creative Edge Panelists Challenge, announced last month, sought one program director, one digital director and one production director. Contestants were encouraged to submit fresh ideas on incorporating creativity into on-air and online content. Winners will receive complimentary registration to the 2014 Radio Show and a $1,000 travel stipend, courtesy of Salem Communications. The panel, to be held September 10 at 10:15 a.m., will focus on how top stations incorporate creative elements into all content, including on-air, online, branding and commercials. Balis, Jarvis and Skaggs will share their views on the elements of compelling creative and discuss how managers can cultivate and sustain a dedication to creativity across departments. Dave Santrella, president, Radio Division, Salem Communications will moderate. Jason Skaggs, production director for Tribune's WGN Chicago, has won two Radio Mercury Awards from the RAB and many local advertising and state broadcaster awards in Missouri and Illinois. Before joining WGN, he worked as creative director for Zimmer Radio Group in Joplin, Mo from 1995-2005 and as corporate creative director for Cumulus in Atlanta from 2005-2010.
► 97.5 WAMZ in Louisville, KY announced that its longtime Program Director and Afternoon Personality, Coyote Calhoun, will end his day-to-day radio career at the end of 2014. Calhoun has been with 97.5 WAMZ for nearly 35 years. Beginning in 2015, he will serve as a Community Ambassador for the station, appearing at special events, the Kentucky State Fair, and the St. Jude's Radiothon, a cause near and dear to his heart for decades. 97.5 WAMZ will be announcing a series of community events commemorating Coyote Calhoun's career over the coming months. "I have loved every minute at 97.5 WAMZ, especially spending time with the thousands of listeners I've met over the years," said Calhoun. "My health is great, and now is the time to go out, travel, and have some fun. I'd like to thank the Country fans of Kentuckiana for all their friendship and support." "Coyote Calhoun is one of a kind, a true original," said Kelly Carls, Regional Programming Manager, Clear Channel Media and Entertainment. "Coyote is the only Program Director WAMZ has ever had. He truly personifies Country music in the Louisville area. We appreciate his years of tireless dedication to our community, our clients and our listeners. We cannot thank Coyote enough."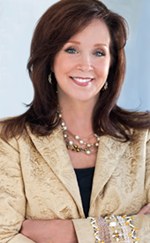 ► The Screen Actors Guild Foundation has appointed media marketing expert Cyd Wilson as its new executive director. Wilson, founder and president of Cyd Wilson Entertainment Marketing and long-time creative director of Time Inc's. Style and Entertainment group of magazines, has forged philanthropic partnerships between the entertainment industry and leading corporations for more than 25 years, producing invaluable awareness and revenue for her clients and several Hollywood supported charities. SAG Foundation President JoBeth Williams spoke for the Foundation's Board stating, "Cyd is one of the powerhouses in the industry. She has vision, passion and a drive to create a successful merging of corporate goals with humanitarian needs. We look forward to working together to further the goals of the SAG Foundation." During her 20 year tenure at Time Inc., Wilson created and managed such high profile and press worthy annual events as the PEOPLE – Entertainment Industry Foundation SAG Awards Gala as well as InStyle's Golden Globes, Grammy Fashion and L.A. Film Fest parties to name a few. Of her new role, Wilson says, "My career in nonprofits began in Hollywood and coming to the SAG Foundation gives me an opportunity to return full circle and focus solely on the act of giving back to performing artists. It is at once a challenge and a privilege to take the helm of an expanding philanthropic organization that is committed to providing an unrivaled level of career-enhancing programming and emergency assistance for working performers as well as advancing the cause of children's literacy." www.sagfoundation.org.
► American Target Network® (ATN), the unwired cable and satellite network that delivers national, regional and local advertising buys, is now doing the same for radio. The new ATN Radio Network tailors its campaigns to each client's specific advertising needs across all platforms. It specializes in weeding out wasted exposure by eliminating non-applicable markets, extraneous streaming media, and other costs that traditionally drive up network or multi-market radio buying. With ATN, there are no stations or markets locked into the buy; an advertiser only pays for coverage in its unique marketing footprint. "With ATN Radio Network, clients get the best of all worlds—whether we are working directly for an advertiser or on behalf of its agency," says Brett Charest, American Target Network® Vice President of Radio Radio Affiliate Sales. "We customize the network for each client, eliminating any cost that doesn't drive the bottom line, optimizing as we go, and still provide a one-buy solution." ATN has built its network across the spectrum of radio formats, incorporating talk, urban, country, sports and female-focused networks, among others. www.americantargetnetwork.com. ▲