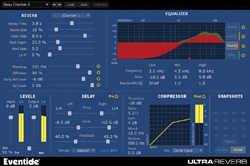 ► Eventide announced the availability of the UltraReverb™ plug-in featuring reverbs from the H8000, plus compression, EQ, and delay integrated for the most flexible reverb plug-in available. UltraReverb is compatible with AU, VST, or AAX64 for Mac or Windows packed with over 300 presets. UltraReverb is available for $199. Features include: 9 Reverbs including Ambience, Rooms, Plates, Halls, Chambers derived from the H8000 Ultra-Harmonizer®; Stereo delays (pre or post reverb) with Tempo sync to lock delays in time with your session; Compressor (pre or post reverb) with key input; Four independent three band EQs; Modulation rate and depth controls and more. www.eventide.com.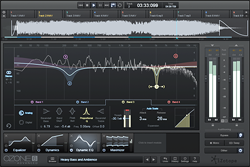 ► iZotope, Inc. announced an update to its mastering software, Ozone. Ozone 6 is the latest version of iZotope's complete mastering system. For the first time, the mastering workflow is centered around creativity: Ozone 6's modern visual paradigm guides and inspires users of all experience levels at every step, so they can freely experiment with ease-or dial in their signature sound in just a few clicks. Whether they are mastering engineers or home studio producers, Ozone 6 gives users everything they need to effortlessly produce professional-sounding masters in one elegant standalone application. Ozone 6, $249 USD, Ozone 6 Advanced, $999 USD. www.izotope.com.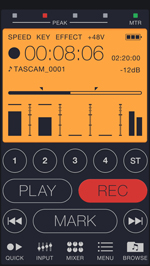 ► Tascam has announced a pair of new portable recorders, the DR-44WL and DR-22WL. Each has new microphones, dedicated input level controls, and built-in WiFi – forming a direct network with your iOS or Android device. They can be controlled by a free app for transport control, audio streaming, file transfer and upload from your smartphone. The DR-22WL is a stereo recorder with an EZ Mode dial to select recording settings automatically. The DR-44WL adds XLR inputs, four-channel recording, a multitrack mode, and much more. DR Control is a new app from Tascam designed to control the DR-22WL and DR-44WL. No pre-existing WiFi network is needed, the recorders form their own network with your phone. Also from Tascam, two new Audio/MIDI interfaces: the US-2x2 and US 4x4. Each comes with class-compliant drivers, which means no driver installation needed on Mac and compatibility with tablets like the iPad. Featuring amazing mic preamps, all-new drivers, and your choice of two included DAWs – SONAR LE and Live Lite 9 – Tascam's US-2x2 and US-4x4 are the ultimate choice for home and mobile musicians. www.tascam.com.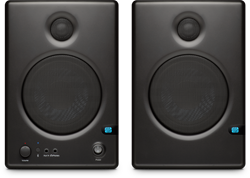 ► Designed for music enthusiasts, gamers, home theater, and personal studios, PreSonus® Ceres™ C3.5BT and C4.5BT active speakers deliver professional sound quality that lets you hear your music clearly and accurately. With wireless Bluetooth audio streaming and a front-panel 1/8" stereo input, they are perfect for use with tablets, smartphones, and other computers. Ceres BT-series speakers have EQ that lets you create a more accurate listening environment and provide a dedicated Sub Out to easily integrate a subwoofer. Energy Conservation mode saves energy when the speakers are not in use and meets the European ErP directive. The Ceres C3.5BT and C4.5BT feature 3.5-inch and 4.5-inch Kevlar™ low frequency transducers, respectively. Both models have 1-inch, low-mass, silk-dome tweeters and responsive 25W Class AB amplification per speaker. In addition to the 1/8" stereo input, the front panel sports a 1/8" stereo headphone output and a volume control. The rear panel is dominated by a round bass-reflex port and hosts balanced ¼" TRS and unbalanced RCA inputs and the ¼" balanced TRS subwoofer output. Protection features include RF interference, output current limiting, over-temperature, transient, and subsonic protection. The Ceres C4.5BT delivers up to 108 dB SPL (maximum continuous), and the C3.5BT supplies up to 105 dB SPL. Frequency response is rated at 70 Hz to 20 kHz for the C4.5BT and 80 Hz to 20 kHz for the C3.5BT. Estimated retail price: $299.95/pr. for the C4.5BT and $229.95/pr. for the C3.5BT. Also from Presonus, the Temblor T8 active subwoofer, designed for critical listening in the studio or at home. Like its larger sibling the Temblor T10, the T8 naturally extends the low-frequency response of full-range speakers without overshadowing them. The Temblor T8 delivers punchy, musical lows and offers user controls not normally available in this price range, including a continuously variable lowpass filter (50 Hz to 130 Hz) for creating a seamless crossover transition and a switchable highpass filter that removes content below 80 Hz from the full-range signal sent to satellite speakers, allowing you the flexibility to optimize your system for your room and your needs. While an ideal companion for the PreSonus Ceres™ Bluetooth monitors, the Temblor T8 has been designed to pair with any home or studio speaker, including those in PreSonus' professional studio-monitor lines. The Temblor T8 features an 8-inch, down-firing, glass-composite woofer with high-density rubber surround driven by a Class AB amplifier that delivers 200W power. It also sports a round, front-firing acoustic port; left and right ¼-inch TRS and RCA main inputs; and left right ¼-inch TRS and RCA pass-through outputs to connect satellite speakers. www.presonus.com.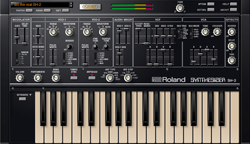 ► Roland announced the SH-2 PLUG-OUT Software Synthesizer, the first complete reproduction of Roland's classic SH-2 synthesizer from 1979. Renowned for its raw vintage tone, the SH-2's dual VCO plus sub oscillator configuration delivers fat bass, edgy leads, and wild effects via software specifically designed for the SYSTEM-1 and Mac or PC hosts. The new SH-2 uses Analog Circuit Behavior technology like other products in the AIRA series to faithfully recreate the warm, rich sound of the original with a level of authenticity that can only come from Roland. From the self-oscillation capable VCF to the attack and long decay characteristics of the steep envelope, the SH-2 has been reproduced exactly. While multiple instances of the SH-2 plug-in can be used in any compatible DAW, the SH-2 PLUG-OUT Software Synthesizer offers seamless integration and unique capabilities for SYSTEM-1 owners. www.RolandUS.com.
♦