Jason Phelps, Clear Channel Creative Services Group, Atlanta, GA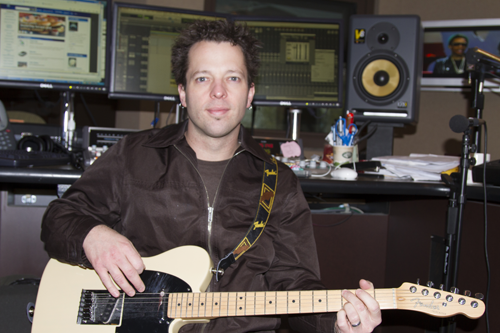 By Jerry Vigil
The 23rd Annual Radio And Production Awards proved to be another presentation loaded with exceptional work in all categories. One name that kept popping up in the Large Market Commercial category was Jason Phelps, one of the members of the creative team at Clear Channel's Creative Services Group in Atlanta. Jason picked up the 1st place trophy along with a couple of runners-up awards and a slot as a finalist. He was hours away from leaving for a most likely well-deserved vacation when we contacted him for this interview. We weren't able to get him on the phone for a full-length interview, but we did manage to squeeze a few email questions out of him before he left.
JV: Tell a bit about your background, how you got started in radio, and highlights along the way to your current position with Clear Channel.
Jason: I was in college at Ohio University and looking for an internship one summer, so I reached out to Creative Director, Scott Stanley, at 700 WLW in my hometown of Cincinnati. It was a win-win for each of us – I am a singer and writer, so for Scott it was nice to have someone there every day to sing promos, and I got to learn about writing for the medium, creating compelling imaging and entertaining the audience. I graduated college the following year and they brought me on as a full time Production Director. From there I started helping Creative Directors in other markets by singing promos for them and eventually Clear Channel Media Entertainment brought me to Atlanta to work at Creative Service Group (CSG) to create spots for clients nationwide.
JV: It's no secret the CSG has some of the best creatives in the industry. How many in the group now, and who are the key players?
Jason: There are 13 people on the team and everyone plays a key part. We all create concepts, write and many of us produce and edit videos. I genuinely feel like we all shine individually and collectively. We have a wing full of awards here at CSG, and the honors are equally spread across the team.
JV:Your group ended up with four entries in the finals in the Large Market Commercial category, one of them taking first place. You were the producer for all of them and a copywriter on most. What are some of the key elements that allow you and the CSG to turn out such creative work day after day? How do you keep the creative juices flowing?
Jason: For us, one of the most critical elements is not being afraid to try something new. Generally speaking, we start by conceptualizing ideas with one or more of our writers – we like to co-write because we believe the exchange of ideas makes for better creative. We keep the ideas fresh by staying busy and always writing – ideas come from ideas. Something I write for one project may take a turn in one direction, but I may bring the idea back for another project down the road. We also stay in touch with what's going on in pop culture and find inspiration by keeping our eyes and ears open to other great advertising.
JV: Tell us about the winning spot, Live Comedy. How did the concept come about? How did it all come together?
Jason: Steve Stone, one of our writers and producers, brought the concept to us one morning. The strategy behind the campaign was that being there in person, at a live comedy show, is a unique experience. There are so many places to experience comedy but nothing beats live comedy. We focused on it that morning. I started tracking and producing the music the same day, and by the next day or so we had a finished campaign. We knew we had something special while we were working on it, and we still pass each other in the hall from time to time singing a line or two of that jingle.
JV: How important is collaboration amongst the members of the group? Is it something you all try to do with each spot, or do each of you often crank something out totally on your own, as far as the copy/concept?
Jason: Collaboration amongst the group is critical. Every project is evaluated on a case-by-case basis – there are many projects that come in where the client knows what they want, and we deliver that. In other cases a client wants a big idea, a clearly defined strategy and a unique execution – for those we always bring our creative team together. We jump on any opportunity to play and stretch the creative process to provide the best product for the client that will resonate with our audience.
JV: What production tools are in your studio? Any favorite plugs?
Jason: My studio is unique. I was brought into the group in 2005 to create music for Clear Channel clients, so most of what I have is musical. I have a Telefunken U47 and Audio Technica 4033 for vocals; a stereo pair of Neumann condenser microphones for acoustic guitars; Neve 1073's for Mic Pre amps/EQ and Manley Vox Boxes; a Pro Tools HD rig with tons of plugs; Native Instruments; Toontrack products; an API 2500 bus compressor; and real guitars and amps. I get great sounds out of this room and I'm always adding things to improve the quality of our product.
JV: I'm guessing all of you in the group stay busy. Does the work load ever get overwhelming, or are procedures/people in place to pick up the extra work when things get crazy?
Jason: We work a lot with the major markets, for example Los Angeles has over 60 Account Executives who work with us to help them with the creative process. We help them create new campaigns and improve existing clients' creative. Dave Savage, our Vice President, manages our group as well as manages our production centers in Phoenix and Cincinnati, so when we begin to exceed our bandwidth, he re-routes projects to one of the two production centers.
JV: What would you say has helped you the most in your career with regards to being able to keep the creative material coming with such expertise as you have shown?
Jason: My background as a songwriter prepared me for what I do now – before I came to CSG I was signed as an artist to two record labels and I was also signed as a songwriter to Warner/Chappell music publishing. I've had the opportunity to write with some of the best songwriters out there – I wrote pop music in L.A., country music in Nashville and rock music in New York with world-class writers. I had a background in Pro Tools from college and from working at 700 WLW, so I would make my own demos. I also had the opportunity to record with producer Rick Parashar (Pearl Jam, Nickelback, Three Doors Down) at London Bridge Studios in Seattle and learned a lot about recording music from him. At CSG, I have to be able to write and produce music that will work for various formats and make it memorable for the audience.
JV: What advice would you offer up and coming producers/writers to help them improve their work, to help them move up in the markets and get their hands on a few awards as well?
Jason: Do the best work you can do. Be open to critical reviews of your creative and stretch. If you listen back to something you have done and it's not the best it can be, fix it. If someone has an idea that can make your work better, try it. If it's better, go with it and if it's not you still have your original idea. Be a sponge around others in the entertainment business and learn as much as you can. Improving your craft is a continuous process and we all can learn something from someone else.
♦