► College Broadcasters, Inc. (CBI) announced that registration for the 2nd annual National Student Electronic Media Convention (NSEMC) is now open. The NSEMC is America's only convention dedicated exclusively to the interests of student TV/video outlets, radio stations, and webcasters. It will be held at the Hyatt Regency San Antonio October 31 – November 2, 2013. To register, visit the convention's website, www.askcbi.org/sanantonio/. The convention will feature three days of interactive sessions led by broadcast professionals and student media advisers, plus a slate of student-led roundtables, capped off with the presentation of the National Student Production Awards at a special ceremony on Saturday, November 2. Sessions will focus on radio, video, and new media, with ample opportunities for students and advisers to network with each other and benchmark their operations. Session proposals are now being accepted at http://www.askcbi.org/sanantonio/sessions-and-programming/. CBI Executive Director Will Robedee says, "Last year, our convention programmed over 90 sessions and opportunities, with over 90% positive feedback. This year will be bigger and better. It will be a fantastic opportunity to advance your skills, network, further your education, and have a lot of fun!" College Broadcasters Inc. represents students involved in radio, television, webcasting and other related media ventures; ensures a commitment to education and the student pursuit of excellence through active involvement in electronic media; promotes cooperative efforts between the association and other national, regional, and state media organizations; facilitates the discussion of issues related to student-operated electronic media; and other community oriented programs. CBI currently represents over 250 active radio and television member stations.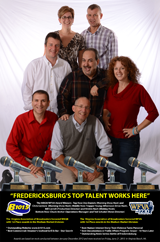 ► B101.5 and AM1230 WFVA recently won five 1st Place awards at the 76th Annual Virginia Association of Broadcasters Awards Banquet. WBQB won the following awards in the Medium Market category: 1st Place - Outstanding Website – www.b1015.com; 1st Place – Best Commercial – Steamers Seafood Grill and Bar Star Search. WFVA won the following awards in the Medium Market category: 1st Place - Outstanding News Series: Battle of Fredericksburg; 1st Place – Best Human Interest Series: Teen Violence Turns Personal; 1st Place - Best Documentary Or Public Affairs Program: Sniper: 10 Years Later. "I am so proud of the sensational, award-winning talent at B101.5 and NewsTalk 1230 WFVA", said Tom Hamilton, WBQB/WFVA Market Manager. "This is certainly a reflection of their passion for creating great radio and their dedication to the Fredericksburg community." "There is one word that comes to mind when I think of the individuals involved in the creation of these award winning pieces and that's 'passion'," said Chuck Archer, WBQB/WFVA Operations Manager. "They eat, drink, breathe and sleep great radio and constantly find ways of making it better." B101.5 and NewsTalk 1230 WFVA are owned and operated by Centennial Broadcasting II, LLC, headquartered in Clemmons, North Carolina.
► On July 16th and 18th during his webinars for the RAB, Jeffrey Hedquist launched his newest eBook for broadcasters, How To Sell More On the Radio Using Stories. Hedquist, known as Advertising's Storyteller, has compressed his decades of experience in creating audio stories for advertisers and distilled them into useable techniques to help you break through the clutter and get results for your clients. Included in the eBook: How to pull stories from clients, employees, customers and your own life; How to transform stories into campaigns; Dozens of different styles of stories to inspire your writing; How to create any length story commercials; Many techniques to create stories quickly. "I'm looking for feedback from users, so I'm offering this eBook at a significant discount for a limited time. It comes with a 10X ROI guarantee: if you don't make ten times what you invested in How To Sell More On the Radio Using Stories, I'll promptly return your payment, and you still get to keep the eBook." To get your discounted copy, visit www.hedquist.com/stories.
► Media Latino Communications (MLC), a Hispanic Radio Network of U.S. Hispanic stations, announced the launch of its newest service, MLC Spot Production. MLC uses a holistic, integrated approach to programming, marketing, sales, and broadcasting; and a strong creative department is important to the Company's goal of providing value to its clients and results for advertisers. The good news for clients is that they can now outsource all or part of their production department to MLC. Jesse Rios, General Manager of MLC stated, "The same producers who brought you the best Hispanic prep service and the best Hispanic imaging service are now bringing you terrific creative spot production! It's so simple – just send your copy or copy points and within 24 hours, your spot will be translated, written, delivered and ready to add to your automation/traffic system." MLC Creative Spot Production employs a broad base of professional announcers, and utilizes hundreds of unique music tracks, in addition to a sound effects library that has thousands of different elements. Jesse Rios, General Manager of MLC said, "Our full-service department utilizes high-impact jingles, professional announcers, translation services customized for your market, pristine elements, thousands of music beds, and a personally-crafted message with a Call to Action so that commercials are effective. Many clients appreciate that this service it is also available on a barter basis." Media Latino Communications is one of the largest Hispanic Radio Un-Wired Networks in the United States with over 400 Affiliates. Media Latino Communications products and services includes: MLC Prep, show prep for the Hispanic radio market; MLC Imaging, personally customized for your Hispanic radio station; MLC Radio Consulting; MLC Syndication; MLC Networks – 24/7 365 radio networks in the Regional-Mexican , Latin Hurban, Spanish Christian and Tropical radio formats; MLC Entertainment; and MLC Creative Spot Production, the full service commercial production division of the company (includes translations). www.medialatinocom.com.
► Since Auto-Tune was released in 1997, pitch correction has become a standard component to modern audio production, both as an effect and as a discrete processing tool. The technology has matured considerably since then, and pitch correction is now available in many different flavors. Pitch Correction Software Now!, from Hal Leonard Books, offers a practical guide full of tips and tricks designed to quickly get you up to speed with the most popular pitch-correction products available today. From the popular T-Pain Effect by iZotope to professional polyphonic pitch correction using Celemony's Melodyne DNA, this focused tutorial makes it easy to choose the best pitch-correction products for your music creation needs and helps you incorporate them into your music production workflow. Music industry writer Max Mobley delivers a book that provides practical advice in setting up and using several different pitch-correction plug-ins, including Antares' newest version of Auto-Tune, Auto-Tune Live. From live stages to home studios, Pitch Correction Software Now! puts music producers of all levels on the fast track to mastering the many forms of modern pitch correction. www.maxmobley.com. www.halleonardbooks.com.
► The New York Festivals® International Radio Programs & Promos Awards, honoring the World's Best Radio Programs & Promos™, announced its winners recently. The Grand Jury awarded 2 Grand Trophies, one to Radio Netherlands Worldwide and the second to TBI Media UK. The Canadian Broadcasting Corporation was recognized with the title of Broadcaster of the Year and TBI Media UK earned Production Company of the Year. Craft categories scoring Gold Trophies include: "The New York Philharmonic This Week" USA, Best Sound; "Gleeful Barbarians" Falling Tree Productions, Sarah Boothroyd, Canada, Best Editing; "Tom Crean - Endurance" Henchman Productions for Radio Kerry, Ireland, Best Writing; and "BBC Radio 2 Jingle Package 2012" Wise Buddah Jingles UK, Best Sound. Social Issues took center stage with multiple Gold Trophies: "The Marriage Breakers of Bangladesh" Crossing Continents, BBC UK; "Philosophy Talk" Ben Manilla Productions USA; "Take No More" Grey Heron Media for RTE Radio 1 Documentary On One Ireland; and "After the Abortion" Swedish Educational Broadcasting Company. Award-winning radio executives presented this year's award segments: Karen Shrosbery and Aaron Kearney, ABC Australia; Ben Manilla, Ben Manilla Productions, USA; Habiba Nosheen, Reporter/Producer of the This American Life episode "What Happened at Dos Erres?" USA; and Chris Straw, Senior Director, Network Talk, CBC. View the 2013 Radio Awards winners showcase at www.newyorkfestivals.com. ▲