Jim Van Dusen, Creative/Production Director, Astral Radio, Winnipeg, Manitoba, Canada
Each year, the R.A.P. Awards welcomes familiar names to the first place winners' table along with some new names. This year, Jim Van Dusen picked up his first Trophy with a promo in the Medium Market Promos category, and took it a step further and won the 1st Runner-up prize for that category as well. But these are hardly Jim's first awards. We've seen his name several times before in the R.A.P. Awards finals, and he also packs the trophy case with honors from the Crystal Awards, the Signature Awards, and grabbed the Standard Radio Presidents Award in 1999. Oh, did we mention an Olympic Gold Medal?
We learn a bit more about Mr. Van Dusen, get the story on his winning promos, and pick his brain for some tips to success. Be sure to check out this month's R.A.P. CD for an encore presentation of Jim's two winning promos along with a few more prime cuts from Jim.
JV:When did you first get the clue that you wanted to do broadcasting?
Jim:I wanted to be in radio since I was nine years old. I would go to sleep and have the radio on, and I would flip from station to station -- this is here in Winnipeg -- and listen to the different talk shows and such. I was always interested in that. My father was an audio technician at a television station, so sometimes I got to go to work with him, and he'd set me up in a corner. I'd throw the audio down from a television show and then take the various lines, splice them out and move all the lines around. I thought this was hilarious, to make the conversations make absolutely no sense or just become so ridiculous. I was splicing when I was quite young.
JV: Was this back in the analog days?
Jim: Yeah. Late '70s, early '80s. My dad worked at CBC, so he'd take me, and I'd go and sit in a corner and chop things together with the razor blade and splicing tape.
JV: What came next?
Jim: I eventually took a broadcasting course. I majored in advertising -- they didn't have a broadcasting major at that point -- and I minored in radio and television and theatre arts. Then, when you get out of school, you try and get the first job you can. I went to a television station and they asked if I was familiar with some kind of video tape editor machine. I said, yes. Then they took me over to it and said, "Okay, here it is," and I realized I didn't know anything about it. I asked if I could just stay behind. I was supposed to start the next day. So I just stayed in there for a few hours, hid in the station, and learned how to use the editing equipment.
JV: I noticed on your resume, it looks like you went to more than one university, and did I see some 4.0 averages on there?
Jim: Ha! Well, yeah. Once I graduated from broadcasting school and then had a job, some of the jobs were during odd hours, like the videotape editing. Like many new shifts, that one was from three to midnight. That let me take the occasional university course during the day. So I did that, and just took things that I was interested in. I haven't ended up with any kind of degree. I just tried to get a lot of knowledge in different things. One time I took an archeology course, then I took an English course, then I took a critical thinking course.
JV: You took some courses you enjoyed and did well.
Jim: Yeah.
JV: How much time did you spend in television after school?
Jim: I started that while I was in school. The first one was a summer job. I happened to look very young as a 19-year-old. I played the role of a 16, 17-year-old, hosting this teen show that honestly no one watched. The only fan mail we ever got was stuff that I wrote and sent in to the station under various names. But it was fun, and it was a great experience. I think that's kind of what I've done my whole career -- when an opportunity came up, I just said, okay, and tried it.
JV: When did radio come into the picture?
Jim: After I'd been a videotape editor, an opportunity came up in the same television station to write commercial copy and be a writer/producer. So I went upstairs and talked to the head guy and said, "Hey, you could just transfer me, and that would be really easy for you," and he agreed, so he did it. Then after about a year of that, I was enjoying it, but I still wanted to try radio. There was a radio station that was connected with the television station. I'd always walk over to the other side and made sure I got to know everyone, including the Program Director. So when something did come up, a swing shift, I went and applied for it and got that.
Each time I made one of those moves -- when I went to write television commercials, and then went to go on air -- I went down in pay, but it was something I wanted to do and try. At the time, this radio and television station were trying to form a union, and it looked like they were going to have a big strike. So I eventually started looking around and got a job at another station to become a copywriter. I think about two months after I moved over to this new station, the radio and television station did in fact unionize and go on strike. They were on strike for a number of months, and the radio station that I was working at went all-satellite in the evenings and all nights, so I would have been out of a job anyway.
JV: All this is still in Winnipeg?
Jim: Yes. I never left.
JV: Wow, that's rare in this business. So how long have you been out of school at this point, and what came next?
Jim: I'd been out of school for about three years at this point, and I was working at CKRC, an AM station, and 103 which was the FM station, as a copywriter. Once in a while, if they needed someone, I'd do a shift on the weekend or fill in in the evening. They also had a studio that no one used that had really old equipment, and I'd go and play in there once in a while. I became friends with the morning teams, and if they wanted to make a bit or something like that, then I'd just go in this other room and make things, from parody songs to little character bits and things like that. Then I got into just producing commercials that I wanted to produce a certain way, if the producer was busy or wasn't terribly interested in what I was coming up with.
That was a great training ground. At one point I was the writer, producer, midday announcer, fill in morning guy, I did news, and since our engineers were 45 minutes away, I was the guy that got the call to put the station back on the air at 3am.
JV: Was this a Standard Radio station at this time?
Jim: No, not yet. The company was sold and divided a number of times, but basically it went through about five or six owners, and then Standard owned it in 2007. But things had changed. The AM had flipped to an FM, so it was now called Magic 99.9. Then Magic 99.9 was sold to another company, and Standard then went and bought two other radio stations, which were 103 and 104. 103 was one of the stations that I had worked at originally years earlier. Then they hired me to go over to those two stations, which were in a different building.
JV: Is that where you are now?
Jim: Yes, Hot 103 and QX-104, and I've been with those stations since 2002.
JV: So ten years go by, and now it's Astral, correct?
Jim: Yes, in 2007 it was bought by Astral. Since then we've also added. We have two stations in Brandon, and because of all the technology, we do all of the creative and production for those two stations. And most recently, this year, our station in Regina, which is called Big Dog 92.7, we do a lot of their production for them as well.
JV: How many people on your team?
Jim: We have a great team here. Three writers in Winnipeg, Marv Timog, Michelle Cattani, and Karli Klippenbergen, and three producers Todd Raymond, Suzan Goritz and myself, though I write stuff too. We have a great writer/producer named Dan Jones who runs the show in Regina.
JV: Are you the head of the department, overseeing the copywriters as well as the producers?
Jim: Yes.
JV: You've been presented with several R.A.P. Awards over the years, but this year you finally grabbed the big one, the winner for the Medium Market Promos. You also grabbed the first runner-up in that same category. Let's talk about the winning promo, the Jets Song Comin Home promo. How did that come about? How did the promo go over, what kind of feedback did you get?
Jim: It went over very well. It was written by our Program Director -- they call them Brand Directors in our company. His name is Ace Burpee. He's the Brand Director, and he's also the morning guy. He came up with the idea for it and started to write it all down. We had an intern who could sing very well, and that's the girl who sings the first part of the promo, and her name is Vicky. He got the idea and started to make this, "They're coming home, they're coming home," and this was before it was officially announced that the team was coming back. We played it on the weekend, and the announcement was made early the next week, but it was one of those things where everyone kind of knew it was going to happen, so that's what we played over that long weekend.
JV: And the other promo was a website promo with a great hook. What's the story on that one?
Jim: That was for one of our Brandon stations, it's a rock station, and I'd made this little song for them. The station is called KX 96, but the website is called KX 96 Online.com. So we made that just a sing-able thing that you could sing over and over again so that everyone would just get used to it. We made one that had singing in the middle, and then talked about all the different benefits of the website and all the things you could do on it. Then we made other versions where it would focus on one particular thing you could do on the website. But the one that we submitted for the awards had this line in it that was just a joke, something I think we'd heard somewhere else or someone had said, "…like most good websites, ours is on the internet." So we just threw that in there, and that was done by our voice guy for KX, Pat Garrett. We had thrown him a few lines, and this was one of the lines that came back.
So in this little song, we just cut if off in the middle and dropped his line in there then went back to the song. And that's the one everyone remembers. All the other ones that talk about all the other things about the radio station just kind of get lost, but this one struck a chord with a lot of people. That was the most successful one, so that's why we entered it.
JV: All these other versions of the website promo, do you keep the same melody?
Jim: Yes. And we like that idea too because it sings "KX 96 Online.com", and then it screeches to a halt and then it would say something about the website. So we think that people are listening to that, they kind of hum along with it, and they get a new piece of information each time.
JV: That's an excellent way to brand the URL and target specific items on the site.
Jim: We do that a lot. I sing a lot of little jingles and things, and certainly not because I'm a good singer, but I think I'm a good mimic. So if we're doing a song like the promo that we entered, I can mimic certain singers and create something that sounds okay, but I'm certainly not professionally trained or anything.
When I started doing jingles and things with singing, I just thought they were fun and would do them for some clients. I usually wrote it from the perspective of just some regular person who burst into song and started singing about how great the client was. Then when some of them did well for the clients, people started saying, "We want you to do our jingle." Basically what I'm doing is taking production music and writing some words to it for them. I'm not starting from scratch. I just find a piece of music that fits what we're trying to say, whether we're going to sing their name or their phone number or their website or whatever it is we're going to do for them.
We recently did one from the perspective of some young rock grunge guy who just starts singing. So this character that I was being wasn't a terribly good singer, but you knew the style of music he was doing. This was for a pita place. They wanted to basically list everything on their menu and say their name a bunch of times, so that's what this 30-second song did.
JV: Do you have any musical training?
Jim: No, not really, other than high school band. They don't need a lot of clarinet players in radio today.
JV: You have a lot of other awards, not just R.A.P. Awards, including a Gold Medal from the 1988 Winter Olympics. You're going to have to tell us about that one!
Jim: When they had the 1988 Winter Olympics here in Calgary, the Canada Arts Council decided they would do something to kind of go along with that. So they created the Literary Olympics. There were several events, and one of them was a thing called the Poetry Sweatshop, which was where they got a bunch of people in a smoky bar – because back then people smoked in bars – and they ripped a page out of a thesaurus and threw it in front of you, and you had half an hour to come up with a poem using a word from that page as your theme. They had a few of those contests here in Winnipeg, and I entered a few of them. There were about ten contests. I went to a few and won a few. Then they said, "We get to send someone to the Olympics to represent Manitoba for this thing." I said, "Okay." So I was sent to Calgary, and we did the exact same thing, had this Poetry Sweatshop in some bar in Calgary. They brought in all these celebrity judges. One of them was the guy who was kind of the executive producer in charge of Much Music, which was our video television station at the time. His name is Moses Znaimer.
So when I had to do this poem -- and there were a lot of serious poetry people in this contest – I just did what I do for a lot of things, I just made up a little song. I wrote some lyrics and kind of belted out a song. I guess now they'd call it beat boxing, but I was making '80s drum sounds with my mouth to spice up the song. Anyway, I won the thing, and they actually gave out official Gold Medals that had the Olympic symbol on one side, and then on the back it had the emblem of the Literary Olympics.
JV: Something else that caught my eye on your resume was that you write plays. Tell us a little bit about that.
Jim: There's a company in town, Celebration's Dinner Theatre, and the director and his wife were writing all the three-act plays. They were also a client of the radio station. I had been there several times. When the radio station would sponsor the play, I'd go up and give away tickets or do a prize or do an introduction. So I got to know them quite well. The director's name is Randy Apostle, and I asked him, "Has anyone else ever written these before?" He said, "We tried it once but it didn't work out." I said, "Have you ever thought of trying it again?" -- just because I thought this would be a fun thing to do and I knew a lot about it already. The time they had done it before, I guess they had worked with someone who wasn't familiar with the concept of what it was, which is that it's a three-act musical comedy, and the actors will start singing but they'll sing popular songs that just tie in to whatever the play is about.
He took a little bit of coaxing. I said, "How about if I just write a play for you and give it to you and you can tell me if it's good enough or if it's awful, with no obligation?" He said, okay. So I did wrote one up, turned it in and they went with it and produced it. So far I've done 12 of them now, one of them co-written with Randy. And the theatre itself has since grown. They have a franchise in Edmonton and in Calgary, so now when you write a play, it'll go for 12 weeks in Winnipeg, then go to Edmonton and then go to Calgary. Everyone makes more money and the actors get a good nine-month gig out of it.
JV: Writing is obviously a big key to your success, whether you're writing plays, copy, or lyrics for jingles. What's your philosophy on copywriting?
Jim: Well, I try to read as much as I can about copywriting, obviously RAP magazine and all the things that Dan O'Day and Roy Williams have to say. But my personal approach, the thing that I've kind of developed, is that the best radio commercials don't sound like radio commercials. I try and avoid all the clichés and really work at educating clients. When they go, "Well, this doesn't sound like a commercial," and they rewrite something I've done to make it "sound like a commercial", then I try to explain to them why using more interesting words or different words or something that they haven't heard before is better, and why it's better.
Sometimes you win, sometimes you lose. It's usually the ones that just go, "Well, make me something…" that's when I will really work hard and really give the extra effort. Some of the commercials I've entered for various awards have been commercials where the client just said, "Do whatever you want. Here's the result I want; just come up with something." I love that. I think some writers gripe about that, but I'm the exact opposite.
JV: What are the biggest challenges you face at work right now?
Jim: I would say the biggest challenges would be deadlines that are too tight, and you don't have time to educate the client or to come up with something that's really interesting. Just because they don't know any better, you have to throw something together and get it on the air.
JV: Do you have any kind of written policy of how much time you would like to have to write and produce a spot, or is it pretty much the salesman who controls that?
Jim: We try to go with the three-day rule for the minimum. One day to write it, one day to get the approval, one day to produce it. Hopefully, one of those things doesn't take as long and then you have more time with the writing or the production.
JV: But you also get the spots that have to be turned around in two days or less, right?
Jim: Oh sure, sometimes we have something that we'll get in the morning and have to do for the afternoon. That'll happen once in a while. And hopefully, if we get everything else done, we can jump on something like that and take care of it.
JV: Canada has stricter rules when it comes to commercial copy. Don't you have to have scripts approved by a government agency of sorts?
Jim: Not all of them, only certain ones. That would be any drug commercial that makes a claim, or a bar commercial that wants to talk about alcohol in some way. But in most cases we just find ways to not talk about it, to not make the claim that they want to make, or say it in a way that's vague enough, something that gets the point across. An example would be like the Viagra commercial. All they do is have a guy walking around singing, "Good morning," and it doesn't say anything, it doesn't make any claims. That way they don't have to do that laundry list of potential side effects that scare everyone to death.
JV: How about a couple of tips to success we can pass on to our readers?
Jim: Of course you have to love what you do, but in this business, I think you also have to give yourself time to play and to fail. And what I mean by that is, if you're going to write a commercial, don't just write the first commercial that comes to your mind. Write a bunch of them and really try and figure out what you're trying to say. Then, when you're producing it, really play around with as many different music beds as you can, and don't just go with the first one. So many of the things I've made that have been successful have been by just playing around and adding something that probably shouldn't be there but then trying it anyway. Like the Kidney Foundation commercial, the client said, "You know what we want people to do... come up with something". So I messed around with music beds and ideas and kept the best ones. And this wasn't a week long process. I locked myself in the room and gave myself an hour to come up with as many ideas as I could... then produced the best ones.
Any kind of success that I've had has always been by writing and producing, and even if you're not a producer, you can still as a writer write to music beds, pick music beds and then write the copy around them, or pick sound effects and write around that. There are too many writers that just pound out a script and hand a bunch of words over, then just hope it all fits, hope the producer can make it sound good.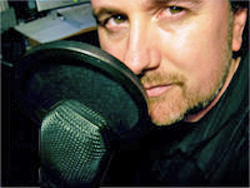 JV: Any plans for the future? Maybe your own ad agency one day?
Jim: I don't think so. Over the last few years the writing and production load here has been growing. I'm also the station voice of Hot 103, the imaging voice, and that's keeping me busy and is also fun. I do some freelance things. I signed up on Voice 1-2-3 and get a few interesting jobs from that once in a while. I'm not working on a play right now, but one might come. I got into reading audio books and have done a little bit of that. I've read four audio books. One's been published so far. It's called Gabriel Hunt: Through the Cradle of Fear; it's an action/adventure kind of thing.
I taught a semester of college to radio second-years. I wanted to see if that would be something that I'd be interested in down the road at some point, and the opportunity came up, so I said yes and taught that. That was fun, coming up with little assignments and lesson plans and working with a room full of young students.
But as far as the future goes, I'm really happy where I am right now. Our Creative department is growing, Astral is a great company that cares about creative, and I try to do all sorts of fun things on the side. I try to say yes to opportunities when they come up. You only know one thing when you say yes to an opportunity -- you know that you'll learn something.