TECHNOLOGY

► Blue Microphones announces the second generation Mikey Portable Recorder for iPod and iPhone. Building upon the audio technology developed for the original Mikey, the second generation is certified for iPod and undergoing iPhone certification, featuring improved circuitry for superior recording and enhanced new features. "The second generation Mikey is a natural next step for Blue as we continue to expand our consumer audio line to provide the highest-quality portable audio on the market," said John Maier, CEO of Blue Microphones. Like the original, Mikey features two custom-tuned Blue capsules for professional-quality stereo recording capabilities. To accompany its sleek new design, Mikey features an improved acoustic circuit that allows for higher quality recordings of high-volume events, like concerts. The second generation Mikey also boasts a 3.5mm line-input for direct recording of other sound sources such as a guitar or mixer along with a USB pass-thru connection to allow for simultaneous charging and syncing. The updated case design makes Mikey compatible with most protective cases and now features a 230-degree range of adjustability with seven detent positions for perfect positioning. Additionally, the new Mikey comes with a soft carrying pouch for convenient protection and portability. Blue also provides a headphone extension cable for instant playback monitoring when using iPod Touch and iPod Nano. To complete the mobile audio experience, Blue recently announced Blue FiRe, a free, high-fidelity field recording app for iPhone and iPod touch that is now available from the App Store. Developed in partnership with Audiofile Engineering, the Blue FiRe App is optimized for the second generation Mikey - enabling users to have a complete, high-quality mobile recording experience. The new Mikey has a MSRP of $99.99. www.bluemic.com.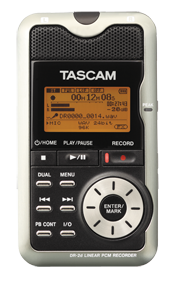 ► Tascam has released the DR-2d, a Portable Digital Recorder that brings high-resolution recording to a compact, affordable package. It offers up to 96kHz/24-bit audio resolution, capturing WAV or MP3 files to SD Card media. The new stereo condenser microphone design has a 74dB signal to noise ratio for dynamic recordings. The Dual Recording feature prevents overload by recording a second track at lower level, ensuring that recordings won't be ruined by distortion. The DR-2d offers Variable Speed Audition to slow down music without changing the pitch. A metronome and digital effects are also included, as well as an Overdub feature for sound-on-sound recording. The DR-2d is ideal for songwriters, performers, or home studio musicians who want their music to sound its best. Other features include auto-recording function starts when input exceeds a reference level; limiter, low cut filter and auto gain control for input; USB 2.0 connection for file transfer; 1/8" stereo microphone input, 1/8" stereo line input, and 1/8" stereo headphone output; 128x64 backlit LCD display; built-in speaker; includes wireless remote control, 2GB SD card, AA batteries and carrying pouch.

Also from Tascam, the US-800, a lightweight, multichannel recording interface for laptop users. It offers eight inputs and four outputs for capturing dynamic multi-mic performances. Six XLR microphone inputs each have phantom power for attaching condenser microphones, and premium 192kHz/24-bit audio converters record every detail. The US-800 includes S/PDIF digital audio in and out as well as MIDI in and out for linking up to your studio. The rugged, lightweight package is ideal for mobile or desktop recording. Other features: Stereo RCA analog output for monitoring; Standalone only mode for use as microphone preamp; 2-segment LED metering for each analog input; 1/4" and 1/8" stereo headphone outputs; Includes Cubase LE4 48-track recording software. www.tascam.com.
► Shovio, a technology leader in Internet video broadcast talk shows, announced its new Shocast Amateur Virtual Studio technology platform. Shocast Amateur Virtual Studio enables want-to-be Oprahs, hope-to-be Conan O'Briens, and anyone who wants to broadcast and host a live Internet talk show, to become a show host and broadcast a live video call-in show. Show hosts simply register and book a timeslot on Shovio.com, then invite guests and even the audience to dial-in via audio, or live-streamed video to participate in real-time on their show. The Shocast Amateur Virtual Studio is part of the Shovio Talk Back TV Network, so amateur hosts are featured in program line-ups alongside other amateurs. Hosts who generate the largest audience rise to the top and get primetime billing, and may even be invited to participate on Shovio's Professional Talk Back TV Network. Shocasters can register for free at Shovio.com, then book timeslots for their individual shows in one or two hour increments at a cost of $2.50 per hour of "airtime." Shocasts are free for the first month. The only technical requirements to becoming a Shocaster are having a webcam, a computer, and an Internet connection. Easy to access and follow online guides demonstrate everything Shocasters need to know about hosting and broadcasting their own show, and opening the floor to interviews with invited guests and audience members via live audio and video call-in. Founded in 2009, New York City-based Shovio is a digital broadcasting network that created the first proprietary technology to enable live, interactive broadcasting with two-way video and audio interaction between host, interviewee and viewer. Shovio broadcasters can instantaneously integrate separate videos, images, and graphics content in picture-in-picture (PIP) format. The platform is supported with social networking features that maximize interactivity of the medium and connection with the audience. www.shovio.com.
► Radio WorkFlow announces their latest software development, Radio WorkFlow Commercials, which is now available and allows stations to link their Sales, Creative, Traffic and Production teams paperlessly. It runs in tandem with their existing Radio WorkFlow software and comes at no additional cost. www.radioworkflow.com.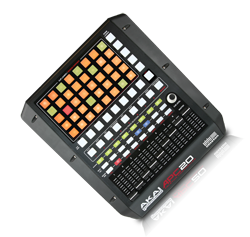 ► Ableton and Akai Professional announced the APC20, Akai Professional's second dedicated controller for Ableton Live. Following in the footsteps of the APC40, the APC20 offers musicians, producers and performers freedom from the keyboard and mouse, providing a fully integrated hardware-software musical system for creative composition and performance. It also features the APC40's multicolor 8x5 button Session View Matrix, eight high-quality faders and two-way communication with Ableton Live. The APC20 also features three modes of operation, built-in customization features and a number of smart new tricks. The APC20 was co-developed by Ableton and Akai Professional. The APC20 is a slightly smaller version of its big brother, the APC40, with the same 40-button grid for direct access to the clips in Ableton Live's Session View. Apart from controlling track levels, the APC20's faders can be instantly switched to control pan or multiple sends—no mapping required. Additional user banks let you assign the faders to tempo, effects wet/dry, global tempo or anything else you want. www.ableton.com, www.akaipro.com.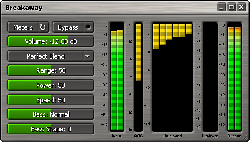 ► Freshly updated, Breakaway Audio Enhancer v1.3 from Claesson Edwards Audio delivers high quality audio to all PC users, turning their desktop sound into a studio listening experience. A stand-alone software solution, Breakaway Audio Enhancer v1.3 provides complete audio control over music, videos, web browsers, and games. Screaming web ads impale speakers, Hulu videos require cranking the volume up, and every media player makes favorite CD's sound different. Breakaway Audio Enhancer v1.3 changes all that and is available to everyone as a free, fully functional 30-day trial download from CEAudio.com. Breakaway Audio Enhancer v1.3 ends the need to manually adjust volume and equalization on each media player. Now, users can automatically match volume and improve audio from any computer program so only even, optimal sound reaches the speakers. Running constantly in the background, Breakaway is a real-time filter between the software and the speakers so it does not permanently alter audio files, only improves how you hear them. Breakaway features a selection of dynamics processing presets based on genre and audio source. Version 1.3 has improved audio quality thanks to a completely redesigned back end tailored for Windows 7. Incorporating a new version of Breakaway Pipeline, the stability is now rock solid and has better Standby/Hibernate support. Version 1.3 has also incorporated a new FM Mode that enables the program to be directly connected to any low power FM transmitter to achieve near broadcast quality FM sound. FM Mode incorporates low latency, low CPU usage, and advanced distortion canceling. Keeping the signal within the physical limits of the FM medium, FM Mode prevents broken sibilants and distorted hi-hats. While not a replacement for CE Audio's professional grade Breakaway Broadcast program, the FM Mode is a perfect choice for consumer FM transmitters. The application has a free, fully functional 30-day trial mode after which time it can be purchased for $29.95. Since 2007, CE Audio has been providing multi-band audio processing to customers so all their media and audio software maintain the highest level of quality, consistency and depth. Their line of professional and consumer grade software programs include the Breakaway Audio Enhancer, Breakaway Broadcast, and Breakaway Live. CE Audio founders Leif Claesson and Keith Edwards are also two of the original founders of Octiv. Known for inventing the Volume Logic plugin for iTunes, Octiv was acquired by Plantronics in 2005 and eventually renamed Volume Logic. www.claessonedwards.com. ►
PRODUCTION LIBRARIES
► New Releases from Killer Tracks include KT 230 South Africa (A & B), a new double-album celebrating the music of modern day South Africa. KT 231 Electro-Pop, indie-inspired '80s revival tracks. NYB 98 The Issues, neutral musical beds, without heavy overtones. EDGE 90 8-Bit Glitch, a new collection of tracks in the experimental genre of electronic music known as Glitch. CM 78 Biker Flick, vintage 60s and 70s action soundtracks. NM 298 Minimalism, sparse and avant underscores exploring a variety of moods including melancholic, hopeful, delicate, anxious, and romantic. ATMOS 260 Boom Promos 2, huge percussion, epic guitars, powerful strings, dramatic builds with even more dramatic endings. Audition and download these releases and more online at www.killertracks.com.
THE MIX
► Over 70 Citadel radio stations are now using vCreative™PPO for their creative requests and workflow management. WOZI-FM, WBPW-FM and WQHR-FM in Presque Isle, ME are the latest to sign up for PPO. On the system, submitted production orders are fully tracked with user, date and time stamping as well as perpetually archived for easy access at any time. In addition to the paperless workflow, PPO allows Presque Isle's producers to easily preview and request voice parts from the other Citadel stations using PPO already. www.vCreativeInc.com. ▲