Page 2 of 5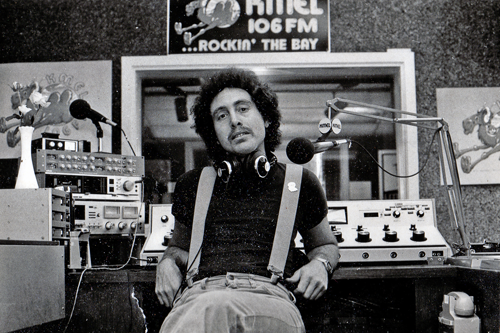 Over the next 12 years or so, I worked at five stations in San Francisco, and as Production Director at KMEL, when it was The Kamel with its AOR format. Those years were really, to some degree, the high point of my career. I loved working at Kamel. It was just such a great creative group of people — real rock and roll people. I was part of that because I loved the music. We were very innovative there and had good leadership and good management. We were really like a family at Kamel. It was great.
I did that for three years, and then the Kamel changed formats. I was one of those lucky guys that just went from job to job — finish one job on Friday and start another job on Monday. And that actually happened. I went from Kamel to KYUU, which was NBC, where I was part-time on air. I was a disc jockey again in San Francisco. Then I went over to KRQR because somebody I had worked with at Kamel became the Program Director at KRQR, the rocker in San Francisco. I went there and was their Production Director and was promo voice for all the stations in San Francisco that I worked at.
I ended my San Francisco career at KFOG, and in the late '80s, I went back to Los Angeles because my father was ill, and I was doing some entrepreneurial things and actually teaching at a broadcasting school in LA for a while. But then KFOG called and said, "Would you like to come up and be our Production Director and promo voice?" So, I decided to move back to San Francisco, to the Bay Area. I went to KFOG and was there for about a couple of years. Then there was a big change – a shift in Program Directors and so on. I ended up leaving there and started my own business in Mill Valley, California, just across the Golden Gate Bridge. I did eight years in a partnership where we produced commercials. We had a lot of national clients, and I was also teaching voiceover workshops.
Through this whole period, starting in the '80s, I had begun teaching voiceover workshops part-time, which I still do today. Then in the year 2000, I was invited to Los Angeles to be Commercial Production Director for the new startup Comedy World Radio Network. I moved back to Los Angeles, and I worked at Comedy World until it closed its doors. Then the next door opened; I became Production Director at KMPC in Los Angeles and worked there until I met this woman who wanted to move out of LA. There were some personal issues going on and stuff, so we moved up to the Portland area where I helped out Infinity Radio for a little while, in almost like a freelance position. They called it Creative Director but I really never had a studio there or anything. I was just sort of helping out.
It was so cold up in Portland, even though I liked it up there. One day I was on the RAB website and saw this opening in Sonoma, California, which was very close to where I used to live. It was the Wine Country, and the ad sounded so good. I contacted them and the next day I was on a flight to the Bay Area. I was picked up by the stations that I work at currently as Creative Director, which is KZST in Santa Rosa, and there are two other stations, KJZY and a new country station they just picked up, K106.
So I'm Creative Director there where I just do full-time commercial production. At the other stations I've worked at, when it was just a single station, I would do commercials and imaging. Here, I'm just in commercial production, and I do a share of the voice work myself and spread the rest around. I do outside casting and a lot of directing and working with the local clients, and I'm really, really enjoying it.