Page 1 of 3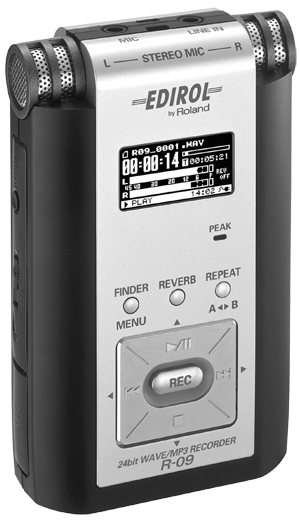 by Steve Cunningham
It has been awhile since this feature looked at the state-of-the-art in portable recorders, and much has changed. As with computers, portable recorders are smaller, they sound better, and have more features than were available just a couple of years ago. This month's case in point: The Roland/Edirol R09 portable recorder, which records 16-bit, 24-bit, or MP3-format digital audio, has built-in stereo mics, connects to your computer via USB for file transfer, and fits in your shirt pocket. It looks to be perfect for client interviews, recording stuff for podcasts, and even for acquiring sound effects in the field. But is it really perfect?
Not perfect, but close. Weighing in at about six ounces including batteries, and measuring just over four inches tall, the R09 reminds me of those mini-cassette dictation recorders from back in the day. But no Dictaphone was this powerful; the R09 is small, light, and uses inexpensive SD (Secure Digital) memory cards as its media. Its controls are straightforward, and options are easy to set up. The unit comes with a manual, a USB cable with a small "B" connector on one end, an AC adaptor, and a 64MB SD memory card.

SMALLER BUT CHEAPER
The R09 builds on its predecessor, the R01, which was a larger portable flash-RAM recorder that included some sophisticated features. The R09 incorporates most of those features, adds a few new ones, and arrives both smaller in size and in price — at a retail price of $450 (under $400 on the street), it's fifty bucks cheaper than the R01.
The R09 makes good use of its front panel real estate. In the center of the four-way transport buttons is a good-sized Record button that makes one-handed recording a snap. A single press on the Record button arms the recorder so you can set levels, while a red LED flashes to let you know it's ready to go. Press REC a second time, and the LED glows as you begin recording. That's all there is to it.
The tiny 124 x 68-dot LCD display provides responsive stereo metering, and there's also a separate single peak LED on the front panel. Fortunately the white-on-black LCD display contrast is quite high, so both the meters and the hour/minute/second counter are easy to see from several feet away. This LCD provides three main menu screens, with the first one showing live track data, while the second displays a file manager, and the third offers the main menu options.
Everything other than input level and output volume is controlled via the fast forward, rewind, record and play buttons, working in combination with the display screen. You also get a readout of the audio filename and its format. You can edit filenames after the fact, which is essential on a portable recorder. There's also a battery life indicator and a small numeric readout that shows you the record time remaining on the card.
Rounding out the front panel are three buttons above the transport. One accesses the menus for settings and adjustments; one adds a reverb effect to the playback with one of four styles: Hall 1, Hall 2, Room or Plate; and one that repeats playback or loops a specific region. The reverb effects sound pretty good, but are completely superfluous for me. The repeat button might be useful for using the R09 as an MP3 player, but I did not make use of it during my evaluation.