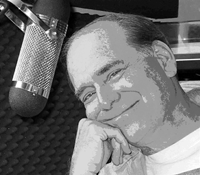 By Don Elliot
Simplify your life – become a minimalist — BTW, this expression was NOT invented by Clear Channel… it has been around in directing circles for years when getting talent to perform to the director's wants and rants…. less is more!!! Even when it means spending a little dough (uh, tax-deductible, so what do you REALLY care?), I will give you the Elliot Rule-o-Thumb for "expenditure worthwhile-ness" — if the benefit is greater than the cost, then it's free… right? That's just NOT too hard to understand!
After this article began to get its legs, it unintentionally began to take on the feel of my having a road warrior mentality. But then I realized that this is what we have all become, in a sense, even when we are only moving into a studio down the hall to start or finish a project. Ever made a cross country move in a van? Ever moved just down the block or down the hall? You STILL had to pack and relocate — both examples a major pain!
Therefore, the thrust of this piece is about how to simplify your life and live happier and longer as a production guy in a business that eats its young, netting you more longevity (who wants a SHORT-gevity in the first place?), and keeping you in a mental position where you will still actually enjoy what you do! That's an accomplishment! While it seems to me that some of this info may be stating the obvious, that will not be the case for everybody. So I am in hopes that there are some things here that you can use to make your life a longer one in our industry.
So with that rather UN-efficient NON-minimal introduction, allow me to get to the "meat" of it all:
Petty aggravations — we try to succeed in spite of ourselves, and if we could make our lives easier for literally pennies, then why not do it? Anything you can do in an organized fashion to speed up your workflow will make you better at your craft tomorrow that you are today! Whether it's a USB converter D/A, a certain microphone, a box you built, a hand-tuck/dolly... ANYTHING. Build templates on your DAW for projects that repeat themselves on a regular basis so you don't spend a lot of time daily, doing a setup and manually opening various plug-ins, effects and track numbers, track assignments and screen real estate. This will be especially helpful if you are not the only one using the computer. When another person is finished, simply load up your own personal template or preferences and get to work right away without having to always rebuild "Rome."
But the most relevant thing I can think of right now is a small list of things to make your production life more simple: Streamlining your laptop. Hell, maybe for some of you, just GETTING a laptop!
Mobile essentials: external soundcard for your laptop, easy mics to pack, headphones. 700p Palm phone with EVDO hi-speed Bluetooth modem for your laptop's soundfile transmitting and file swapping, etc. Gadgets: retractable cables, lights, mic stands, copy clamps, cable tiewraps, etc. Are you ready for the ride? OK, here goes...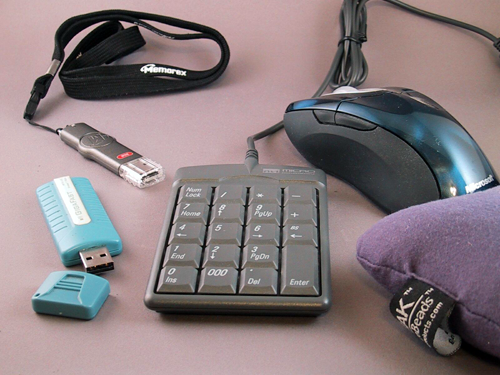 (Figure 1 - clockwise from left front): USB 802.11 WiFi Receiver-Transmitter. Unless your laptop or device has this feature built in, you will need to have a way to access a wireless network easily and reliably. This is that problem solver. Around $11 these days! THUMB Drive, for moving files from computer to computer at lightning speeds without having to use email or burn a CD. Great backup and storage as well. I do NOT know how I lived without these for data transfer between non-networked devices! Wireless Mouse — who wants MORE wires around them than are already choking you while you try to work? Wrist Rest for laptop — this is a "beanbag" model, and it really helps cut down on the newest rage in the industry: Computer Injuries in the Workplace!
In the center is a USB Number Pad, as most laptops do not have a keyboard large enough to accommodate one. I find it essential in editing if you are big on using keyboard shortcuts, and for those of you making the transition into video, you REALLY cannot live without this. Note that if you place it just to the left of your mouse, the "+" and "-" keys are convenient to a thumb-tap to use in zooming functions on the screen of many programs.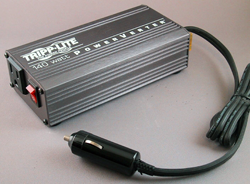 110v from 12v Cigarette Lighter Inverter — plug the laptop into it! From any vehicle... cars, boats, planes, trains!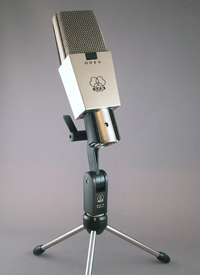 AKG 414 (or Sennheiser 416) Condenser Mic. The Sennheiser is easier to transport and much more rugged. I prefer it on male voices. The AKG is cool too when you need multi-pattern, several voices in figure 8 or omni settings, or for a female voice — not as strident on the "dulcet tones" of the fairer sex.
Mini Mic Stand. This folds for easy carrying and was around $6 at Fry's and Ametron.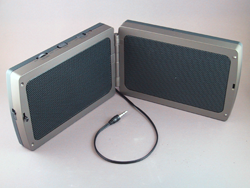 Battery operated foldable Radio Shack Stereo Speakers w/retractable cable… $14.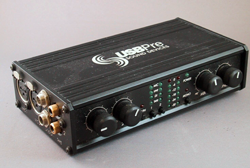 USB Soundcard. Mine is from Sound Devices, because first of all, besides being almost indestructible in its construction, it has phantom power for two mics. Second, there is a MIX control on their headphones, so I don't have to settle for live or recorded monitoring off the multitrack. How anyone could have thought that it would be useful to have a box that could not monitor the previously recorded tracks must somehow understand more about singing duets or voiceovers on a bed, donut or jingle than I do. But Zen is amazing, ain't it? I've noticed that ever since I watched a Zen master order a hot dog from a street cart when he said, "Make me ONE WITH EVERYTHING". Uh huh... Back to work.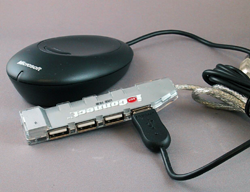 USB Port Expander - ideally bus powered so you don't have to drag yet another wall wart around with you! This model is particularly cool since it derives its power from the USB bus on the computer itself! The device connected here is the wireless mouse receiver.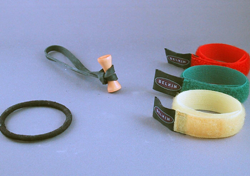 Rubber Bands! Yes! High-tech hold-everything for cables, etc. Also, pony tail bands and tie wraps from Belden — the kind with Velcro so you can re-use over and over and adapt to any size pack of wires, etc.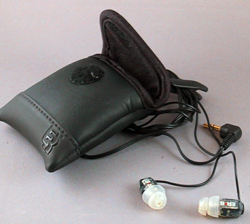 Shure E-2 Earbuds. They are $100 at B&H but will fit in your watch pocket of your jeans. They block outside noise, and if you stick 'em in tight enough, the low end is about right. Be sure to use the right size ear-hold sponge thingy, provided, for the right comfort in the fit. The mini plug is the right size for both the computer and the USB box.
I you ever use a Lav (Lavalier) Mic, you know how easy it is to break the little clips that mount them to the lapel or shirt collars. Try using the heavy metal clip off a convention or ID badge. It'll stay clipped until the job is done! And when you need to hold other items, more copy, notes, or just to help dress cables out of the way, what's wrong with a plastic clothespin? — also handy to keep the copy flat at the top of a music stand. When the bottom of the page rests on the lip of the stand, the v/o person is usually having to duck their head low to read the final line on the page. Moving the paper up to the TOP of the stand eliminates this choking problem for the performer, and is much more professional than rattling the page in the middle of the read!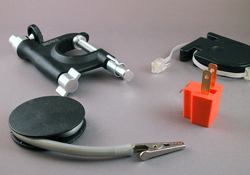 (Counter-clockwise from front): Copy Clip to hold scripts. Mic Mount Clamp for places where you don't want to use a mic stand. Retractable Modem Cord — keeps tangles to a minimum. Great as backup if WiFi goes down. 110 Volt 3 To 2 Wire Adapter Plug… because not everyplace you plug into was built in the last 20 years! It is also the secret weapon of choice in the black-art mystery of how to get rid of AC ground loops. Plug this in and it lifts the grounds! Just don't edit in a pool of water or you will become last year's best editor in a hurry.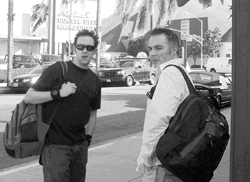 What have I forgotten? Multi-tap Power Outlet and Extension Cord. Flashlight! If you REALLY want to get portable from anywhere on the planet, Costco sells a jump-starter and tire inflator with a light and AC socket on it for $49 that has around a 400 AMP capacity. You could run a laptop on it forever!
You might want to throw in a bottle of water and an energy bar or two while you are packing! And, a BAG to PUT it all into that you can safely carry on a plane or throw into a small area of vehicle.
Barry Funkhouser, Imaging Director for Rick Dees, and Shane Smyth, Head of Production/Imaging at Dublin's Q102, compare notes on their "Studios on a Stick." Complete portability allows them to do all of their production from wherever they are! Many of the tricks described here are in their bag also!
Shane adds: "The portable hard drive is invaluable. Having done this for a number of years now and having built up quite a collection of sound effects etc., having everything together is fantastic. You never know when there's something you'll forget to do after you leave work that needs to be on air as soon as possible. Laptop of course goes without saying -- portable studio anywhere (even on vacation in Simi Valley)!! An easy search engine for sound effects on the laptop also… I use iTunes and it's fantastically fast! Just drop them into Cool Edit and off you go."
"A good elements package -- we use ShortBus -- they pretty much do the work for us. Nothing can beat experience though and knowing where everything is and being able to grab it quickly. I've got 10 years behind me now - and my new twin in LA who is good to come after for the odd thing I need too!", Shane reports.
Firstcom's online sourcing and search is comprehensive and lightning fast, too! These things can cut your search times in half or better. "If there's an animal we don't have, it probably doesn't grunt!" said Sharon Baer of Firstcom Sales of their extensive music and SFX catalogs. Immediate access and download into the project at hand is getting to be the norm in the lifestyle of many producers these days, whether you are in the "BIG" studio or in your "on-the-road" studio.
Yes, it seems that we are solidly in an area now where we can really work from anyplace in the world. I have a Disney VP ally who is rarely in the office, but nobody ever knows it because he "Crackberries" all of his work from wherever he is, even when he IS in the office!
♦