TECHNOLOGY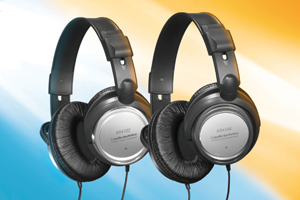 Audio-Technica recently unveiled the new ATH-T44 and ATH-T22 Dynamic Stereo Headphones. The new models utilize A-T's latest transducer technology and provide the highest level of sonic accuracy in a design engineered to provide maximum comfort for hours of listening. The ATH-T44 Dynamic Stereo Headphones feature a circumaural, closed-back design providing exceptional clarity and isolation in high-volume listening situations. The headphones utilize 40 mm drivers with high-output neodymium magnets and copper-clad aluminum wire voice coils. The ATH-T44's also have an extended frequency response of 18 – 23,000 Hz, and a sensitivity of 108 dB. Additionally, they employ rotating earpieces as well as a lightweight, self-adjusting headband. The ATH-T22 Dynamic Stereo Headphones feature a low profile, circumaural, closed-back design providing maximum power handling capability with a clean, linear low-end response. Also offering excellent clarity and isolation in high-volume listening situations, the ATH-T22 headphones utilize proprietary 40 mm drivers. With a frequency response of 20 – 22,000 Hz and a sensitivity of 100 dB, the ATH-T22's employ rotating earpieces as well as a lightweight, self-adjusting headband. The ATH-T44 headphones have a U.S. MSRP of $79.95 while the ATH-T22's have a U.S. MSRP of $59.95. www.audio-technica.com.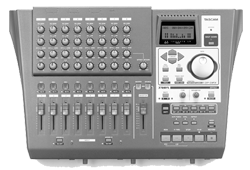 From the folks that brought you the first "Portastudio" over 25 years ago comes the DP-01FX/CD Digital Portastudio. Tascam's latest Portastudio features a built-in CD burner and is priced under $700. Based on the DP-01 and DP-01FX, the new DP-01FX/CD features eight tracks, two XLR inputs with phantom power, a pair of digital effects processors and a simple-to-use interface. The DP-01FX/CD adds a CD-RW drive for backing up projects and burning a CD of your final mix. The two mic/line inputs are on balanced 1/4" TRS or XLR jacks for dual mono or stereo recording. Its eight tracks record at uncompressed CD quality to an internal 40GB hard drive, and a stereo master track is available for recording a mix. Each channel of the DP-01FX/CD has a 45mm volume fader, plus dedicated controls for pan, effects send, high EQ and low EQ. In addition to the pair of multieffects processors onboard, there's a reverb processor for adding effects during a mix. An LCD display shows meters, editing settings and locate points. It has a USB 2.0 jack for transferring files to a computer for editing, and a CD-RW drive for file backup and audio CD mastering. There are analog RCA line outputs, a headphone out and S/PDIF line output. Also new from Tascam is GigaPulse, the company's first VST plug-in for Windows. Using convolving technology, which essentially "samples" a room or acoustic body, GigaPulse can emulate any room, vintage EQ or microphone. Features include the ability to create new impulses from your own recordings; 2D mic/source placement – move your source to up to 18 locations in a room; microphone modeling can be applied to the environment or used alone; and Tail Control which reduces computer processing load to free up your CPU for more instances. Impulse libraries will be available from TASCAM, or download numerous freeware impulses from the Internet. www.tascam.com.
Korg announced the D3200 Digital Recording Studio, the latest addition to its D-series line. The D3200 provides professional features and studio quality audio in a compact and cost-effective package. Up to 12 tracks can be recorded at once. The D3200 provides up to 32 tracks of digital audio playback at 16- or 24-bit resolution at sample rates of either 44.1 or 48 kHz. Two new Korg exclusives — a 4x4 Knob Matrix of assignable real-time control knobs, and ClickPoint™, a new 3-axis fingertip navigation tool — provide quick and intuitive operation. A high-resolution 320 x 240-pixel tilt-up LCD provides a clear icon-driven display that uses 4-level grayscale shading and backlit illumination for enhanced visibility. Session Drums™ allows users to create drum tracks in real time via the Knob Matrix, eliminating the need for time-consuming programming. A Tap Tempo feature allows the Session Drums to accurately sync up with previously recorded tracks. The D3200 features a flexible 12-bus, 44-channel mixer with up to 69-bit internal processing resolution. 4-band parametric peak/shelving EQ is provided on channels 1 through 24 as well as the master outputs. Channels 25-32 (as well as the submixer inputs) feature a 2-band shelving EQ. Automated mixing lets users record and play back fader, pan and other mixer events. In addition, 100 scene memories provide snapshot automation. Digital editing capabilities are included. Eleven 56-bit effects (eight insert, two master and one final) are available simultaneously, utilizing 52 effects algorithms, including Korg's REMS modeling technology. 128 preset programs and 128 user locations are provided, as well as an additional 32 user programs within each song. Twelve 1/4" inputs are standard, and eight also feature XLR connectors with phantom power. A dedicated hi-Z 1/4" input is provided for connecting an electric guitar or bass. Optical format S/PDIF digital I/O is included as well. Data may be stored on the built-in 40 GB hard drive, or transferred to a computer-based DAW for backup or editing using USB2.0 connectivity. The internal CD-RW drive can be used for backup, audio CD playback and importing WAV-format audio, as well as for burning a final mixed and mastered version of a project directly to CD. MSRP is $1799.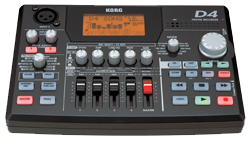 Also new from Korg is the compact D4 Digital Recorder. The D4 is designed to allow musicians to quickly record, mix and edit complete songs from start to finish, as well as easily capture musical ideas on the fly. The D4 features four tracks of MPEG-1 (audio layer-2) format recording onto Compact Flash cards, plus eight virtual tracks per channel, for a total of 32 tracks. Other features include easy to use "turn/push" editing knobs, a large backlit LCD, front panel XLR, and 1/4" inputs that accept a microphone or guitar. Three recording modes (High-Quality, Standard, Economy) provide extended recording time options, up to 99 songs per card, and up to 72 hours of recording time in Economy mode with a 2 GB card. The D4 also has a full suite of non-destructive editing tools including Punch-In/Out, Bounce, Copy/Paste, Delete and Time Compression/Expansion. The D4 is equipped with 93 different types of studio-quality modeling effects. Additionally, the unit includes a 4-band EQ, chorus, phaser and flanger type modulation effects. 100 factory programs are included, with room for 100 user programs as well. The D4 also provides 87 high-quality PCM rhythm patterns (32 metronome and 55 rhythm patterns) covering all modern styles including 8 beat, 16 beat, Rock, Funk, Hip-Hop, R&B, Jazz, 3/4, 6/8, 5/4, 7/4 and more. MSRP is $399. www.korg.com.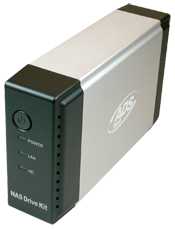 ADS Tech announced a new Network Attached Storage (NAS) Drive Kit. The kit is a 5.25-Inch drive enclosure that converts the user's own 3.5" Ultra ATA hard drive into a NAS device for instantly sharing data, photos, audio and video across a home or office network. The kit can be used as an instant network server, an FTP or Web server or a data back-up server. It also supports the BitTorrent protocal for peer-to-peer file transfers. With the kit, consumers and small businesses can choose the drive size that meets their requirements and can add it to a wired Ethernet or Wireless 802.11 G network without opening the PC. No user configuration or knowledge of IP addresses is required. An auto-discovery feature automatically adds the NAS device to all attached clients upon connection to the network. Easy-to-read LEDs display status such as Power, Network Activity and Drive Activity. Measuring only 5.24"(H) x 8.75"(L) x 2.375"(D), the compact kit fits easily on a desktop and is available from leading video dealers, e-tailers and distributors with an MSRP of $119.00. The kit supports Windows® 98, ME, XP (Home or Professional edition) systems, a Win2000 Server or a Windows 2003 Server. The complete kit includes the NAS Drive Kit enclosure (HDD not included), a Power Adapter (12V/3A), a drive mounting screw pack, a 6-ft. Ethernet cable, an installation CD and a manual as well as a user guide. www.adstech.com.
Version 1.6 of Voxformer is now available from Voxengo. Voxformer is a multi-functional vocal channel strip plug-in in PC VST format. Combining several processing modules, Voxformer was designed to be a comprehensive solution for all your vocal processing needs - be it spoken or sung vocals. This version features several minor issue fixes. It also features an extended frequency selection range for the Presence module: it has been extended down to 100 Hz. This allows you to use 'presence' technique in the lower frequency range. This in turn usually allows you to boost overall body of the voice - especially if it sounds weaker than desired. Check out the "More Body To Voice" preset for the demonstration of this approach. Features include two built-in vocal compressors, gain reduction meters, 4-band equalizer, real-time FFT spectrum analyzer, asymmetric compression, vintage saturation module, de-esser module (2 types), noise gate module and more. Also new form Voxengo is the new PC VST plug-in LF-Max. The main function of LF-Max is to add sub low-frequency content to the program material and to the individual mix tracks. Beside this it features a distortion module like the one found in the Voxengo LF-Punch plug-in. Internally, LF-Max produces three signals: the first one is the original low-frequency signal which is extracted by means of an adjustable crossover filter; the second one is the distorted signal which is generated by applying distortion to the original low-frequency signal; and the third signal is the sub-frequency signal which is synthesized from the original low-frequency signal. These signals can then be mixed together in the desired proportion. www.voxengo.com.