TECHNOLOGY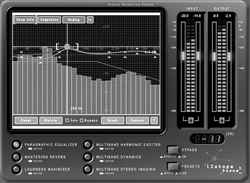 iZotope, Inc. builds on the success of their Windows-based 64-bit mastering plug-in with the release of Ozone 3. This latest version extends the Ozone tradition of analog modeled processing while simultaneously adding options for "digitally transparent" and intelligent processing. Highlights of the new version include: Analog Modeling — Proprietary MBIT+ wordlength reduction technology, tape modeling for warm multiband excitation, tube modeling for classic dynamic excitation, and analog modeled lowpass and highpass EQ modes; Digital Transparency — Linear phase multibands with adjustable Q control, linear phase EQ processing, transparent loudness maximizer mode, and 64-bit acoustic modeled reverb; Intelligent Processing — Automatically create "matching" EQs from spectrums, intelligent release loudness maximizer technology, intersample clipping prevention with predictive limiters, and auto-blanking dither with peak noise limiting. In all, Ozone 3 introduces over 30 additional features, covering areas of automation, performance, metering, processing and more. The complete list of new features can be found at: www.izotope.com/products/audio/ozone/features.html. Ozone 3 is available for purchase as a download or on CD from the iZotope web site. The price for the download version is $199 for new customers. For Ozone 1 or 2 customers, the upgrade is $49 for the download version. www.izotope.com.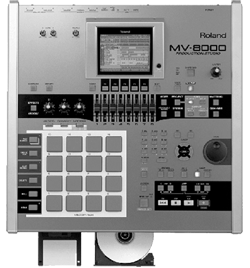 Roland's new MV-8000 Production Studio ($2,695) is a complete hardware studio with 16 velocity- and aftertouch-sensitive pads, professional sampling, sequencing, effects processing and CD burning. All major audio formats are supported via the onboard CD-RW drive, floppy drive and USB port. Designed for music production, arrangements can be created using a 136-track audio/MIDI sequencer, and the result can be burned to CD. The MV-8000 comes with 128MB of RAM, which can be expanded to 512MB for up to 101 minutes of sampling when recording in mono. Users can sample their own sounds or import Akai MPC2000/4000 libraries, Roland S-700 samples, ACID and .WAV/AIFF files. Once inside, audio can be chopped, synthesized and time stretched in real time, and then processed using separate 24-bit reverb, chorus/delay and MFX processors—complete with algorithms like Isolator, Filter, Vocoder, Guitar Multi and COSM effects. All audio and project data are stored to the MV-8000's internal 40GB hard drive. Connections to the MV-8000 include 1/4-inch stereo Mic/Line inputs, stereo RCA Phono inputs, 1/4-inch stereo Master and Headphones outputs, plus S/PDIF digital outputs in coaxial and optical formats. The MV-8000 also sports a USB port, MIDI input, two MIDI outputs and a Footswitch jack. Following a major software upgrade planned for 2004, the MV-8000 will support use of an external VGA monitor and mouse. www.Roland US.com.

PreSonus Audio Electronics' Eureka™ (under $500 street price) is a Class A transformer-coupled mic preamp. The new channel strip device features variable impedance as well as a saturation knob for tube saturation emulation. The Eureka sports a full-featured compressor with variable threshold, attack, release and gain makeup. It offers a soft knee compression mode, as well as a hi-pass filter on the sidechain for frequency dependent compression, which is useful for de-essing and other frequency specific compression applications. The Eureka, complete with an audio transformer on the input stage, offers a fully-parametric three-band EQ with overlapping bands and switchable staging for the EQ and compressor, enabling you to swap the order of the EQ and compression. The Eureka has instrument, line and microphone inputs as well as switchable gain reduction for the VU meter, dual outputs (TRS and XLR) that can be used simultaneously and an optional digital output card capable of up to 24-bit 96khz output on AES/EBU or S/PDIF. In addition, the unit has a 48V Phantom power unit with an 80Hz rumble filter, a –20dB pad, a phase inversion button and balanced send and return jacks for inserting outboard gear. www.presonus.com.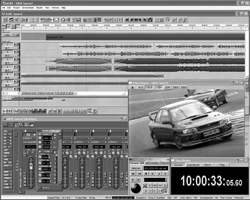 SADiE has announced the release of its new Version 5.2 software for the SADiE Series 5 range of digital audio workstations. The new release introduces a number of new features and options including fully integrated support for the new Advanced Authoring Format (AAF) file interchange standard for multimedia and DV-AVI Video Support for audio post sweetening applications. In addition, V5.2 includes a Normalize Function, the reintroduction of Speech Edit, plus a range of further enhancements to Playlist editing. The Advanced Authoring Format (AAF) is a new multimedia file format designed to allow images, graphics, sound, and metadata to be easily exchanged across different platforms and applications. AAF is intended to help deliver the full benefits of digital media to content creators including film, television, Internet, and postproduction professionals, and is currently supported by a growing number of the video, film, and audio industry's leading manufacturers. Video support is now available on the SADiE Series 5 range in the form of DV-AVI. Version 5.2 supports the playback and recording of video files in the DV-AVI format. The Speech Edit function has been reintroduced into SADiE V5.2 due to popular demand from users, especially those involved with radio feature production, and news or dialogue editing for film and video. Speech Edit provides a simple, automatic method of removing all extraneous parts of a recording, leaving the useful audio arranged into clips ready for immediate use. In addition, a number of the enhancements recently introduced into SADiE's Trim Window function have now been introduced for general Playlist editing, enhancing the speed of operation. www.sadie.com.
PRODUCTION LIBRARIES
Avdeli.com has released five "greatest hits compilations." Road Kill for AOR and Classic Rock, Atlantis for Hot AC and Adult Alternative, Thrills for CHR and CHR-R, The Xrules Collection for Active Rock and Alternative, and BeatFarm consisting of loops, beats, and percussion. Each are 1000+ track collections featuring 50% new tracks and 50% "best of" tracks. And coming soon, Power Tools for Hip-Hop imaging, Spin Dry for Euro Electronica and Adult Alternative Rock imaging, Rock On! 2 for AOR and Classic Rock, Xrules v6.0 for Active Rock and Alternative, and Eye on the Ball for Sports Talk. Beginning in 2004, all avdeli.com new releases will be delivered on CD-ROMs in "best CD quality" mp3 format. www.avdeli.com.
New releases from Killer Tracks include: KT 159 - Emotional Textures, KT 160 - Acoustic Guitar 3, CM 47 - Phat Beat Volume 2, NJJ 74 - Pop 6, NJJ 75 - Sports 8, Koka 2229 - Ambient Space, and Koka 2230 - Nu Tek Pop. www.killertracks .com.
THE MIX
Lisa Orkin, the oldest daughter of Dick Orkin, has recently joined the staff of the Famous Radio Ranch as a writer/performer. Lisa has spent 8 years in the established LA clubs as a successful stand-up comic, singing, doing comedy parodies and a one-woman comedy show: "Housewife in Blue." Her stints included The IceBox in Pasadena, the Comedy Store on Sunset Boulevard and several other venues in and around LA and Orange County. She wrote all of her own material during these years. In addition, Lisa is well known in the Los Angeles commercial circuit appearing both on-camera and in many voice-over commercials that can be seen even today. "The move from stand-up to writing and performing at the Famous Radio Ranch was a natural one, and it's great fun working with Christine Coyle, Ranch CD," says Lisa. "And also for my father who, I must confess, embarrassed me as a 12 year old dressed as a chicken and tooth fairy. The worst moment was when he appeared at my teacher's invitation to discuss his career dressed in his series work clothes. Fortunately, he is over that period in his life—at least, I hope he is, " adds Lisa. "It's great to keep it in the family," said Dick. "And I'm sure she'll do well on our creative staff." (For personal contact, call 323-462-4966.)
RAPster Glenn "Casey" Cook of Newberry has been named a winner of the Award of Distinction, in the recent 2003 International Communicator Awards. Cook, one half of the "Coffee Crew" Morning Show and Production Director for radio station 93.7fm WNBY, along with his commercial production company, SpotsThatCook.com, wrote, voiced and produced a piece for Xpress Digital Video of Flint, MI. The entry was one of 1,079 in the competition and won in the catagory of Audio Productions/Marketing (Services). Way to go, Glenn!
Local Indianapolis voice talent and veteran broadcaster, Johnny George, has been contracted by Kingneed Electronics in ZhongShan, Guangdong, China to be the translated English voiceover for their new hand-held Chinese-to-English translator device. The item is similar in size to most hand-held PDA's and small cassette recorders. George is producing from his DigiStudio over 900 words and sentences to be mastered in China. Associate producer for Kingneed, Jessie Hu, is planning for an early 2004 roll-out of the English version. Johnny's voice work can be heard worldwide ranging from local/regional radio/TV commercials to multimedia presentations, website audio, on-hold marketing and DVD games and educational devices. www.johnnygeorge.com.
RAP columnist Jeffrey Hedquist, President of Hedquist Productions, Inc. in Fairfield, IA, will be speaking at the Radio Advertising Bureau's 2004 Sales, Management and Leadership Conference held in Dallas February 5-8, 2004 at the Adam's Mark Hotel. Hedquist's seminar will run from 2:30 p.m. to 3:45 p.m. on Friday, February 6th. Drawing upon over 30 years of experience as a writer, producer, voice talent and speaker, Hedquist's seminar, "Better Stories, Better Sales" will focus on techniques to find and develop story-type commercials that get results for your clients, listeners for your station, and renewals for you. Hedquist says, "My seminar will show you step-by-step techniques to make your commercial storytelling more powerful. You'll find out how to pull stories from your clients and discover stories in your own lives. You'll learn the seven critical questions that will sharpen your stories and you'll get a template to help you structure effective story-type commercials. I'll make sure you leave with result-getting money-making tools you can use immediately." More info at www.hedquist.com.
♦