Page 3 of 3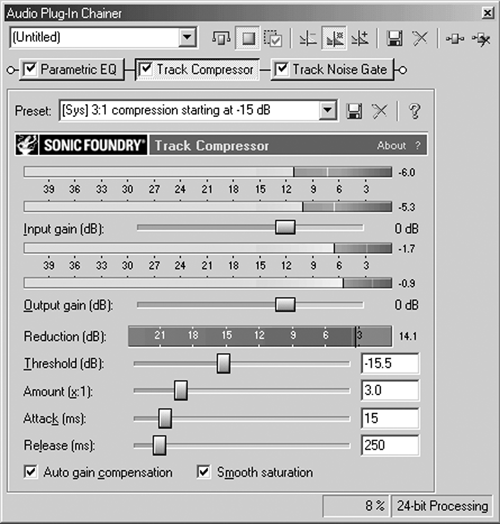 Version 6 includes the same set of 35 DirectX plug-ins as did version 5, including the Wave Hammer mastering tool. This plug is similar in concept to other peak limiting software, and includes a "vintage" compressor and a look-ahead volume maximizer. In actual use Wave Hammer works about as well as any of these "maximizer" plugs do, which is to say that you can get a lot of level boost out of it before its action becomes really obvious. The downside is that it is all too easy to produce a monotonously loud track that has no life left in it. But that never happens in radio, does it?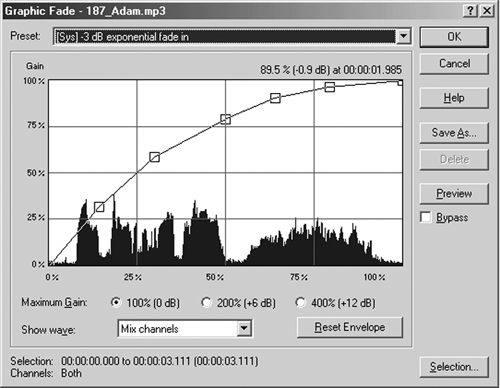 The New DirectX Plug-In Manager represents another improvement in efficiency. With this Manager you can easily sort, edit, and arrange your DirectX plug-ins so they're easier and quicker to find in the menu bar. There is even a Favorites menu similar to the one you find in Internet Explorer, where you can place the plug-ins you use most often. This is no small improvement for those of us who have collected a large number of plug-ins. It eliminates the need to search through the multiple "DX1", "DX2", etc., menus that appeared in Forge 5 when you had more plugs than one menu could list.
DELIVERING UP IN THE HILLS
On the audio quality front, SoundForge can now process audio at up to 64-bit floating point resolution, at sample rates up to 192 KHz, provided your sound card supports these rates. While most radio production is destined for 16-bit, 44.1KHz output, I've found that recording and editing at 44.1 KHz and 24-bit resolution, then dithering down to 16 bits at the very end, simply provides audibly better results.
The higher sampling rate is another discussion altogether. For example, noted mastering engineer Bob Katz has reported an experiment where he recorded high quality music into his digital audio workstation at a 96KHz sample rate and then removed the high frequencies above about 22KHz from the file, while retaining the same sample rate. He says that he could hear no difference between the original file and the altered one.
Nevertheless, it's nice to know that Forge can handle both high bit-resolution and high sampling rates. The program provides several flavors of dithering for getting 24-bit audio down to 16-bits, without the low-level buzzing artifacts that can occur from simply tossing those last eight bits in the bit-bucket. You can experiment with the various dithering algorithms should you be so inclined.
Sound Forge now supports files of 4GB and larger, up to the limits of your hard disk, thanks to its support of the NTFS disk format. Provided your hard disk is formatted for NTFS, this lets you easily work on long-form programs without having to cut such a project into parts. Good deal.
The program hooks seamlessly to Sonic Foundry's Acid Pro (and vice versa), making a powerful combination for creating loop-based music beds. And Forge 6 remains compatible with nearly every audio format you can think of, including Quicktime and Windows Media. The notable exception to this is Digidesign's Sound Designer II format — I wish someone would explain to me why it's so difficult to provide native file support for what is arguably the most popular file format everywhere except in radio production.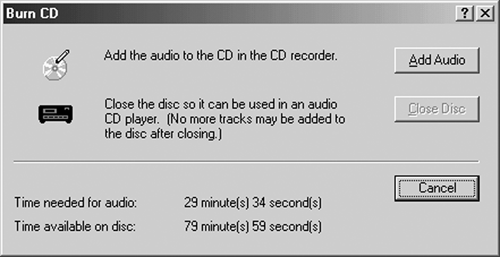 As you might expect, Forge 6 includes the ability to extract audio tracks from a CD and open them directly. And given Sonic Foundry's decision awhile back to discontinue its CD Architect software, it's welcome news that Sound Forge still offers the ability to burn recordings to a CD from within the program. However, there are two things that annoy me about the CD burn command. First, Forge still burns CDs only in TAO (track-at-once) mode, which is not the preferred method for mastering and gives you no control over the pause between tracks. Second, it requires a separate trip to the Burn CD menu item to actually finalize the CD so it can be played in a regular CD player. These things aside, it's a handy feature for backing up edited tracks quickly.
The Forge 6 manual is available online as a PDF file. And the help menu works well, providing easy access to topics covering all aspects of the program, as well as links directly to Sonic Foundry's most excellent website. While I prefer a printed manual, I'm quite content to use the online help and save the extra fifty bucks to get the boxed Forge 6 upgrade.
TO UPGRADE OR NOT TO UPGRADE
Sound Forge 6 is a mature and stable product. I began using version 6 in early May when it was first made available as a public beta, and I never encountered so much as a hiccup, much less a crash. Forge is about as bullet-and idiot-proof as any piece of software I've used. It's compatible with a wide variety of sound cards and with almost all versions of Windows. Although the background processing begs for a capable computer, for basic editing use its requirements are modest. In other words, it will run on almost anything.
It used to be that if I wanted to record and edit really quickly on the PC, I'd go for CoolEdit. If I wanted to perform radical cosmetic surgery or fool around with music beds and loops, I'd grab Forge. With the release of version 6, I find myself booting into Forge more and more. It now has the speed of CE, plus all the Sound Forge tools we've known and loved. Several enhancements in the user interface and the handling of plug-ins bring even more speed to the editing work, and that is good.
Sound Forge 6 retails for $449.96 for the boxed version, and $399.96 for the download version. If you're an existing Forge 5 user the upgrade is $149.95, and worth it for the speed alone. If you own Sound Forge XP, then the upgrade to version 6 is a bit pricier at $249.95. At that point I know it would be harder for me to justify upgrading, given the $69 price tag of CoolEdit 2000. However, there's a benefit to using just one stereo editor and being intimately familiar with its interface and commands.
As an added bonus, Sound Forge 6 comes bundled with Vegas Video LE 3.0, which offers eight tracks of video, effects and transitions, and the ability to simultaneously time-stretch audio and video. If you currently use Sound Forge, there's simply no reason not to buy the upgrade. It's a major time-saver, and fast, fast, fast!
For more information, contact Sonic Foundry at (800) 577-6642 or (608) 256-3133, or visit their website at www.sonic foundry.com.
♦