Page 1 of 3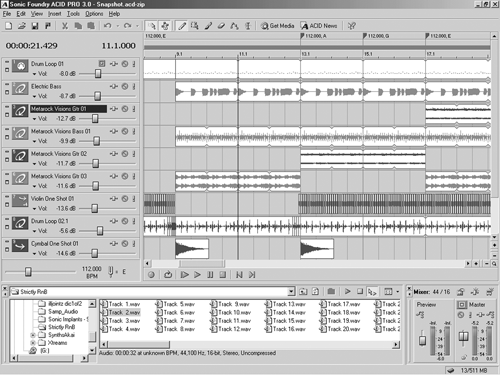 By Steve Cunningham
There are days when our stock music library just doesn't cut it, and the GM is too tight to spring for new music or update the library we bought in 1996. We need an original music bed, and we need it to be cheap. One way to get almost original music at stock music prices is to do it yourself with Sonic Foundry's Acid.
For those not familiar with the program, Acid is based on buyout CD-ROMs of loops, which are short snippets of music designed to repeat endlessly. These can be as simple as a bass or drum pattern, can include melodic or harmony parts, or may even be pieces of a hot solo. You drag the loops onto tracks in a timeline, where they automatically snap into musical sync and can play together. By combining loops, switching to alternative versions, and adding on-board studio effects, you can create a credible-sounding bed of any length.
Now for a diehard Macintosh user like me, Acid Pro is the only logical reason to own a PC. See, there's no Mac version of Acid, and there is no other program for the Mac that comes close to doing what Acid does. (Actually there is one program – BitHeadz' Phraser for the Mac, but after a year on the market it's still an immature product. Don't bother.) So when Acid Pro version 3.0 became available, I finally bit the bullet, got on the Internet, and ordered myself a PC.
You have no idea how difficult it was for me to do that. It's kind of a religious thing.
But Acid Pro is that good, and it was well worth it. Acid Pro is a powerful, easy-to-use and incredibly addictive editor that has now evolved to version 3.0. This upgrade has enough new features and functions to both pique the interest of existing users and to entice those who may have taken a pass based on any perceived weaknesses in past versions. Version 3.0 is a significant update.