Page 1 of 2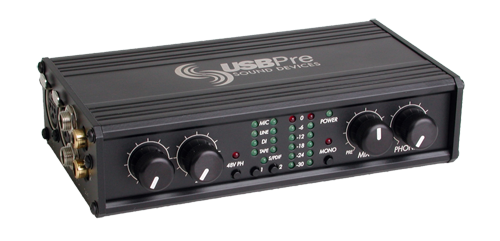 By Jim Kipping
Alas: A new beacon of light at the end of the production wind tunnel we force ourselves into every day.
This article will change the way you will do work in your studio or on the road. Production folks, engineering types, field recorders and the like, listen up!Run, don't walk, to the nearest phone and order this device! The USBPre from Sound Devices is simply awesome! This very simple USB device is not only a sound card, but it is also a replacement for an entire mixer too! I'll e'splain it to you Luci.
First, the company that makes this small wonder hails from Reedsburg, Wisconsin, a state known for great Drum and Bugle Corps (sorry—a throw back to High School and College band geek-ism.), not to mention a lot of very nervous dairy farmers, (foot and mouth…'nuf said). 50 miles north of Madison, Reedsburg is a small town with a population of about 7,500. The city boasts its proximity to the Midwest's electronics communities, and more importantly, to the town's brewery, which, I'm sure, gives their developers that "free form thinking" advantage that has helped Sound Devices dream up some pretty innovative products since 1998. Check out their web site at www.sounddevices.com and see for yourself. A lot of their products assist the mobile audio needs of both the Audio/Video Broadcast and Film Industries. A small device with big functionality is what they (with the help of the brewery I'm sure) have brought to the tech heavy and product driven radio industry.
And Now, On With the Countdown
The product is called the USBPre. The current version is the 1.5 hardware with S/PDIF. I had seen a few small blurbs in one of the thousands of industry mags I get on a monthly basis. In fact, I also was introduced to the USBPre by my continuity director, Candace Andrews here at the LBJS Broadcasting Company in Austin. At the time, we were investigating another USB Product from another manufacturer who will go unnamed. That product went back to the distributor about a day after it arrived here at the station. I was trying to find a USB product for multi-purpose use—not only for the desktop, but for mobile use as well. Although this other unit looked cool, and the basic functionality was okay, we had enormous amounts of lockups and conflicts once installed on one of our production units. It also failed to address the special concerns I had for mobile use. On the very day this unit went back, we started seeing the USBPre ads. I'm glad we did.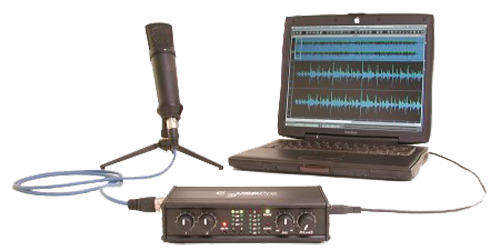 On the Road Again
I actually met up with Sound Devices at NAB in Las Vegas in April. First, if these folks can fork over the money for a decent sized booth at the big NAB show, they will most likely be around a while, unlike other manufactures that have bellied up recently. (cough… cough… Gadget Labs!.. Cough..)
Jim Koomar, Market Development Manager, walked me through and let me play with a USBPre unit setup on a laptop using Cool Edit Pro software. No editing software comes with the USBPre, but it can be used with any software that supports Wave/PCM files. Likewise, the USBPre can be used on the Mac Platform with AIFF files. I was instantly sold when using the USBPre because of its ease, simplicity, and the sound with no outboard gear. The set up consisted of a condenser mike plugged directly into the USBPre and one USB cable to the computer. No mic preamp or compressor needed. It was incredibly clean.
A good many of you do as I do when you hit the road: you still work while you're "off." My usual accompaniment includes a Dell Inspiron 7500, P3 600/128 RAM and 18G hard drive. I also have Internet connectivity wherever I go to send and receive email. Couple this with an 8-channel Behringer mixer, compressor, and the 18,000 cables to hook it all up. Then add in the power wall-warts, and I'm left with very little room for clothes and other necessities. So much for not checking in any luggage!