David Jay, Assistant Program Director/Creative Services Director, WIOQ-FM, Philadelphia, PA
by Jerry Vigil
When you find a winning radio station, you usually find winning people inside of it. This month we check in with David Jay, the APD and Creative Services Director of Philadelphia's Q102. The station recently captured the lead in the market's ratings race, and David recently captured first place in the Large Market Promo category of this year's RAP Awards competition. He also took first and second place in the commercial category last year. Join us as we get a close-up look at this winning combination.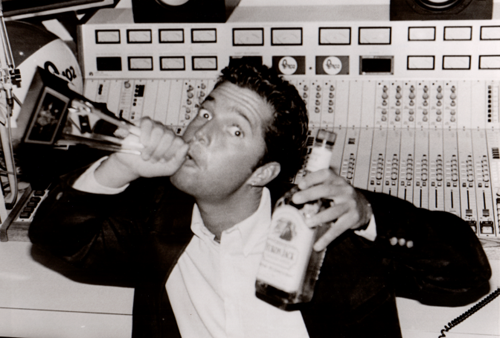 R.A.P.: Tell us about your first job in radio.
David: I got into radio in '79. I had an evening gig. Actually, I was cleaning the radio station for awhile. Then one night, the night-time guy was too drunk to come in, and I said, "Hey, I think I can do that." I sat down and learned the ropes real quick, and before you knew it, I had the job. In fact, my best from high school, who was a midget and was blind, got into radio also. Radio was kind of a hobby for him at first, and he developed into a fine radio jock. He called himself James the Giant, and I was David the Goliath. We kind of got a little radio gig together at a 3,000 watt FM station in Macclenny, Florida, which is where I grew up on a small farm. I've been at it ever since.
R.A.P.: What to next?
David: From there I went to be a producer for the Charlie and Harrigan Show, which was a syndicated morning show. I would write for them, and they would produce the material. Then they'd send back these bits, and that would be our localized material. We combined this with their national comedy bits, and I tried to make everything sound live. All the carts had different times on them so the guys could say, "It's 8:35 with Charlie and Harrigan," and then you could go right into a bit and it would sound like the whole show was done live, when it was actually the magic of the producer. I really learned a lot about production doing that. That was in '81. It was at a 50,000 watt AM station, WVOJ in Jacksonville. The VOJ stood for the Voice Of Jacksonville. This was just 30 miles from my home town.
From there I went to Lake City and worked for an AM/FM combo where the AM was a country radio station and the FM was AOR. You operated both stations at the same time. When you flipped the microphone switch to the right, you were on the AM station; and when you turned it to the left, you were on the AOR station. So, you had to have two different personalities. On the right-hand side you had to be the up, country jock; and on the left-hand side you had to be the smooth, laid back, AOR jock. And then you had, of course, an A/B switch to listen to what was happening on the FM and what was happening on the AM. The FM was semi-automated and had trigger switches to trigger the music. If something went wrong, a light went on. Working there was a colon buster, to say the least, but it was a lot of fun. I was there for about seven months and learned a lot.
From there I got into a little bit of television work operating a camera, trying to find my niche and what I thought I was going to be good at. I never liked being on the air. I thought it was a big ego thing, and I wasn't into that. But I loved audio. I loved the mechanics of it. I loved creating, and that's what I really wanted to do.
After the television work, I went to work back in Jacksonville at a radio station called 97-WAIV. I was there for a short time, then I got into the nightclub business as a Creative Services/Advertising Director. This is where I really started working on production. They built a little studio for me. The company was called Crown Leisure, Inc., and they owned a chain of nightclubs. I worked in Tampa, Orlando, Ocala, Jacksonville, Miami.... It was a fascinating little venture.
After that, my career really picked up. I went to work for WAPE. As you know, the APE kind of died in '80 or '81 on the AM, and it was brought back to life in '85 on the FM. I met up with my mentor at the time, Mark Driscoll, whom I'd listened to all through childhood. Driscoll took me under his wing, and we had a nice career together. We were together from '85 to '91. In '87 I came to Philadelphia where we created Q102. Now, Mark's no longer here, and I decided to stay. Mark now has his own production company, Mark Driscoll Productions.
R.A.P.: Tell us a bit more about working with Mark.
David: Mark taught me an awful lot, and we had a great working relationship. He's a very creative man. He was the first real voice talent that I ever worked with. Mark was my paint, and the radio station was the canvas. It took four or five months for Mark to give me total trust, then from there it was a wonderful relationship. Mark would just lay his voice down, and I would take over from there.
Now, with my new boss, Jefferson Ward, he's the voice-over talent, and he does the same thing. The difference is that Mark was more the dominant figure, and Jefferson is an equal. When we write things together he actually uses my brain, and he realizes that, besides being a producer, I have a little writing talent. I'd say the last year and a half to two years has been a real growing period in my life. And I have to give all the credit to Jefferson because if it wasn't for him, I think I'd still be stuck here as a producer and not as a creative entity. Jefferson has let me branch out and get more into the management area. He named me Assistant Program Director with the Creative Services title, and he and I have worked together for a little over a year. It's more than a working relationship, it's a marriage. I would say he's probably the best boss I've ever had.
R.A.P.: Let's go back for a minute and talk a little more about the time you spent working for this chain of nightclubs. For a couple of years, you basically went from town to town as a Creative Director for each of these clubs, right?
David: Right. I would write commercials for each city, and I'd come up with some promotional ideas. The company was a great company. They flew me from city to city in their little private jet, and I had full freedom to do billboards, radio commercials, and a couple of television buys; but my forte is audio, so I stuck mainly with that. It was a nice career. It paid well, and I had a great time. I ended up getting out of it because of radio -- I really missed radio and I thought the nightclub life was eating me alive. It was time to slow down a little bit, and that's what I did. It was a wonderful time in my life, but I love being back in radio.
R.A.P.: Still, during that time with the clubs, you must have gained some useful knowledge about writing and producing club spots. What can you share about that?
David: Well, when you're writing and producing for clubs, the first thing you have to do is get to know your market, no matter where you are. You could take me out of Philadelphia -- and I know this market like the back of my hand -- put me in Dallas, Texas, and I would be totally lost. You have to learn your market, and you have to know what nightclubs are all about. There are usually two reasons why people are there, and that's to drink or for sex. It's pretty plain and simple. Very few people go for dancing; if they did, they wouldn't be drinking -- it's kinda hard to drink and dance. So, you learn that atmosphere. You learn what it's all about, and you transcribe that into your creative writing.
Not to get back on sex, but I find that lovemaking seems to make the world go 'round. It affects everything we do -- the way we dress, what we eat, how we comb our hair, and the way we think. I incorporate a lot of that attitude into my creative writing -- a passion, something that will make you feel something inside, whether it be romance or make you cry, or make you really think about life in general. That's how I write promos and copy. It can be funny. It can be serious. Or it may just be a little bit of knowledge that you throw out to them to see if they'll nibble on it. Sometimes though, you throw pearls to swine; so you can't be too big for the room.
R.A.P.: Do you have any help with the commercials at the station?
David: No, I do it all. It's a one-man show. I produce everything.
R.A.P.: Are you writing the commercials?
David: The salespeople are responsible for either writing their own copy or getting the copy facts to me, and they know I'm always available for creative writing. Sometimes you get some really bad copy from Account Executives, and if it's terrible, I'll rewrite it. But I help them, and they help me. They're a good bunch of people, and we work a lot on each other. I also have some interns, and I utilize them when I can.
R.A.P.: You use interns for copywriting?
David: Yes, I do. I find interns through different schools here. We have some great schools -- Temple University, Penn, Drexel -- they're enormous, and there's enormous talent in big cities. Everybody's starving, and they want to get on the air badly. The key is to coach and train them. I'm never afraid to train anyone because the more that I train, the better they are and the more helpful they are to me. And these people, I know, are going to go on and have great careers. As long as you know that you have a creative mind, there's no one who is going to take over your job; you just have to have the confidence and the faith to keep it. So train everybody you can; that's my philosophy. Make sure everybody is as smart as you are.
R.A.P.: A great deal of emphasis in your promo work is put on the copy. How important is creative copy, and where do you get your inspiration?
David: I think creative writing is very important. When you write a promo, it's kind of like writing music. It must be composed by the ear like music, with feeling and instinct, and not by any rules. Don't follow any rules when you do creative writing; just create. And whatever it is that stimulates you, make sure you do that. For instance, I live in Center City in Philadelphia, and I get my stimulation by.... Well, let me first give you a brief synopsis of what our radio station is all about. It's an urban station leaning dance; and I'm a white guy, and I have to relate. I live right in the middle of the heartbeat of the city, and to the right is an extremely black neighborhood. To the left is society hill which is the really rich and pompous area. And right in the middle is South Street, and it screams with activity all night. That's where I get a lot of my creativity.
I also take public transit back and forth to work. I don't drive. That way, I can write on the bus. I get inspired by the people. It seems to me that when producers or Program Directors start making a higher income, they forget what their target audience is. And if you are in a CHR situation or a younger adult format, you can't forget who your people are. These people go to McDonalds. They go to K-Mart. Some of them make extremely low incomes. The average human being in Philadelphia is making $23,000 a year, and when producers and Program Directors start making that upper income, they forget who their audience is and what they're all about. So you have to stay in constant touch, and that's my job. Jefferson relies on me to do that, and I love doing that. And as long as I can keep my mind focused, then I know we'll always be a winning radio station.
By the way, we're the number one music station in Philadelphia. That just happened, and we're all very proud. We have a 6.8 share; and we've beaten Howard Stern/WYSP, and classic rock WMMR, and the black station Power 99, and Eagle 106. It's an amazing situation, and I know they say, "Well, it's because of the format." And I know it isn't. It's the internal part of our station. We have such a powerful staff. It's incredible, and it all works from the inside out.
R.A.P.: The station was CHR before Jefferson came, right?
David: It was CHR, kind of a free-style disco-ey thing. Then we hired Jerry Clifton as a consultant. Jerry said, "Let's take it a little more urban." I really had to sit down and think about it. Urban was something I had never done before. On the tape that I'll send for The Cassette, I'll let you hear a lot of my new urban feel. I don't think of us as a black radio station. It's a very gray radio station. We are black and white -- about 36 percent black, the rest are white. We're the heartbeat of Philadelphia. We're what everybody wants to listen to. We're the cool station, and it does have that urban feel to it.
R.A.P.: Sounds great! Did you have any other thoughts regarding creative copy?
David: Oh, yeah. The copy is the lightning. Sound effects are the thunder, and thunder is good and impressive, but it's the lightening that makes it all work. Jefferson's really good. I'll write a piece of copy, and he'll look it over. Sometimes he'll move the icing around on the cake to make a great design. We write a lot of stuff together. Other times he'll come up with one piece, and I'll come up with another. The promo that won the RAP Award this year ["Peace On The Streets/Little Boy"] used a piece of copy that I wrote on the bus. Our station's push is "Peace on the Streets." There's a lot of violence in bigger cities, and in Philadelphia, we are the radio station that can influence the younger teens and the young adults who are maybe on the streets, unemployed, into trouble. It's their music. They listen to it. And it's such an interesting philosophy at work when we play this music and have these Peace on the Streets promos mixed in. They mix very well together, and people are shocked when they hear it. Other Program Directors are like, "Wow, what a concept!"
By the way, the promo that won this year used Jefferson's son and one of our engineers as the voiceover talents. It's funny, you know? You do things, and you think the work is good and all that. But then I heard The Cassette that came out [with the finalists]. I heard the other work, and I thought, "I'm not going to win this year." I mean, everybody is so good! So, it's such an honor to pick up this trophy, especially from my peers, because these guys, they all work as hard as I do, and they all bust butt to come up with the very best creativity. It's my favorite award, it really is.
R.A.P.: What about the other parts of a winning promo, the production and the voice-over? Are these things as important as the copy?
David: Once I have the voice tracks all down, then I have to find the right music, find the right effects to make it all flow properly. All three things are so very, very important. Once you get the copy down, you've only fought a third of the battle. You've still got the other two parts to work on. You've got to piece them all together in harmony with each other.
I think what most production people have to realize is that they're artists. They are THE artists of the radio station, and it has taken so many years for General Managers and Program Directors to realize that. They've always said the Music Director was important, or the afternoon drive jock, or the morning show. But that's not so because, a lot of times, it's what's in between the songs that makes the radio station different. We can all play the same music, but how do we captivate our audience in between? What do we do to our commercials?
I'm so proud of our radio station. Our commercials are the best in the city, and I'd love to stand out and say they're better than in most cities around the country. We're all very creative, and when one guy does something great, the other guys try to do it better. So everybody's trying to outdo each other, not for an ego trip, but because the radio station as a whole sounds great.
One of the most amazing things we did was go to one commercial break per hour. That means we play eight commercials at one time! Boom! It all happens at once, and I'm responsible for that eight minutes! But how do we keep those people from going to another radio station for eight minutes? It's the creativity that we put into our commercials. And at the very end of the stopset, I have this little production piece that I put together. It's called, a "What's Happening," and on the What's Happening, all the jocks get a turn to tell the listeners where they are. It's an old thing that's been done for the past two or three years, where each jock says, "Hey, join me at so-and-so; I'll be there this Wednesday night." But I've taken a different twist to it. I've actually put the jock into the situation. If a jock is at Shooters Nightclub, when he comes into the production room, I deaden the mike to where it sounds like it's not as produced, then I put ambience behind him so he sounds like he's in a room where there are people talking behind him. I take the music and deaden it to where there's a lot of bass, very little treble, thudding in the background, and then, boom, here comes the magic. "Hi, this is Jo Mama, and I'm at Shooters Nightclub right now. Make sure you join me next Wednesday night where we're going to be playing musical chairs." And it sounds like he's really there. That's how it started. Now we add the comedy. Now we have people out on the streets talking to people: "Hi, I'm in front of the theater...." And, all of a sudden an old man will come up and say, "'Scuse me, you got a quarter?" The jock says, "I'm on the radio; hold on just a second." So here come all the comedy elements. People believe that we're everywhere, and that's so important for a radio station to sound like you're everywhere.
With these little What's Happenings, people actually stay through the whole commercial break to hear where everyone's going to be, and they wait to hear what the comic relief of this whole What's Happening is going to be. So, it's an amazing thing that happened by accident, and it has flavored our radio station so nicely. It's a little spice, a little oregano.
R.A.P.: Are there several plugs given during one of these What's Happenings, or is it just one plug and a comedy element?
David: Oh, no, we usually run four plugs, and here's how it starts off. I have a black guy that I'm using, very ethnic sounding, and he goes, "Yo, here's what's slammin' around the city on the new Q102." Then you hear a fire truck horn. That's city ambiance. Then I come in with a jamming rock bed that's about two seconds long, separate it, and bang, slide into wherever we are with that jock. He could be out on the street. He could be in the mountains at the Pocanoes, or he could be at the shore. The music just stops and, bang, he's right there with a background of wherever he is. He could be on Market Street, and you'd hear all these loud traffic horns or a police whistle in the background. He tells them what he's gonna be doing there, then the rock music comes back again for two seconds. It's a separator -- none of these fancy swishers and zappers. If you do it with a little rock bed, it makes it sound like MTV, I guess you could say -- MTV on the radio. Then we go to the next jock. So, you'll have four jocks, usually -- I don't want it to be too long -- and then you have a closing.
R.A.P.: How long is this promo?
David: It'll run a minute fifteen. I'll even go a little bit longer if I have to. It's so entertaining. You don't lose anybody in this time. Something we forget about is that the only reason people turn on the radio is to listen to music or to be entertained. That's it. You don't want to hear boring stuff -- "Another thirty minutes worth of music." Who cares? Either play the song or entertain me. That's all there is to it. And if you're a good producer, and you're into 1994, a little bit ahead of everybody else, then you're going to do your job. Let the music do its thing, and you fill in the gaps. Make sure they're always entertained because as soon as they get bored, they're clicking. They're going to the next station.
We won't let a jock talk at the end of the music. Never talk at the end of the music because people are programmed. They've heard it all their lives. When they hear a disk jockey talking at the end of a song, what's he gonna do? He's gonna go into a commercial. So, if you're going to play another song, make sure you get into it right away, segue or play a sweep so they know you're not going to go into a commercial set. And then, if you are going into a commercial set, entertain them so they know that something exciting is about to happen. They'll stay on. It's not brain surgery. You've just got to think like an entertainer, that's all.
R.A.P.: Do you promote the What's Happening promo prior to going into the stopset?
David: Never. It's dessert. You never really think about dessert when you're ordering dinner. You think of the main entree and, after you're full, you go, "Okay, let's see the dessert menu." So, we just give them the entree, and then, all of a sudden, here comes the waiter with dessert, and people go, "Oh, I'll have the cheesecake with the strawberries on top." They just have to get used to the idea that there's dessert after dinner. You don't have to tell them the promo at the end of the stopset is coming on. You just play it at the end. They get used to it. They understand what's going on.
R.A.P.: Do you have a large promotion budget there?
David: Every radio station I've ever worked for had no budget for promotions. At Q102, we were going up against a million dollar a year morning show on Eagle 106 that spent tons of money in promotions. We didn't spend crap. We don't. I don't want to say that, but we don't spend any money on promotions. We have a lot of secret ways of giving away things. We'll get Peace on the Streets T-shirts made up with RCA or Epic Records written on the side, and the promoter will help us pay for it. We're working with mirrors, and it's the greatest. We're living proof that you don't have to have a huge budget to be a number one radio station. I know there's gonna be a lot of Program Directors who will read this and will absolutely hate me, but I'll go head to head with you. I'll give you all the money in the world, and I'll beat your ass because I can do it. You just have to figure out how to do it. You do it with mirrors. You do it with fine talent. You do it with your on-air product. That's what it's all about. If you're good, people are going to listen to you. If you're bad, you can say you're great all you want. But you're not going to be good. If you have to say you're fun, it doesn't mean you're going to be fun.
R.A.P.: So simple and so true. What other things are you doing to keep listeners hanging on through eight minutes of commercials?
David: Something we do that I think is very effective is say, "Hey, this is Q102, the first radio station in the country to play only one commercial break per hour. We're going to play that commercial break, we're coming back, and you won't hear any more commercials for a solid hour. Don't go anywhere, because let me tell you what's coming up. I'm going to have the latest song from whoever." Plug it. Plug it like it's the greatest thing in the world. The key is, your radio announcers have to be sincere. I mean, when they say it, it has to be the greatest thing in the world. Don't get too comfortable. It's like getting comfortable in a relationship. You forget to buy her roses after awhile. Don't do that. Always buy the roses. Always say, "Hey, this is the greatest radio station in the world," and people will feel it. They'll know you're being sincere, and they'll hang out. They'll wait. Another thing we do is always run the best commercial first, the one with energy that has some type of value to it. It's terrible to have to go into a spot break with some guy who is talking with no music and trying to sell you a used automobile. Make it comical. Make it fun. Make it something you can relate to. The greatest commercials in the world right now, to me, are the Coca-Cola spots, the ones that are just out with their new jingle. And everybody sings to it. It's such a great jingle, and they give me seven seconds of intro time. So, I put on the cart, "07." Talk this commercial up.
It's a wonderful radio station, and the difference is, it's a Philadelphia radio station. And like every good radio station that's number one in the market, we know our market. We know what our people are like, and they're different in every single city. Stations that know their market are the winners. Z100 is Z100 in New York, but it's not Q102 in Philadelphia. And every radio station across the country is the same way. If you take this radio station and lift it out and put it in Topeka, Kansas, it's not going to do well; but it works here.
R.A.P.: Producing a lot of entertaining commercials and promos takes time. Do you have deadlines for salespeople? How do you handle the time crunch problem?
David: I do a little bit of creative time management. I believe that work is work and play is play. You have to separate the two, and you have to take time for both. Don't burn yourself out. Work as hard as you can when you are working, and then relax the best way you can when you're relaxing. My work begins as soon as I walk out the door. As I'm walking - I walk ten blocks to my bus -- I'm thinking, I'm writing, and I'm coming up with ideas. When I hit the bus, I continue to write, whether it be promos or commercials. And, it's the same on the way home. I don't stop until I hit the door again. And then, throughout the night, I keep a pen and pad around. Sometimes the best ideas hit when I'm relaxing. So, I'm relaxing, but if something hits me, then I'll write it down. There's a pen and pad everywhere. If you really love your job, it's not a job. It's a great thing to mix the two, but, at the same time, you keep play your play and work your work. As long as you can divide yourself when you have to, then you're on the right track.
R.A.P.: So, if needed, you could turn around a creative commercial in twenty-four hours, written and produced?
David: Sure. When I write, I use a very simple technique, and that's to find a hook. Find what you're trying to get across. I did a very interesting commercial -- I thought it was -- for a company called Rita's Water Ice. For the concept I thought, "What happens if this little boy invented water ice, and he takes it to an inventor?" Well, there's the whole commercial right there. All you have to do is write the scenario. Get the funny little zings and zaps in there. Once you come up with the idea, everything else flows very simply. That's the easy part; just come up with the one little hook, the idea, and let everything else flow. And use your imagination. Use your creativity. Use things you've seen before. If you've seen something funny on television, borrow it. Borrow it and rewrite it to fit your own little need. If you see a funny street sign, use that. If you heard something funny when you were in the elevator, then you borrow that. I come up with most of my ideas from everyday life because that's what commercials are supposed to be anyway. God, don't get too deep for the room. If you hear something wacky on the elevator about the weather outside, then steal it. There's nothing wrong with it. People can relate to it more that way.
R.A.P.: What kind of studio are you working in?
David: The studio is set up with a 26-channel Pacific Recorders ABX console. We have the 8-track Otari machine, the MX70. We have Otari MTR-10 2-track reel-to-reels. I'm using the Ensoniq 16-plus keyboard and the Eventide H3000B Harmonizer. We have a couple of SPX-90s, a Yamaha Rev-7...you know, your basic outboard gear. We're looking at digital, and we've sampled quite a few digital units; but our question is which one's going to be the best, and which one's more user friendly? It's hard to teach an old dog new tricks.
R.A.P.: Is there another production studio?
David: We have Production B which is used for dubbing music and other small production. It has an Otari 4-track in it plus four Otari 5050 2-tracks, a couple of turntables, another H3000B, an SPX-90, and a Rev-7.
R.A.P.: What are you using for production music?
David: I'm using Toby Arnold & Associates. I'm picking up Brown Bag. I'm using a lot of Techsonics, in fact, all of Techsonics -- One, Two, Chainsaw, and Primo Promos, I think. And then I create a lot of my own. I use a lot of stuff that I've done on the keyboard. It's easy to write music once you get going on it, adding little violins here and there. The main thing is to get the body right, and then you create the music from there.
R.A.P.: You obviously have some musical training.
David: Yes. In high school, I was in the band and in the chorus for about six years, so there's a little bit of musical background. I took piano for seven years, so I can work around the keyboard. I know what's not in key -- let's put it that way -- and that's the most important thing.
R.A.P.: Are you doing much voice work?
David: Yeah, I do a lot of voice work. I don't have a very strong voice, so I do a lot of characters -- not characters as in characters that you would recognize, but I twist and turn my voice to where it sounds a little interesting or unique. My voice is used in most of my creative commercials, in some way or another; and that's what I do to people who come in, too. If I'm using a voice talent, I'll say, "Hey, let's get animated. Let's do something fun with the voice. Let's think theater of the mind." You have to overemphasize things to make them sound right. You have people who can't see it; they have to hear it. When lightening strikes, it has to be loud and real. So you have to overdo it.
R.A.P.: Are you doing any free-lance work?
David: I do my fair share. I'm very busy as it is. I have a radio station to create. The company pays me well, so I'm not going to complain there and try to get too greedy. As long as I don't spend more than I make, I'm fine. My motto is live life to its fullest because, if I die tomorrow, heck, I don't want to have to give it to anybody. My needs are taken care of. I have a great time, and I'm still young; so I'll keep on playing until the fat lady starts singing.
R.A.P.: What does your position as Assistant PD involve?
David: Well, it's a second in command. It's not the chief position, but it gains a little more respect from the other employees. I don't use it as an ego position, but I use it as a learning tool. I learn a lot from my Program Director, and we are very close. He asks me about things that are on the air - "What do you think of this song?" "What do you think of this disk jockey?" "Hey, how should we sell this on the air?" But he's still in full control, and I respect that. If the answer is no, then the answer is no. And the great thing is that if the answer is no, then he has an explanation for it. So, this is a learning period for me, and I think it is for him, too, because he's never really had an Assistant Program Director before. I'm like a right arm for him, and, at the same time, it's my stepping stone.
The funny thing is, I once thought, "Okay, once I get my APD stripes, I'll bust butt then leave and go start a radio station!" But this is such a great place, and Philly is such a great town, I have no desire to leave. Maybe I'll be an Assistant Program Director for the rest of my life, but if you're having fun, why sweat it? Why not just take advantage of it? There's two things in life: knowing what you're going for and then, once you've got it, enjoying it. Unfortunately, so many people never enjoy it. So they keep trying to get more. I start enjoying it.
R.A.P.: You obviously are a man who looks at the big picture on a regular basis.
David: Yeah, the bigger picture is, to me, the only picture. And I incorporate this big picture stuff in my writing, too, which makes creative writing interesting. It makes people listen to it. They go, "Wow, that's an idea." I do that a lot. Even in funny stuff, sometimes the big picture is right there. You kind of zing it in. It's not a religious thing. It's not a spiritual thing. It's just all about life, and, in the end, that's what we're here for. It's just one time around unless we come back as chickens or something, and I don't want to end up on a bun. But this is my one time, and I'm gonna do it right. We all have to take care of each other, and I think that's what this radio station does. We not only take care of each other internally, but externally. The people who listen to us know we really care about this city, and it isn't just a bunch of bunk. There are real people behind what we preach. We preach it with a beat, and they still listen to it. It amazes me sometimes because we can really get mushy at times and they go, "Wow, that's great."
R.A.P.: It sounds like you and everybody at your station are all having a good time. It's the atmosphere you almost always find at top rated stations.
David: Radio is supposed to be fun, or we'd all be working in banks. I dress the way I want to dress, and I go and have fun. If I wanted to be a bean counter, I would have been a bean counter. I think what has happened with so many owners and upper management is that they get tied up with the fact that it's a business. I know it's a business, but let's remember that it's an entertaining business. And, the reason why we got into this business is because we didn't want to dig a ditch or sit behind a desk.
We're all a very creative force, a very creative entity. We're bringing back what radio was meant to do, and that is to create. We can all play music, but radio really didn't start that way. I mean, I can remember the old shows -- everybody sitting around the radio to be entertained. Radio has suffered so much in the past, but it's not suffering in this city. We entertain the people. All our radio announcers are really polished. They're not yuckers or pukers; they are very real people. They talk to their audience like I'm talking to you now. They all have great personalities and great minds, and it's one big family. We all know each other very well. We care about each other, and we care about our audience. We answer the telephones. We don't just let them blink. We pick up the phone and say, "Hey, what are you doing out there? Who are you? Talk to us! What do you like?"
When you go to a promotion, there's black people, there's white people, and there's Puerto Ricans; and they're all getting along. It's amazing. Sometimes I get a little nervous and think maybe I should have worn my bulletproof vest because you never know what could happen, but nothing ever happens. It's all calm and peaceful, and they're all dancing. It's just an amazing thing. It feels as if that time of awareness has come to this radio station and to the people who are around it. Everyone is very aware of each other's feelings. So, if it dies tomorrow, then all I know is I've worked all my life to get to this position. I think that we all realize we're finally there, and we never take it for granted. This is the greatest time we're ever having, and we're going to remember this time for the rest of our lives. That's how we look at it now. I think of the times I was at the APE and how it was the greatest time, but, at the time, I didn't know it. I was trying to worry about tomorrow. But here, we actually do worry about today, and that's the best.
R.A.P.: Any final thoughts?
David: Something I'd like to say is that you really have to, as a producer, live for that moment because that's when your creativity is connected. That's when it happens. If you're stressed out about what's happening in the future or in the past, you won't be able to open up your brain to the little dancing spirits that give you that energy to write or to produce or to move faster.
I like to jump out of airplanes because when you jump out of an airplane, there's only one thing you're thinking of, and that's that very second. All you know is that you've got to pull the cord and you've got to survive. You don't worry about your bills. You're not worried about what you're going to eat, and you're not worried about breathing. You're just worried about pulling the cord, and it's the best high in the world because you're living in the moment. That's what this radio station does, it lives in the moment.
♦