TECHNOLOGY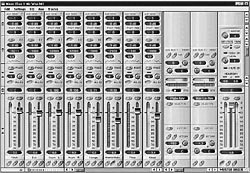 Taking the ball from Ensoniq, E-Mu introduces the PARIS Pro 24-bit digital audio workstation. The system comes with a PCI card, software, and 16-channel control surface with 100mm faders. Each mixer strip features volume, pan, solo, mute, 4 bands of parametric EQ, 8 stereo aux sends, and 8 channel inserts. Features include VST and Direct X support, mixer automation with editing right from the C16 Pro Control Surface, Undo/Redo for up to 99 edits per window, and set/recall up to 999 markers per project. The system is expandable up to 128 hardware tracks with a variety of I/O and syncing options. Prices start at around $4,995. Runs on both Mac and PC. www.emuparis.com.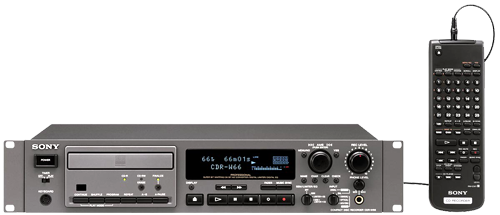 Sony Electronics unveiled its first two CD recorders for pro audio applications. The CDR-W66 model is designed for mid-to high-end recording studios and broadcast production (television and radio); the CDR-W33 model targets more cost-conscious users, offering many of the capabilities of its higher-priced sibling. Both CD recorders incorporate several unique features including selectable DSP functions like Parametric EQ, Limiter & SBM (Super Bit Mapping), and high-quality 24-bit AD/DA conversion. Physically similar and sharing many of the same features, both the CDR-W66 and the CDR-W33 offer CD TEXT™ support, which allows disc/track names to be displayed and entered from the front panel AMS controller, the supplied remote control, or an optional PC keyboard. Remote transport control can also be accessed via Control-S or a PC-compatible keyboard. In addition, the new CD recorders include a wireless/wired remote unit. The CDR-W33 also incorporates: 32kHz-48kHz built-in sampling rate converter; CD-R and CD-RN recording media support; FL display; I/Os equipped with Coaxial Digital, Optical Digital, Analog Unbalanced phone jack; and 2U rack mountable size in EIA. In addition to functions found on the CDR-W33, the CDR-W66 offers: Word Clock interface; 32kHz-96kHz sample rate converter range; AES EBU digital I/O, balanced XLR analog I/O; RS-232C and parallel (GPI) control ports; 2X speed duplication link for dubbing audio titles (using 2 CDR-W66 units); and DSP functions available on digital inputs as well as analog. The CDR-W33 has a list price of $799. A price on the CDR-W66 was not available. www.sony.com.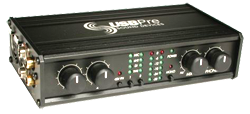 Sound Devices USBPre ($695) is a complete, portable hardware interface for PC-based digital recording. Designed for USB-equipped Macintosh® OS 9 and Windows® computers (98SE, 2000, and ME), USBPre quickly interfaces microphones, line level sources, musical instruments, and consumer audio electronics with personal computers. Its 24-bit audio inputs offer the most direct signal path into the computer. All analog-to-digital and digital-to-analog conversion is done outside of the computer, in the USBPre. Powered by the USB port from either notebook or desktop computers, no additional power source is required. www.sound devices.com.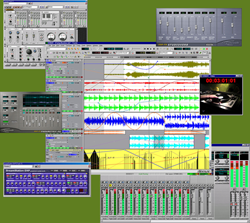 Cakewalk recently debuted the SONAR™ Digital Multitrack Recording System for recording, editing, and mixing digital audio and MIDI projects entirely on the PC. SONAR represents the next-generation of digital multitrack recording for Windows and assumes the flagship position in Cakewalk's music and sound software product line. It provides unlimited digital audio and MIDI tracks; a centralized interface design for improving creative workflow; new audio loop construction and editing tools; new DXi (DX Instruments) software synthesizer plug-ins; fully-automatable DirectX 8 audio plug-ins; new real-time MIDI FX plug-ins; and extensive audio loop and SoundFont libraries. SONAR also supports multi-processor Windows PCs, dual-monitor displays, and is opitimized for Windows 2000/ME and Microsoft WDM. Other key SONAR features include 24-bit/96 kHz audio, 32-bit real-time effects processing, full SMPTE/MTC sync for film and video, full support for importing ACID™ loops, and importing/exporting multiple formats for CD production and Internet streaming. Cakewalk is also debuting SONAR XL, the premium-edition of SONAR that provides additional DXi soft synths, DirectX 8 audio effects, audio loops and SoundFont libraries. In addition to the third-party tools and content provided in the standard SONAR package, SONAR XL includes: Applied Acoustics Systems' Tassman DXi soft synth (full edition), Alien Connections' ReValver SE guitar amp simulator, Audio loop libraries from PowerFX, Numerical Sound, DDD, and SquareWAV Studios. SONAR and SONAR XL have manufacturer's suggested retail prices of $479 and $739 respectively. www.cakewalk.com, 617-441-7870.
Alesis recently announced the ADAT HD24, a new 24-track hard disk recorder. An addition to the successful ADAT line, HD24 uses a proprietary method of writing to hard disk to provide 24 tracks of 24-bit audio on low-cost IDE hard drives, and drop-in compatibility with over 150,000 ADAT systems world wide. With an estimated street price of $1999, the ADAT HD24 overcomes data fragmentation which occurs in traditional hard disk recording formats via a new method of writing on hard drives, specifically designed for music recording, which reduces fragmentation of data and the required "seek time", providing a greater level of stability in recording and playing back data. As a result, very low-cost, low RPM hard-drives can be used with exceptional results. For the first time, at about $90 for a 20 gigabyte hard drive, the cost of the hard disk storage medium equals that of ADAT tape in cost per gigabyte – less than five dollars. Entire 24-track projects can be stored on a single removable drive. Finally, Alesis engineered custom drive caddies and protective storage cases to establish today's affordable IDE drives as the new exchange medium for music recording. Drives are hot-swappable, and fast back-up—a few minutes for an entire drive —is possible between two front-panel drive bays. The HD24 ships with two drive caddies and a 10 gigabyte hard drive which will yield approximately 45 minutes of recording time at 24-bit/48 kHz. The ADAT HD24 offers the digital audio and synchronization connections of the existing ADAT. The rear panel of HD24 includes 24 channels of ADAT optical inputs and outputs and ADAT synchronization IN and OUT connectors to allow HD24 to sample-accurately synchronize with other ADATs, and a BRC remote controller. www.alesis.com.
DSound America now ships DSound's Stomp'n Effects Volume II. The new CD is packed with 7 Plug In effects for Windows DirectX and VST as well as MAC VST. The effects include Reverb, Distortion, Overdrive, BMP delay, Auto Pan, Phaser and Tremolo. To order, contact your favorite dealer, visit www.ucik.com or call 1-800-449-2313.
ewireless, inc.,the developer of #333, announced an agreement with Cable & Wireless, a major global telecommunications company headquartered in the UK. Cable & Wireless will be assisting ewireless with the global deployment of #333, the service that allows wireless phone users to respond directly to radio advertisers toll-free and airtime free. Cable & Wireless will work with ewireless to provide a #333.com mobile portal, enabling users to contact merchants online via Internet-enabled mobile devices. www.cw.com, www.333.com.
PRODUCTION LIBRARIES
Premiere Radio Networks announces the release of Killer Hertz III. The lastest in the popular series from creator/producer Jeff Thomas (Creative Services Director/KIIS-FM, Los Angeles) offers beds, starters, hits, samples and power trips. For licensing details in your market, contact Premiere Radio Networks at 818-377-5300.
MJI Broadcasting presents two new Image Kit production packages designed for the AC and rapidly emerging '80s formats. The AC and '80s Image Kits join an already varied collection of Image Kits for the Rock, Classic Rock, Country, Hit Radio, Urban and Oldies formats. Production elements in each package include positioning promos, style and themed sweepers, station ID's, artist and hit collages, listener testimonials, jock talk beds, morning show promos, drops, stingers and zaps. The new AC Image Kit adds an additional component of "3-play sets," giving Program Directors a creatively-themed set of songs to plug into their station's own triple-play features. Likewise, the new '80s Image Kit introduces "timelines," audio montages of the greatest moments of the 1980s. Affiliates of MJI's Image Kits begin with a Launch Kit CD with over 150 cuts. Then, each month, they receive CD updates containing 50+ new promos and workparts. (212) 896-5285.
THE MIX
England's GWR Group is moving its Programming Production department to a new, bigger location. The new facility will have 6 new studios all fitted with networked Fairlight DAWs, Yamaha O2R desks, and totally digital outboard gear. GWR's Linc Kelly explains, "The department will expand from 4 to at least 8 producers. To make this work, instead of working 5 x 8 hour days, we will work 4 x 10 hour days. As a result, we will have 2 long weekends a month, and one week with 2 days off during the week. We now service 37 stations across the U.K. in an agency type setup. The stations send in what they want, and we book it in. Everybody works from a schedule, so it's fairly stress free. We start looking for people in the next few weeks, and its all very exciting."
Jeffrey Hedquist, President and Creative Director of Hedquist Productions, Inc. in Fairfield, Iowa, and RAP's Radio Hed columnist was selected as a judge for the first round of nation-wide submissions to determine the finalists for the Radio-Mercury Awards. The second, final round of judging will determine the winners, to be announced June 6, 2001 at New York's Waldorf-Astoria Hotel.
Harris Corp. and Computer Concepts Corp. have signed a digital systems distribution agreement under which Harris Broadcast will represent Computer Concept's Maestro and a new digital audio line to all radio and television broadcasters in the US and serve as the exclusive distributor in all countries except Australia, England, and Mexico. www.harris.com, www.ccc.fm.