TECHNOLOGY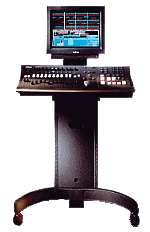 Orban is set to release Version 3.0 software for the Audicy workstation. A preliminary list of new features includes support for new effects classes, including Digital Delay, Chorus and Flanging effects, a "Stereo Toolkit" which includes a split-band "vocal eliminator" as well as a mono to stereo synthesizer, and a new combination EQ/compressor/limiter all-in-one effect. Other enhancements include the ability to create and store personal presets, more secure handling of network and secondary drives, and enhanced fast wind. Shipment is expected in the Fall. (510) 351-3500, fax (510) 351-0500, www.orban.com.
Global Media Corporation (OTC BB:GLMC), a pioneering Internet company focused on providing revenue-enabling e-commerce tools for entertainment companies, announced the launch of the Global Media E-Commerce Network. Similar to syndicated radio networks, the Global Media E-Commerce Network will offer companies the ability to private-label e-commerce services, content and advertising through an associate license in which individual stations' brands are protected and enhanced. This initial launch focuses on radio stations looking to use broadcasting to generate e-commerce revenues from their existing markets. The Global Media E-Commerce Network offers a business-to-business solution in which media companies can sell home videos, CDs and books from individual Web sites by transparently linking to Global Media's back-end e-commerce database. Conventional radio and media companies can participate in e-commerce sales without the expense of an extensive technology infrastructure. (604) 688-9994, www.globalmedia .com.
Tascam has a new MiniDisc recorder. The MD-801R MKII ($2,699) features 20-bit A/D and D/A converters, AES/EBU and SPDIF digital I/O, Word Sync In/Thru, on-board sample rate converter, XLR balanced and RCA unbalanced analog I/O, separate Monitor and Online outputs, analog output trim adjustment, instant locate, repeat playback, and single frame accurate jog/data wheel. Random access features include move, insert, combine, divide and more.

Also from Tascam is the new CD-D4000 CD Duplicator ($1,299). The unit features two CD trays and can read CD-R and CD-RW masters and duplicate at 1x, 2x, and 4x speeds. Both data and audio CDs can be read and duplicated. A "test burn" can be done to ensure master disc high speed read capability. (213) 726-0303, fax (213) 727-7635, www.tascam.com.
Recoton Corporation, a leading supplier under the Jensen® brand name for car and home audio products, and Lucent Digital Radio, Inc., a venture of Lucent Technologies, and Pequot Capital Management, Inc., have formed a collaboration alliance for the development and testing of In-Band On Channel (IBOC) Digital Audio Broadcast (DAB) receivers for consumers. Recoton has previously announced that it is creating and developing products for CD Radio®, a leading Satellite Digital Audio Radio System (SDARS) company. The Lucent Digital Radio IBOC system is designed as an end-to-end solution that will enable broadcast stations to seamlessly convert to an all-digital AM or FM broadcast scheme. The IBOC DAB system is an enhancement to current analog AM and FM radio broadcasting systems. It will provide greatly enhanced sound quality for AM radio, CD-like quality for FM radio, as well as interference-free reception and innovative new data services. The IBOC approach will allow broadcasters to introduce digital audio programming to listeners on their current dial positions using existing transmitters and antennas. IBOC DAB is both backward- and forward-compatible: current AM/FM receivers will still be able to receive the existing analog signals in the new system. When a station elects to turn off the analog signal in the future, IBOC DAB-compatible receivers will operate with the remaining all-digital signal. Lucent Digital Radio also announced an agreement between with Harman Kardon to develop prototype receivers using Lucent's IBOC technology. For more information, visit www.lucent.com/ldr.

Yamaha has a new digital multitrack recorder. The D24 is an 8-track unit which uses removable 3.5" Magneto Optical disks. The discs are standard 640 MB discs with support for 230MB disks as well. Features include 16, 20, and 24-bit linear recording (no data compression), sampling rates of 44.1 kHz, 48 kHz, and 96 kHz, a virtual track function offering up to 8 virtual tracks per real track for a total of 64 tracks, and a SCSI-II connection for increased recording times with external storage. Up to eight units can be combined for 64-track simultaneous recording. Editing functions include time compression and expansion, Copy, Move, Erase, Delete, and Merge, with one-tenth of a timecode frame accuracy and nondestructive edit buffer. (714) 522-9011, www.yamaha.com.
Sonic Foundry announced the release of Stream Anywhere™, its all-in-one media authoring tool for converting audio and video for Web streaming applications. Stream Anywhere allows both novices and experienced Web developers to prepare audio, video, and synchronized metadata for distribution over the Internet. Stream Anywhere fully supports the entire authoring process, from video capture through publishing of the final streaming program in a complete Web page layout. Stream Anywhere encodes multimedia content in either the Microsoft Windows Media Technologies 4.0 or the RealNetworks RealSystem G2 format. Media content can either be captured directly from camera or tape or imported in several popular file formats such as AVI, Apple QuickTime, MPEG-1, and MP3. (800) 577-6642, fax (608) 256-7300, www.sonicfoundry.com.
Cox Interactive Media and MP3.com, Inc. announced the formation of a new company, mp3radio.com. The new company, headquartered in Atlanta, will bring consumers everything associated with their favorite music format: mp3.corn music downloads, Webcasts, shopping for CDs and tickets online, and affinity programming (content relevant to the lifestyles of people with similar music interest) on co-branded pages - all from a single source. Plans call for mp3radio .com to launch its first active radio station Web sites in the next two to three months, and will continue to add radio stations as they join the network. Cox Radio, with nearly 60 stations in 12 markets, has already committed its stations as mp3radio.com's first affiliates. mp3radio.com will initially focus on seven radio formats: alternative, contemporary hit radio, country, hot adult contemporary, rock, urban and urban adult contemporary. Visit www.mp3radio.com for more info.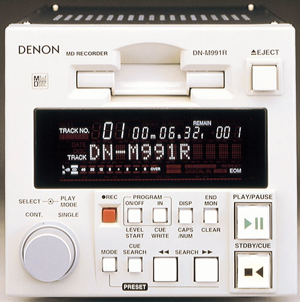 Denon's new DN-M991R MiniDisc Cart Recorder/Player comes with a ton of features. You get a Hot Start function that loads up to 10 tracks into memory; program play; up to 25 tracks; shock memory; a keyboard terminal for remote operation and titling; auto level record start; auto track increment, digital or analog; and relay recording; for continuous recording to another DNM991R. The unit records stereo or mono (74min stereo, 148 min mono) and offers standard editing capabilities that include 2 levels of undo and redo. Other functions include SCMS (on/off), auto cue to music, and selectable pitch; ±8%, Connections include a headphone jack, AES-EBU input/output, balanced XLR input/outputs, a parallel remote port, and an optional wired remote. (973) 575-7810, fax (973) 808-1608, www.denon.com.
MUSIC/SFX LIBRARIES
TM Century Inc. announced an agreement with LicenseMusic.com to distribute TMCI's production libraries through LicenseMusic.com's web site. LicenseMusic.com is the world's first and only web-based interactive music service for TV, film, video, radio, jingles, advertising, commercial, multimedia, internet and website producers. Producers around the world will have instant internet access to TM Century's vast archives of original production music. (972) 406-6823, fax (972) 888-6192, www.tmcentury.com.
Aircraft Music Library, part of the Soundtrack Group of New York City and Boston, has released CD 99 "Industrial Grade Rock." Sub-titled Techno Metal, CD 99 has seven titles and 70 total edits including 21 AirCraft "Co-Pilot" split tracks for assembly. (800) 343-2514, fax (617) 542-7222, www.aircraftmusiclibrary .com.
Sonic Foundry adds two more titles to the ACID loop libraries, bringing the total collection to 25. The Robin Storey Rapoon library features soundscapes with Indian rhythms and atmospheres. Dragon Dance is a percussion library that includes single solo instrument sounds and performances. (608) 256-3133, fax (608) 256-7300, www.sonicfoundry.com.
THE MIX
Vanilla Gorilla Productions has inked an exclusive imaging agreement with New Orleans' New Classic Hits Station 92-3 The Point. WCKW flipped to the new Classic Hits format on August 12. Vanilla Gorilla Productions has also recently signed B103/Richmond; 92.9 The Eagle/Lincoln; and Country 107.3/Poughkeepsie. The company has also added voiceover heavyweights Sean Caldwell and Jeff Matzka to their roster, which currently sports the voices of 15 national talents. (800) 811-4847, This email address is being protected from spambots. You need JavaScript enabled to view it..
♦