TECHNOLOGY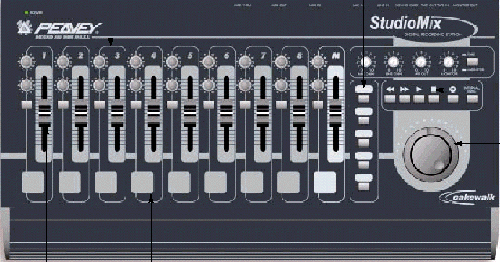 Cakewalk has entered a joint venture with Peavey Electronics Corporation to create StudioMix, a hands-on digital recording and mixing system ($899) for PCs integrating Peavey's work surface with Cakewalk's multitrack software. "Cakewalk's multitrack recording software enables users to record, edit, and mix music and sound on a personal computer. And now with the StudioMix system, we're enhancing that user experience with an integrated tactile mixing control surface," said Tom Cook, president and chief executive officer, Cakewalk. The StudioMix multitrack software plays up to eight simultaneous tracks of separate digital audio, with additional tracks archived. The software supports other features like real-time audio and MIDI effects processing and mixing, SMPTE/MTC tape synchronization for film and video, and staff notation editing and printing. Through the software, users can configure the hardware surface's faders, rotary encoders, and toggle-switch buttons to control functions within the StudioMix software. The StudioMix hardware and software are pre-configured to work seamlessly right out of the box. The multitrack software is compatible with any DirectX audio effects plug-ins. The StudioMix console is a state-of-the-art hardware control surface featuring nine motorized faders, 14 "soft" buttons, and 18 rotary encoders. All buttons and encoders are assignable, allowing the user to customize the feel of the interface. The console also features an audio mixer section with everything the user needs to connect to and from the computer's sound card, as well as a stereo record/playback source. The StudioMix digital recording station will be co-marketed by Cakewalk and Peavey Electronics. For more information call 888-CAKEWALK or visit www.cakewalk.com.
TC Electronic unveiled the M-One Dual Effects Processor ($699),a general-purpose dual engine processor offering enhanced reverbs plus delay, dynamics, pitch and classic "golden ratio" chorus and tremolo. There are a total of 25 different algorithms in all with 128 ROM presets and 128 user RAM preset locations. Other features include 24-bit A/D and D/A converters with 24 bit internal processing driven by a 100 million instruction per second DSP engine, 1/4" analog I/O connectors, SPDIF digital I/O, and support for both 44.1K and 48K rates. Sister company TC WORKS announced version 1.5 of their 2-track digital editing software. Among the enhancements, Spark 1.5 ($499) features all new cut editing enhancements and the ability to use the Masterview section as a plug-in, independent of the Spark application, in both VST and/or MAS for Mac. The Cut Editor now allows the user to work on 2 transitions simultaneously. Also included is an A/B Compare memory button allowing you to compare two completely different sets of transitions, nudge controls (like in SoundDesigner) and Play settings. TC WORKS also launched TC Voice Tools for Pro Tools ($699) a Plug-In bundle for Pro Tools 24 Mix featuring the TC Intonator pitch correction and voice processing technology. TC VOICE TOOLS is a dedicated all-in-one voice processing solution including two Plug-Ins - Intonator TDM for pitch correction and TC Voice Strip for sound and dynamics adjustment. TC Intonator TDM fixes out of tune notes on the fly. The maximum range is +/- 400 Cents. TC Voice Strip includes all you need for Voice sound processing: Compressor, De-esser, VoiceEQ, Lo Cut Filter and Gate. Thanks to the proprietary SoftSat technology, the Voice Strip can even emulate the sound of analog gear, adding the highly coveted TC emulation of tube gear warmth and presence to your audio. (805) 373-1828, fax (805) 379-2648, www.tcelectronic.com.
Sonic Foundry announced the release of Version 2.0 of its ACID Music ($99.95) and ACID PRO ($399) loop-based music production tools. These updated editions both feature one-touch CD burning that allows users to create professional-quality CDs, and support saving files to MP3, RealMedia G2, and Windows Media formats. ACID Music 2.0 includes new effects including Reverb, Chorus, Delay, and EQ, while ACID PRO has been enhanced with the inclusion of Sonic Foundry's XFX 1 DirectX audio plug-ins. Version 2.0 of ACID PRO also includes Sound ForgeXP 4.5, a digital audio editor that allows users to make and edit loops, synchronize audio to video, convert file formats, and develop interactive Web content. 608/256-3133, fax 608/256-7300, www.sonicfoundry.com.
Berkley Integrated Audio Software Inc. (BIAS) announced plans to port its Peak digital audio editor to BeOS, a broadband multimedia operating system from Be Incorporated. BeOS will afford Peak a number of performance advantages including low-latency, master time code source, Symmetric Multi Processing, multithreading, and a responsive user interface. These benefits of BeOS will enable Peak to process audio virtually in real-time. Since BeOS runs on Intel PCs, Peak will be available for the very first time to users with ordinary PCs with Intel or other X86-compatible computers. 707-782-1866, www.bias-inc.com.
EMU-Ensoniq has announced a new development agreement with Intelligent Devices, the firm that developed the software for the Ensoniq PARIS digital audio workstation. The agreement will allow the two companies to better integrate the PARIS hardware with the PARIS user interface and insure ongoing development of the system. The agreement is expected to result in several improvements to the PARIS system. (831) 438-1921, fax (831) 439-0363, www.emu.com.

The new AKG C4000B microphone ($848) features a large 1" diaphragm and selectable polar patterns for universal use in the studio and on stage. Frequency response is 20Hz to 20kHz. There's a 10dB pad and a bass-cut filter with 12dB/octave cutoff at 100Hz. Polar patterns available are Cardioid, Hypercardioid and Omnidirectional. (615) 360-0499, or visit www.akg-acoustics. com.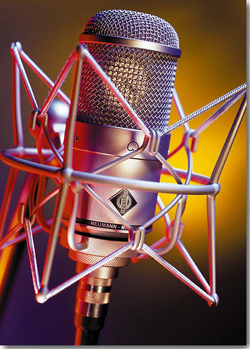 Neumann's M147 Tube is a vacuum tube condenser microphone ($1,995) with cardioid characteristic. At the heart of this microphone is the K47 dual diaphragm capsule, inherited from this model's predecessors, the U47 and the M49. Following the capsule is a tube that functions as an impedance converter. The next stage is a transformerless output circuit that guarantees an extremely low self-noise level. Like all Neumann tube microphones, the M147 Tube comes with a satin nickel finish. The frequency response is flat from 20Hz to 20kHz. Also from Neumann is the new KMS150, a hypercardioid mic designed for live vocal performance. It also features a frequency response of 20Hz to 20kHz. (860) 434-5220, fax (860) 434-3148, www.neumannusa.com.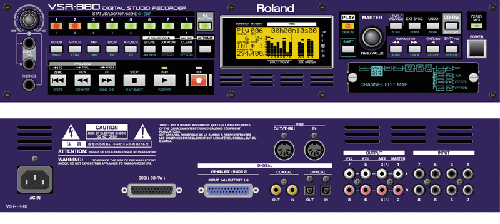 The VSR-880 Digital Studio Recorder from Roland brings V-Studio technology to a convenient 2U rack mount design. This 24-bit 8-track hard disk recorder features 128 Virtual Tracks; 24-bit A/D, D/A converters; 24-bit MT Pro2 Recording Mode for extended headroom and dynamic range; 12 inputs (2 balanced TRS jacks, 8 RCA jacks, and 1 stereo digital input); 12 outputs (8 RCA jacks and 2 stereo digital outputs), R-BUS port for direct 24-bit connection to select Roland V-Mixers, dual stereo effects with optional VS8F-2 Effects Expansion Board, and support for CD recording and data backup with storable CD image files. (213) 685-5141, fax (213) 722-0911, www.rolandus.com.
Aardvark announces the new Direct Pro 24/96 audio interface for the PC! Designed for use in multichannel hard-disk recording, the Direct Pro 24/96 combines four mic preamped inputs with real-time DSP effects and a DSP based 10-channel mixer, eliminating the need to use external mixers, mic preamps, and outboard effects boxes to start recording on the PC. Right out of the box, plug in any microphone or line level input and begin recording 24-bit audio directly to the PC with native DSP generated multiband EQ, compressor, and reverb effects. The unit comes with a shielded PCI card and a sturdy outboard breakout box. Located on the front of the Direct Pro's breakout box are four unique "combo" input jacks that allow either XLR Mic inputs or balanced line-level ¼" TRS inputs. These inputs feature mic preamps with phantom power, so any dynamic or condenser microphone can be used with the system. The breakout box front panel also features an easily accessible 1/4" headphone jack. Six line level balanced ¼" TRS outputs are available on the back of the breakout box as is the MIDI I/O. S/PDIF I/O is easily accessible on the PCI host card. The Compressor, EQ, and Reverb effects use Aardvark's powerful DSP located on the Direct Pro 24/96 PCI host card, which provides all these effects for monitoring and recording in real-time. The DSP also handles all the mixing, routing, and metering functions on the software based Control Panel, so the Direct Pro 24/96 will not slow down the PC's CPU processing power. The A/D and D/A converters are 24-bit and 96 kHz compatible (48, 44.1, and 32 kHz rates are also supported). 734-665-8899, fax 734-665-0694, www.aardvark-pro.com.
MUSIC/SFX LIBRARIES
Killer Tracks is celebrating its 10th anniversary with the release of Killer Edge, the company's newest collection of production music. With an initial launch of 30 CDs and a total of 650 compositions, Killer Edge is a contemporary-sounding collections based on acoustic instrumentation. The library covers 15 categories of music ranging from rock music and world beat ethnic rhythms to jazz and Christmas. Also included are 12 CDs with music ideal for commercials, television and film promos, sports themes, news segments and documentaries. The preliminary package of 30 Killer Edge CDs will be followed by an additional 25 CDs to be delivered within six months. Killer Tracks will update the collection with seven new CDs to be released annually beginning January 2000. 323.957.4455, fax 323.957.4470, www.killertracks.com.
THE MIX
Radio stations can now add content and nontraditional revenue to their Web sites, thanks to a San Diego-based Internet development company. Ubrandit .com has developed a cutting-edge music, book, and video store with over one million discounted titles that can be private labeled or "branded" by radio stations, regardless of format. Ubrandit.com allows radio stations to incorporate their own name, logo, call letters, Web color scheme, and return-navigation information into the site. Once customized, the site looks, feels, and operates like the radio station's own site. (619) 350-9566, www.ubrandit .com or email jeffp@ ubrandit.com.