TECHNOLOGY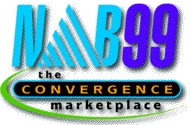 IIGYS debuted Web Jockey at NAB in Las Vegas, broadcasting live over the Internet from the NAB show floor. Currently in beta testing, IIGYS's Web Jockey Broadcasting Software is a broadcast Audio Mixer and Scheduler designed for streaming audio on the Internet. Features include "Cart Deck" controls; Mixer Controls including Volume, Bass, Treble and Balance; a complete Scheduling System; a Music Library section that plays back and records MP3, WAV, and AU files; and multiple CDROM support. Get a sneak peak at www.web-jock.com. (906) 346-4984, fax (906) 346-9464.
Orban was on hand at NAB with the Audicy digital audio workstation, featuring new version 2.5 software which supports TCP/IP and Novell networking.

Eventide introduced Orville, the latest in its line of Harmonizer brand effects processors. Eventide Audio Sales Manager Gerry Griffin states, "…Orville packs up to eight times the signal processing power of our previous flagship effects processor, the DSP4500." In addition to its unprecedented power, Orville provides true multi-channel operation, supporting up to four analog and four digital inputs and outputs simultaneously, with full "anything-to-anything" routing capability. The unit's architecture is an A/B configuration with two DSP processors, allowing the user to process two completely independent multi-channel effects simultaneously. Orville provides 96 kHz sampling at 24 bits. The unit comes standard with a built-in sampler, allowing recording up to 174 seconds. In keeping with the Eventide Timesqueeze tradition, it allows real time high-quality pitch-change and time-change on playback. Orville's extensive collection of on-board software-programs includes pitch shifters, reverbs, and effects, and features the new UltraShifter program module for the latest in formant-correct vocal processing. New programs can be created on a PC, using Eventide's effects module building-block approach. Orville's software can also be updated via the Internet. In addition, the unit offers backwards compatibility with Eventide's 4000 series—almost all 4000 presets and cards will run on Orville. Delivery is slated for Spring of 1999. (201) 641-1200, fax (201) 641-1640, www.eventide.com.
TC Electronic announced the availability of Finalizer 96K Studio Mastering Processor upgrade packages for owners of the original Finalizer and Finalizer Plus. The Finalizer 96K began shipping in late January, replacing the Finalizer Plus in TC's product line. The upgrade consists of a replacement of the Finalizer's motherboard, backplate, connectors and power supply. Features in the upgrade include 24bit 96kHz A/D & D/A converters, support for 44.1kHz, 48kHz, 88.2kHz and 96kHz sample rates, plus real time sample rate conversion supporting sample rates of 32khz, 44.1kHz, and 48kHz. A new 3 band stereo width control is also added in the Finalizer 96K upgrade and now touts and enhanced dynamic range of 120dB. For Finalizer Plus owners the upgrade costs $495. Original Finalizer upgrades are $995. (805) 373-1828,www.tcelectronic .com.
Sonex adds new Contour Ceiling Tiles to their line of sound control products. The new tiles are available in ten different patterns and designs, and custom logos, graphics, and designs can be reproduced in the tiles for a personal touch. (612) 521-3555.
Feith Systems announced DjVuer Pro, a more advanced version of DjVuer, the only commercially available Windows-based products of its kind, bringing AT&T Labs' DjVu image compression technology to the desktop. DjVuer (pronounced day-zha-voo-er) was developed by Feith Systems in collaboration with AT&T Labs, which pioneered the breakthrough DjVu technology that compresses images at ratios as high as 1000:1. For high resolution color document images that contain both text and pictures, DjVu files are typically 40 to 80 KB, or five to 10 times smaller than JPEG files. DjVuer Pro and DjVuer allow users to make high quality, smaller-sized images. DjVuer Pro, priced at $750 for 15,000 color images will be ready to ship by the end of May '99. Meanwhile, the trial version of DjVuer, which allows users to create up to 50 images in the DjVu format at no charge, can be downloaded from www.feith.com. Additionally, Web page developers and programmers can create web applications using Feith's DjVex ActiveX control. DjVex, displays DjVu images within programs such as Visual Basic, C++, Java, Java-enabled tools and so on. Downloadable from the company's web site, Feith is offering DjVex free for 90 days. The full version is priced at $395. Viewing of DjVu images is always free. Feith's DjVuer is both an image compressor and viewer. Free browser plug-ins available from AT&T (www.djvu.att.com) enable cross-platform viewing of the images created by DjVuer.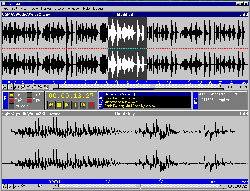 Minnetonka Audio Software announced a major upgrade to Fast EdDit, their popular 2-track digital editing package. The program has been re-written and is now a full 32-bit Windows application. Fast EdDit 32 interfaces to Direct-X plug-ins, making it compatible with a wide range of effects software. Fast EdDit 32 retains all the features of Fast EdDit. The Fast EdDit package includes two bonus programs. The Sound Catalog lets you make a screen of labeled boxes, with associated soundfiles. Just click on the box to play the sound. The Playlist Editor lets you build libraries of sound segments, and then place them in a playlist to play sequentially. Price is $199 retail. Upgrades will cost $99 from any previous version of Fast EdDit, including The EdDitor, The EdDitor Plus, and Fast EdDie. Upgrades will be available directly through Minnetonka. Expected ship date is late May '99. (612) 449-6481, fax (612) 449-0318, www.minnetonkaaudio.com.
Digidesign offered a sneak preview of several post-specific features and options to its Pro Tools product line, scheduled for release this fall. The features and options include support of Avid video media, new post-specific editing features, and enhanced cross-platform interchange capabilities. Avid video media support is made available through the use of PCI video cards that operate on existing Pro Tools24, Pro Tools24 MIX and Pro Tools24 MIXplus systems. The post-specific editing features become available as a result to an update to Pro Tools software. New editing features include a stationary playhead, object-based selection, and streamlined single keyboard shortcuts to access the most commonly used editing functions. (650) 842-7900, fax (650) 842-7999, www.digidesign.com.
Sonic Foundry announced Stream Anywhere, a new web authoring tool that lets you prepare audio, video, and synchronized metadata for distribution over the Internet. Stream Anywhere lets developers encode to Microsoft Windows Media Technologies 4.0 or RealNetworks' RealSystem G2, and convert Apple QuickTime, MPEG-1, and MP3s. In addition, Stream Anywhere offers a host of pre-processing functions that allow the user to enhance the source media prior to encoding. Stream Anywhere is the upgrade version from the Microsoft Windows Media On-Demand Producer. It was developed specifically to facilitate the growing use of streaming media for news delivery, personal web sites, corporate training, and other applications. A sneak preview is currently available for download at www.sonicfoundry.com. (608) 256-3133, fax (608) 256-7300.
KMGI.com unveiled Webmercials and Web-Based Multimedia Presentations. Utilizing Flash technology by Macromedia, KMGI.com created the world's first Webmercial early this year. As the logical successors of TV commercials, Webmercials combine the best of all advertising media: full-screen, high-impact animation and graphics, coupled with professional audio effects and interactivity. Thanks to vector-based graphics and streaming technology, there is virtually no download time, even with old modems. Consequently, Webmercials will likely become a primary online advertising tool. Check it out at KMGI.com.
Roland Corporation displayed their V-Mixing System, the world's first separate-component digital mixers. Comprised of the VM-7200/7100 V-Mixing Processors and VM-C7200/C7100 V-Mixing Consoles, the V-Mixing System gives users many configuration options between console and processor, yielding up to 94 channels of digital mixing and eight stereo effects processors when fully expanded. The V-Mixing System is a separate-component system, employing an all-digital console with motorized faders and an expandable 3U rackmount processor which contains all inputs, outputs and effects. The benefit of this separate-component design is the elimination of long, heavy, multi-channel audio cables between the studio and the mixing console. Instead of audio, the V-Mixing System primarily exchanges digital control data between console and processor, enabling placement of the console up to 220 yards from the processor. The V-Mixing Processors come with two stereo multi-effects processors, and can be expanded with three additional VS8F-2 Effects Expansion Boards for up to eight stereo or 16 mono channels of automated effects processing. (323) 685-5141, www.rolandus.com.
Alesis is now shipping ADAT/EDIT, Alesis' solution for nonlinear audio editing for the ADAT customer. ADAT/EDIT allows users to add hard disk editing and signal processing capabilities to existing ADAT systems. At $399 list, the package includes the ADAT/PCR interface card, editing software, and ADAT/CONNECT audio transfer software, along with all cables required to connect ADATs to a personal computer. ADAT/EDIT is also compatible with most popular audio editing software using standard WAV or ASIO drivers. The program imports and exports AIFF, SDII, and WAV files, as well as 24-bit audio from ADATs with single-sample accuracy. (310) 255-3495, fax (310) 255-3481, www.alesis.com.
MUSIC/SFX LIBRARIES
Just in time for the release of its 1,000th CD in June, FirstCom Music introduces its new production library music demo to formally announce the licensing package known as the Personal Production Library (PPL). Libraries represented in the demo include the FirstCom Library, Hollywood Film Music Library, Chappel Recorded Music Library and Music House Library, OneMusic Library, Gotham Music Library, and AccessMusic Library; and for radio, The Production Edge, Total Access, Sound Designer, Sound Designer II, and promo libraries from Techsonics including the new VIVID library. FirstCom is also providing a 5-foot wall chart free of charge to producers of specials, promotions, and retrospectives to celebrate Y2K. The chart categorizes music within thirteen eras from "First Light: The Ancients & Elders" to "The Next Millennium-Blast Off" and features 99 CDs containing music that ties into each individual era. (800) 858-8880, www.firstcom.com.
Neil Sargent, President/CEO of TM Century has announced the appointment of David Graupner to succeed him as President/CEO effective May 1. Mr. Sargent will continue to have an active role in the company as Vice Chairman of the Board of Directors and assisting Mr. Graupner in the transition process, but will primarily focus on a few major issues for the Company until his retirement in May 2000. Pursuant to a consulting agreement that takes effect on May 1, 2000, Mr. Sargent will retain his position as Vice Chairman of the Board and continue to serve in a consulting role to the Company through April 30, 2004. Mr. Graupner has been Executive Vice President of TM Century for the past three years.
Promusic introduces the Atlantic Seven Music Library, a collection for sports, action, news, and advertising with vocal sound-alikes of famous pop, rock, and other styles. (818) 506-1588, www.promusic-inc.com.
THE MIX
Jon Matthewz announces Megahertz Studios is now available for modern radio imaging. Specializing in Modern Rock, Pop/Alternative, and Hot A/C, they offer a male/female combo and fully-produced packages. (336) 379-8255, www.megahertzstudios.com.
Vanilla Gorilla Productions, a division of Bill Young Productions, is pleased to welcome six new stations to their roster. It is official monkey business at MIS103/Jackson, MS; Mix 93.9/Corpus Christi, TX; B95.3/Portsmouth, NH; Y96.7/Stevens-Pointe, WI; Talk Radio 960/Burlington, VT; and Big Country 102.9/Traverse City, MI. Vanilla Gorilla Productions specializes in providing radio stations with access to national voice-talents, cutting-edge station imaging, liners, sweepers, and promos. (281) 277-7878, www.vanilla gorilla.com.
♦