TECHNOLOGY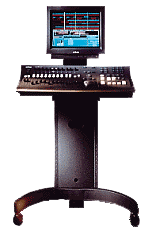 Orban releases Audicy version 2.5 software. Already capable of connecting to Windows or NT file servers, Audicy now supports TCP/IP and Novell networking. The additions allow the Audicy to go beyond local area networks (LAN) and connect to wide area networks (WAN). One example of Audicy's new networking capabilities is the WAN created by Radio Free Asia (RFA), which has linked multiple Audicys in its Hong Kong and other Asian bureaus with the 35 Audicys in its Washington, DC headquarters over a Linux server. Also included in the version 2.5 software upgrade is a cart "chunk" extension to the .BWF standard. The extension allows finished audio productions to go directly from the Audicy workstation to on-air delivery systems, with the traffic and continuity information needed for broadcast embedded directly in the sound files. Such continuity information includes outcues, titles, artist names, start and stop dates, time markers, and other labeling information common to on-air delivery systems. Also a part of the version 2.5 software upgrade is full Y2K compliance for all Audicys. This version is available to Audicy users free of charge. (510) 351-3500, fax (510) 351-0500, www.orban.com.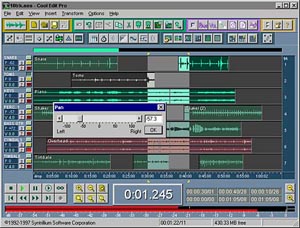 Syntrillium Software Corporation announces the release of Cool Edit Pro Version 1.2. Major features of this release include new Full Reverb, Hard Limiter, and Pitch Bender effects; RealMedia G2 support; real-time preview and enhanced quality for almost all effects; and automatic silence detection and deletion. Version 1.2 also includes a set of video tutorials that demonstrate how to use the program. Upgrades are available free of charge to licensed users of Version 1.0 and 1.1. Users can download a fully functional demo version from www.syntrillium .com. (602) 941-4327, (602) 941-8170.
Sonic Foundry announces Sound Forge 4.5c and Sound Forge XP 4.5c "pre-release" updates. The update now incorporates support for importing MP3 files. You'll be able to open files with the extension .mp3 and export to any of the existing formats currently supported by Sound Forge. Additionally, Sound Forge 4.5c now incorporates full support of Microsoft Windows Media Technology 4.0 (formerly known as NetShow) which provides the ability to encode multiple bit rate ".asf" streams in a single coding operation. This technology is further enhanced by the incorporation of Microsoft's recently announced Microsoft Audio codec which provides yet another means of superior audio compression for streaming content delivery. This FREE 'pre-release' update is available only to registered users of Sound Forge 4.5 and can be found at www.sonicfoundry.com. (608) 256-3133, fax (608) 256-7300.
TC Electronic previewed the D22 digital delay at the recent NAB show in Las Vegas. The D22 ($1995) offers up to 1300ms of delay per channel (on two channels) and features 24 bit AD/DA converters as well as a compliment of digital I/Os including, AES/EBU, S/PDIF, and Wordclock BNC 75ohm. Internal sample rates of 44.1 and 48kHz are supported with external rates of 32, 44.1 and 48kHz. Programmable setups can be stored for total instant recall. TC Electronic also showed new software packages for the FireworX multi-effects processor and the M3000 studio reverb processor featuring new algorithms and presets. Both the M3000 and FireworX software upgrades will be available within the next month and can be easily installed via PCMCIA as a flash ROM update. Also from TC Electronic, a new set of enhancements to its UnitY card for the Yamaha O2R digital console, bringing many new capabilities to the platform. On the software side, UnitY now offers Finalizer studio mastering technology as an optional type of processing in lieu of M2000 style effects, in addition to many new routing features. On the hardware side, there is now a 24-bit ADAT/TDIF I/O card available. UnitY cards now ship with both M2000 and Finalizer software active for a 100 hour trial period. At the end of that time the UnitY owner will be prompted to select which configuration they would like their UnitY to continue running in, M2000 or Finalizer. Once selected, the algorithms Unity will allow access to will be either M2000, or Finalizer only. If the user chooses to obtain access to both types of signal processing on a permanent basis, they can purchase an additional software license ($795) to acquire an unlocking access code direct from TC Electronic. (805) 373-1828, www.tcelectronic.com.
EMTEC Pro Media and Alesis Corporation have jointly produced a comprehensive 45-minute instructional video, "Care & Feeding of Your ADAT." Available from both companies, the video demonstrates basic cleaning and maintenance procedures for ADAT recorders, emphasizing the importance of using the highest-quality ADAT tapes for best recorder performance and longevity. The video also covers proper handling and storage of ADAT master tapes. For information, contact EMTEC Pro Media, Inc. at (888) 295-5551 in the US, (800) 817-4478 in Canada, or visit www.emtec-usa.com. Or contact Alesis at (800) 5-ALESIS or visit www.alesis.com.
Sony Electronics has begun shipping of the MDR-DS5000 ($549), the world's first headphone to reproduce Virtual Dolby Digital surround. The infrared, cordless system features a Dolby Digital decoder and exclusive Logic 3D digital processor. The cordless, adjustable open-air acoustic circuit headphones enables the listener to hear sounds more naturally, in front and in the rear, covering a 90 degree, 33 foot coverage range. (800) 222-SONY, www.sony.com.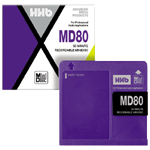 HHB launches HHB MD80, the first 80-minute MiniDisc available anywhere. The new disc achieves its extended recording time of 80 minutes stereo/160 minutes mono by a reduction of 0.1 microns in the groove width (from 1.2 to 1.1 microns) and by a similar reduction in the pitch (from 1.6 to 1.5 microns). Despite these developments, the MD80 remains entirely compatible with all MiniDisc recorders and players, both old and new. (310) 319-1111, fax (310) 319-1311, www.hhb.co.uk.
Tascam announces the availability of Version 3.2 software for its MMR-8 and MMP-16 Modular Multitrack Recorder/Player systems. The new software is free to registered owners of these units and can be downloaded at www.tascam.com. Features include added playback support for 16- and 24-bit audio projects from Sonic Solutions Sonic Studio digital audio workstation. Tascam also announces that these units can now share disk drive storage with the Digidesign Pro Tools system via Rorke Data's Galaxy 5 RAID Array. The RAID is a set of large capacity hard disk drives which can be shared between multiple devices connected through SCSI or Fiber Channel interfaces. (323) 726-0303, fax (323) 727-7635.
MUSIC/SFX LIBRARIES
Broadcast Results Group (BRg), a division of Premier Radio Networks, announces the release of two new production music libraries. Club Q, designed for CHR, CHR Rhythmic, and Hot AC formats, contains an initial shipment of 54 CDs containing more than 3,000 cuts, over 800 themes, and more than 1000 sweepers and sounders. Urban Grooves is designed for all varieties of Urban formats and includes 54 initial CDs containing more than 3,000 cuts, over 800 themes, and sounders and sweepers. Both libraries are available on a market exclusive barter basis to qualified radio stations. For a demo and info, call BRg at (800) 280-1994.
Who Did That Music? Library introduces their online catalog at www.whodidthatmusic.com. The site has been completely remodeled to accommodate a secure online music delivery system and showcase an easy to navigate music search and retrieval system that offers RealAudio samples of the company's four production music and sound design catalogs. (310) 442-1440, fax (310) 442-1448.
THE MIX
Dan O'Day and Dick Orkin have announced the line-up of world-class sessions for 1999's International Radio Creative and Production Summit, being held August 6-7 in Los Angeles. Sessions include: Radio and the 21ST Century (Judy Carlough and Dick Orkin); Lost and Found (Dan O'day); Storytracking (Christine Coyle and Dick Orkin); More Radical Station Imaging (Eric Chase, Jeff Thomas); Writing, Producing, and Performing Radio Comedy (Dan O'day); Directing the Commercial (Christine Coyle); and Critique-A-Spot-A-Thon (O'day and Orkin). It's the industry's ONLY weekend designed solely for Radio Creative folks! For complete seminar information, call and leave your name and mailing address at (310) 476-8111, or fax to (310) 471-7762, or email to DANODAY@ danoday.com, or visit danoday.com/summit.html.
Congrats to Roy H. Williams and company! A total of 1,293 books from 645 publishers competed in the Independent Publisher's Book Awards, and the results are now official: The Wizard of Ads has been named Business Book of The Year for 1998!
Hedquist Productions of Fairfield, IA has abridged and produced the audio book, The Seven Worst Things Parents Do by John and Linda Friel. The Oprah Winfrey show featured the authors and their book on April 12, and since the exposure, 140,000 copies of the book have shipped. HIP President Jeffrey Hedquist (author of RAP's Radio Hed column) narrated most of the 100-minute audio book with the Friels voicing the introduction and the conclusion. Both the paperback and audio book are now available.
♦