EQUIPMENT NEWS
SYMETRIX adds two new boxes. The 562E Windowing Expander/Gate ($499) is a 2-channel device featuring AutoWindowing, a technique that allows the user to maintain better control of the gate envelope parameters. The new 533E Graphic Equalizer ($929) is a dual-channel 31-band graphic EQ with 45mm sliders, constant Q, +/-12dB and +/-6dB range switching, variable high and low cut filters, and more. 425/787-3222, fax 425/787-3211.
BROADCAST ELECTRONICS releases AudioVAULT Version 6.0. New offerings include AVSchedule, a Windows 95 based program designed to create AudioVAULT playlists from the merged outputs of existing traffic and billing, and music scheduling programs. AV-VoiceTrack automatically positions voice tracks over song intros, and AV-Air's indicator function allows the screen to control up to 15 pieces of equipment external to the AudioVAULT. 217/224-9600, fax 217/224-9607.
ROLAND's AR-100 Announcement Recorder is a 1/2-rack space digital recorder/player designed for playback of pre-recorded announcements. The unit uses standard PC memory cards with up to 250 announcements per card at sampling frequency rates of 44.1kHz, 32kHz, 22.05kHz, and 16kHz. It will also record and playback MIDI data. 213/685-5141, fax 213/722-0911.
PANASONIC has some new, neat toys. If your 17-inch computer monitor still isn't big enough, check out the CD-36VG50. This is a 36-inch SVGA monitor with a resolution of 800 x 600 pixels, and it's digital television (DTV) ready. The PV-7664 is the VCR for people who hate commercials. With "Commercial Advance" technology, the unit detects commercial breaks and fast forwards through them upon playback! And laptop Net surfers will enjoy the KX-TCL 100 Cordless Data Link ($199). The 2-piece system plugs into the wall phone jack and into your laptop to provide a cordless connection within your home or office. 800/222-4213.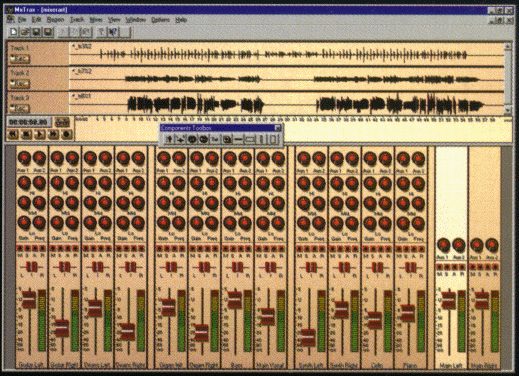 DIGITAL AUDIO LABS introduces FastEdDIT, a Windows-based .WAV file editor from Minnetonka Software that takes advantage of DAL's CardDPlus. Features include simultaneous record and play, punch-in, scrub, cut and paste editing, fades and crossfades, reverse, playlist functions, and more. MxTrax (also from Minnetonka) is a Windows 95 based multitrack program designed for use with DAL's powerful V8 audio processor card. MxTrax is loaded with features including the ability to build your own custom mixer, open multiple projects with cut and paste editing between projects, remote transport control of ADAT and DA88 decks, and lots more. Other third party software that has recently announced V8 compatibility include Cakewalk Pro Audio 6.0 from Cakewalk Music Software, and a bundle of plug-ins from KS Waves including the C1 compressors, Q10 EQs, Truverb reverbs, and more. Also, new drivers for the CardD and CardDPlus are now available for Windows NT operating systems. 612/559-9098, fax 612/559-0124.
YAMAHA announces the summer delivery of Version 2.0 software for their popular 02R Digital Recording Console. The ROM chip upgrade features include surround sound capabilities, digital aux sends via Yamaha digital I/O cards, improved console automation, new operation and mix editing capabilities, and more. On a smaller scale from Yamaha is the new MX12/4 Mixer ($599). There are twelve inputs, eight mono and two stereo. The mono inputs are XLR balanced and TRS balanced and unbalanced. The stereo ins are unbalanced TS. Features include phantom power on all mono channels, 3-band EQ on all inputs, independent monitor and effect send controls on each channel, and a 7-band stereo graphic EQ on the master mix. 714/522-9011.
DIGIGRAM, maker of digital audio cards for the PC, unveils two new cards. The PCX11+ Digital Audio Board is a 2-channel board that, unlike most digital cards, operates in both PCM linear mode or MPEG compressed audio mode. Features include balanced I/O and software drivers that provide simultaneous play and record, pitch shifting, EQ, noise reduction, and more. MPEG encoding and decoding is done in real time. Also new is the PCXpocket, the first Type II PC card intended for professional audio recording and editing applications on a laptop. Like other Digigram cards, the PCXpocket offers two recording formats, MPEG and PCM-linear. You get two balanced mic/line inputs and two unbalanced outputs. Imagine a complete digital multitrack system on your laptop, in the park, on the road, on a plane.... 703/875-9100, fax 703/875-9161.
More goodies from SPECTRAL include a new 32-bit NT compliant version of StudioTrax XP to be released this summer. MediaFile Version 3.1 is available and adds new Qdesign MPEG compression features. 206/487-2931, fax 206/487-3431.
Is your collection of CD-ROMs getting out of hand? Check out DENON's DRD-1400 CD-ROM Changer. It stores up to 200 CD-ROMs in one compact unit with two independent double-speed drives and a SCSI-2 interface. Also new from Denon, the DN-610F CD/Cassette Combi-Deck. Record from CD to cassette, or play from both decks simultaneously. A switchable output selects between CD, cassette, or a mix of both. The new Denon DN-770R Bi-directional Twin Output Cassette Recorder features dual outputs for playing two cassettes simultaneously. Playback on one side while recording on the other. Other features include simultaneous recording on both sides, high speed dubbing, relay recording/playback between decks, and more. 201/575-7810.
E-MU SYSTEMS is in the laptop audio arena with the EMU8710 Audio PCMCIA Card. The card supports playback and recording of 16-bit 44kHz digital audio and MIDI music files on Windows 95 compatible software including Sound Forge, Cakewalk, MasterTracks Pro, and Creative Labs Vienna v2.0. 408/438-1921, fax 408/438-8612.
SFX/MUSIC LIBRARY NEWS
BROADCAST RESULTS GROUP (BRG) announces the release of Essential Radio. The new library is a compilation of a variety of different production libraries remastered especially for radio. The collection includes libraries previously available solely on a needle-drop basis as well as new material, including sound effects, composed especially for Essential Radio. BRG plans to ship 50 CDs this year with updates quarterly. It is available exclusively on a barter basis. 800/280-1994.
GMI MEDIA GROUP announces the release of GMI Powerdisc which features 122 image production elements, bumpers, sweepers, workparts, etc.. RAP Members are being offered a special 20% discount when the library is purchased in a combo package with GMI's Lazer Impact Plus imaging library, and there's even a 30-day money back guarantee! See ad on page 28 for more info or call 253/839-9414.
RIVER CITY SOUND PRODUCTIONS adds two new CDs to their collection. RCSP-VOL7-9701 brings the Broadcast Series to 7 CDs, and RCSP-IND2-9602 Corp/Ind2 brings the Specialty Series to 10 CDs. 901/274-7277.
The MUSIC BAKERY collection is now over 30 CDs strong. The latest CD adds cuts in the following categories: The Sixties, Nature and Discovery, Sports and High Energy, Emotions, and Creative Underscores. 800/229-0313.
ADVANTAGE PRODUCTIONS, INC. announces the availability of Ear Candy, a CD of nearly 300 production elements and music beds. The library is available as a buy-out and is non-exclusive. 941/482-1444, fax 941/482-0505.
Don Lawler of TARGET MARKETING announces that he will give away free copies of his Spots copywriting software to RAP Members! Spots is "The radio copywriting and production management solution for OVERWORKED producers and others responsible for writing copy." To find out more about Spots and get a free copy of the software, simply visit Don's Web site at http://members.aol.com/goodspots/ or call 901/763-2497. Spots is a monthly, market-exclusive copywriting service where subscribers contribute 10 of their best commercial scripts per station each month. The Spots software is free to RAP Members regardless whether they become subscribers to Spots or not.
TM CENTURY adds Jay Noble to the programming and production sales staff. Jay most recently held a position at Westwood One Radio Networks.
HARRIS CORPORATION has signed a letter of intent to acquire Northeast Broadcast Lab, Inc., a leading supplier of radio broadcast equipment and studio systems. Northeast Broadcast will become part of Harris Broadcast Division's Richmond, Indiana studio operations.
JR PRO SALES, the North American distributor of BASF recording products adds a new site to the Web. Check it out at www.jrpro.com.
Former KidStar Program Director/Producer Mark Malleck joins Broadcast Electronics to assist in sales and support of their AudioVAULT system. Also acquired from KidStar is Bob Owen, former multimedia technician for the squelched children's radio network.
WHEATSTONE CORPORATION is moving all of its administrative and manufacturing facility to New Bern, North Carolina this fall. The company has been in Syracuse, New York for the past eleven years.
♦