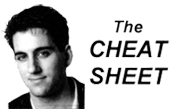 by Flip Michaels
So You Think Your Computer-Illiterate?
"Why does Flip continue to write these Cheat Sheets full of 1s and 0s? Doesn't he know that I am computer-illiterate?" Read this excerpt from the Wall Street Journal's Jim Carlton, and you will feel like the digital production guru that you are!
A Compaq technician received a call from a man complaining that the system wouldn't read word processing files from his old diskettes. After trouble-shooting for magnets and heat, it was found that the customer labeled the diskettes then rolled them into the typewriter to type the labels.
A Dell customer called to say he couldn't get his computer to fax anything. After 40 minutes of trouble shooting, the technician discovered the man was trying to fax a piece of paper by holding it in front of the monitor screen and hitting the "send" key.
True story from a Novell NetWare SysOp:
Caller: "Hello, is this Tech Support?"
Tech Rep: "Yes it is. How may I help you?"
Caller: "The cup holder on my PC is broken, and I am within my warranty period. How do I go about getting that fixed?"
Tech Rep: "I'm sorry, did you say a cup holder?"
Caller: "Yes, it's attached to the front of my computer."
Tech Rep: "Please excuse me if I seem a bit stumped...how did you get this cup holder?"
Caller: "It came with my computer...it just has `4X' on it."

At this point the Tech Rep had to mute the caller, because he couldn't stand it. The caller had been using the load drawer of the CD-ROM drive as a cup holder and snapped it off the drive!
Feel better? I thought you would enjoy that.
Communicator:
Hurry! Be there! Download it. Yata yata yata. Netscape's latest Web browser is out and available (beta) for free. The Communicator takes strategic leaps and bounds by providing a fast, secure and user friendly program available simply by visiting: www.netscape.com
Production Pros will find the Communicator a step in the right direction with tool options that bring sound resources right to your hard drive. Just visit the Netscape site to pick and download all the appropriate plug-ins you'd like available. With our favorites of course, being sound players, there are plenty out there. No matter the file extension, and/or digital editor you use, getting audio off the Net doesn't take much work any more, which is important when you need to finish a last minute promo.
Likeable Links:
Marshall Such, Head Potato has just informed me that Radio Potato has it's own Web site. Indeed, this is a must stop for library researchers. Tastefully decorated in the "Brothel Motiff" you can browse on by with your new "Communicator" at www.radiopotato.com.
For those who love to read the latest radio gossip, "Radio Surfer's Headline News" is a must stop. Here you'll find the latest daily happenings from BuzzNet Online, All Access, R&R, CROW, RadioAirPlay, Broadcast & Cable, Gavin, Hitmakers Breaking News, and many others. www.radios urfer.com/news.shtml.
Looking for a liner idea. Visit K-VOID's liner generator at www.cris.com/~om18/liner.shtml. Every time you reset the page, a new liner appears. "This is not your father's radio station! The longer you listen...the later it gets! WXXX, the radio station everyone else copies!" You can even add your own liners to the random liner generator! If you enjoy this, be sure to hit the random promo generator link.
Lastly, one can stay in tune with the FCC by visiting their FCC Daily Digest at www.fcc.gov. Just when you thought you knew everything there was to know about broadcasting....
♦