Page 1 of 3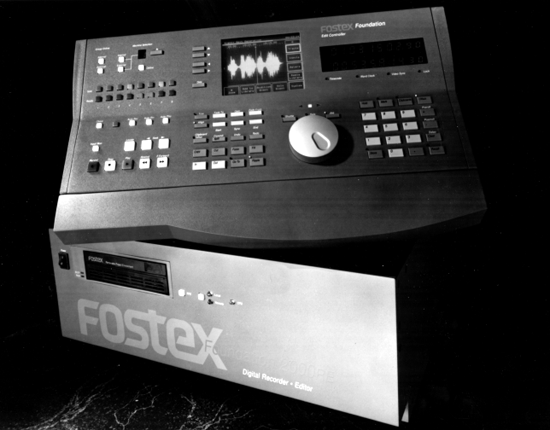 by Jerry Vigil
The Fostex Foundation 2000 hit the scene in early 1994 as a powerful, expandable workstation priced well into five figures. It came with a ton of features including internal digital mixing. Fostex recently introduced the 2000RE, a scaled down version of the original that strips some of the features, such as the mixer, and drops the price down to an attractive $9,995. But there's nothing about the 2000RE that leaves you feeling like something was left out. The 2000RE packs a full arsenal of editing features in this 8-track workstation and brings them to you with a dedicated control panel that makes working in the digital multitrack domain about as easy as it gets.
The main unit houses all the electronics as well as the disk drive and takes up four rack spaces. It's 21.4 inches deep and weighs 35 pounds. One look at the back panel explains why it's a bit on the heavy side. There are eight analog ins and outs on unbalanced RCA jacks. Electronically balanced analog ins and outs are available on two 25-pin connectors. There are sixteen trim pots for both the balanced and unbalanced analog I/O. Eight channels of digital I/O are provided in the ADAT optical format, and SDIF2 and AES3 8-channel I/O utilizes two 25-pin connectors thus letting the unit interface with the Alesis, Fostex, Tascam, and Sony MDM 8-track recorders. 2-channel digital I/O is available in AES3 and SPDIF formats. The SPDIF uses RCA and optical connectors, and the AES format is on a 25-pin connector.
MIDI IN and OUT connectors enable the 2000RE to send MIDI timecode, control other machines such as the ADAT or Fostex RD8, and receive MIDI control messages from external sequencing software. The 2000RE can read and generate SMPTE timecode in several formats. There are Word Clock input and output connectors, a Video Sync input, VITC input, LTC input and output, and RS-422 input and output permitting the 2000RE to interface with a variety of studio configurations. A SCSI port is used for external drives and backup devices. There's a 1/4-inch footswitch jack, a GPI (general purpose interface) that can be used for hands-free punch-in recording among other things. And there's a port for the Edit Controller. Needless to say, the back panel of the 2000RE is loaded.