Page 1 of 2
by Flip Michaels
Our industry is replete with writer's software, from Write and Word to WordPerfect version 1.5, 3.1, 4.0, 90210...well, you catch my drift. Problem: there is nothing out there geared toward the copywriting radio professional. Until now. Solution: Spot Seller's Radio Writer Copywriting System.
I just had to try it out! Is it possible to top the paper clip with a complete software package designed specifically for the radio professional, by radio professionals? Will it truly streamline my broadcast copy system? Does it come with cookies included? Yes, yes and no. Read on radio writer, read on!
The product arrives in a very attractive case (I'm easy to please). All I had to do was run "setup.exe" from my file manager using three enclosed disks and BANG! The install was complete. Sorry, MAC users, it's a Windows based program. Be sure you have a 486 or higher processor before installing. The program will need about 8 megs of RAM, 6 megs of free hard disk space and, ohh, a 256-color VGA monitor is definitely recommended for full effect.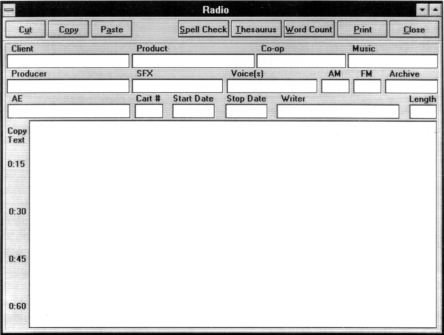 Just one touch on the icon (actually two clicks) and I was ready to begin writing. The "Radio" page is well laid out. The top of the document is full of appropriate fields to type in specific details like your client name, product, co-op (if any), music, producer, start and end dates, cart #, voice, writer, AE. There's even a space to note what DAT you later archived it to or what sound effects were used. Maybe your department produces for more than one station. Got that, been there. The program has AM/FM boxes to designate where it's headed.