Page 1 of 5
Steve Martin, Presentation Producer, BBC Radio Scotland, Glasgow, Scotland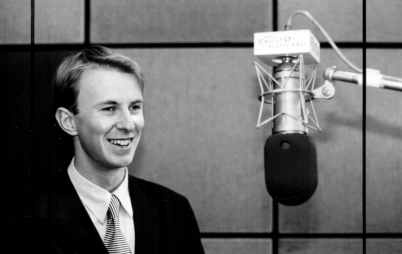 Before commercial radio ever existed in Britain, there was the BBC, what we in the US might call Public Broadcasting. There are no commercials on BBC Radio Scotland, but great attention is put on the promos, and that's where Steve Martin comes in. Join us for an enjoyable visit with Steve and a most interesting look at Radio Scotland, an AM/FM simulcasted network that utilizes some 50 transmitters to reach Scotland's population of about five million. Don't you know their Chief Engineer is "out at the transmitter" a lot!
R.A.P.: Tell us a bit about your background in radio.
Steve: The radio business is the only one I've ever worked in really. I started while I was still at school just working weekends and doing odd evening and holiday work at a local station. I did odds and ends, low-grade stuff that a lot of people start with such as pulling feeds off the wires for sports and news programming. I also met and talked with presenters and journalists and learned a little about the business from the inside rather than studying it formally. At that time, the Program Controller of the radio station was extremely firm and key on station identity and image, and I think that sparked my interest in marketing and the promotion and publicity of radio, as well as in the editorial and style of the output itself.
R.A.P.: Was this is Glasgow?
Steve: No. This was in Surrey in the South of England, which is where I grew up. I worked my way to Glasgow through the BBC. I joined the BBC having written to them while I was still studying at school. I was taken on as an audio trainee. I wasn't sure that was what I wanted to do, but I knew I wanted to work in radio. At that time, the audio staff who worked for the BBC were all put on a three-year training course. It was like an apprenticeship and was extremely broad in that they would train you in both radio and television audio operations and in various elements of program production and in the techniques and values of program making. They gave you a fairly broad idea of editorial values, as well. So this was a three-year apprenticeship which took me to Birmingham in the English Midlands, and it enabled me to learn a lot about the mechanics of making radio.
I think within the BBC just about every style of radio is represented, from music to speech radio, from young to older market groups. Within the BBC, I was able to move about as my interests developed; the BBC enables you to move on attachments within the organization as part of their career development program. So that took me to local radio stations where I was able to develop some presentation and interviewing skills working on outside broadcasts and a lot of strategic planning that's involved in those operations. I also worked on the marketing and the style of radio as opposed to the content and the editorial.
From that local station I went to a station in London called Radio Five which doesn't broadcast anymore, but at the time it was the BBC's national UK-wide station containing sports and youth and children's output and some educational output. It was a very peculiar mix, and I was there to build station promotions and help the identity of the station. From there I went to Glasgow to Radio Scotland, which is where I am now.