Page 1 of 4
The Real Bob James, Creative Services Director/Production Manager, WMIL-FM, WOKY-AM, Milwaukee, WI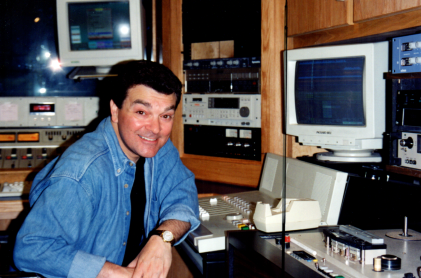 If you've been in radio for any length of time, you've probably heard of the Real Bob James, and you've certainly heard and laughed at the outrageous material from the American Comedy Network. Bob was the Founder, Creative Director, and Vice President of ACN, but his resume' hardly begins and ends there. Over twenty years ago, Bob was writing speeches and press releases for Ohio Congressman Charles Carney. He has been on the air at a number of stations including WZMX, Hartford; WRKI, Danbury; WABC, New York; WNBC, New York; WKIS, Orlando; WGAR, Cleveland; WHLO, Akron, and more! He was PD at WRFD, Columbus and APD at WWDC in Washington, DC. He was a free-lance writer, producer and performer in LA and worked on a number of shows including Entertainment Tonight. He has done stand-up comedy and produced a local television show ala Saturday Night Live that netted him four local Emmy Awards. He wrote and produced song parodies and comedy bits for ABC Radio Network in New York. He was co-host of Coast-to-Coast, a national talk show on Independent Broadcasters Network. He co-founded and served as Senior Consultant of the Morning Show Consulting Group, and he's a lot of fun to talk with, too! RAP checks in with Bob as he celebrates his first year anniversary at WMIL/WOKY, Milwaukee. His incredible background in radio, television, and comedy is being put to wise use at the Milwaukee stations as his unique style of writing and production help keep WMIL at the head of the pack with radio that's simply fun to listen to.
R.A.P.: You went from radio to television and back to radio. Why did you leave television?
Bob: I worked for local television in Cleveland, WEWS, Channel 5, where I won four Emmy awards. After that, I thought I was pretty hot, so I went out to LA. There, I died this horrible financial and psychic death. I thought, "Hey, I've got Emmy awards -- I can be in television!" Well, that didn't work out, but some interesting things happened while I was out there. I got a call from this agent saying Chuck Woolery was leaving a show that Merv Griffin was producing. He asked if I would like to come in and try out for this part for a game show. So I went down there and had an interview, just the producers and me sitting across from each other. Then they said, "Would you like to come back and try it with a couple of people?" So I came back and tried it with a couple of people, and they got a few laughs out of it. Then they said, "We'd like you to come back and do it for cameras." So I came back and did another little shtick for the cameras. They later said, "Look, it's between you and the weatherman from Channel 4. We'll call you." Days passed. Weeks passed. I finally called them and said, "What's up? They said, "Well, you didn't have any local television experience here in LA, so we went with the weatherman from Channel 4." The weatherman from Channel 4 was Pat Sajak, and the show was Wheel of Fortune. I came close, but I didn't get it.
I did get on Entertainment Tonight for the first six weeks of the show, and then, Andy Friendly, the guy who hired me, quit. And when he quit, this other guy came in and fired everybody Andy hired, including me.
I also did some writing for Columbia Pictures Television, a show called "Mag" which featured this guy everybody thought was going to be the next Steve Martin. I wrote for the pilot for this show, but the guy didn't get very hot. That's when I thought maybe I'd better get back into radio.
R.A.P.: Is this when American Comedy Network came about?
Bob: Basically, yes. I went to Orlando, Florida, where I met Andy Goodman. It was Andy Goodman and me along with Dale Reeves and Michelle George -- we put this little American Comedy Network thing together.
R.A.P.: It turned out to be a major accomplishment. How did ACN come into existence, and how do you explain its success?
Bob: I think ACN was a pretty big deal because of its timing. We sort of showed up on the scene. Back in the early eighties when ACN began, it began as something called Katz Creative. It was a separate little creative arm of a broadcasting company owned by Dick Ferguson. The Katz rep firm owned about half a dozen radio stations, and Dick Ferguson had this idea that we could put together comedy. At the time, I was doing this morning show down in Orlando, and he bought a radio station in Orlando that happened to be our competitor. He came down acting as sort of the interim GM and heard my program and thought, "Maybe this guy can do for me and my five other radio stations what he's doing here, and we'll do some type of network thing." The whole thing was very vague. Nobody really knew what was going to happen, but we all agreed that it would be possible to do something which nobody was doing yet, and that was write contemporary, funny comedy bits -- short-form one minute, one and a half minute radio sketches and parody songs.
Imagine, back about twelve or thirteen years ago, nobody was doing parody songs the way they do them now. I mean, occasionally when the football team would get into the Rose Bowl or something, the local station would do a funny rah-rah song about the football team, but the only thing that was available on the syndicator shelves back in 1981-82 was pre-recorded stuff that was sitting on the shelves for years and years like the stuff Mel Blanc did. Nobody was making contemporary comments on what was going on in the news and about our human foibles, and how we were back then. When you think about it now, you think, "Well, that's no quantum leap," but since nobody was doing it, I guess it kind of caught on. Now everybody is doing it. Every time I turn around there's a new comedy service out there that's joking around with what's happening.