Page 1 of 3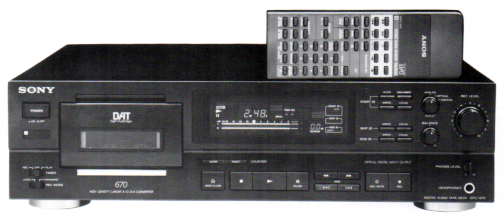 by Jerry Vigil
It's very easy to spend ten thousand dollars or more on a DAT deck. It's just as easy to equip your studio with a quality DAT recorder for under one thousand dollars. In fact, the Sony DTC-670 lists for $750, and don't be surprised to find it sale priced closer to $600. The DTC-670 is a "consumer" deck in that it doesn't offer large "broadcast" buttons, SMPTE time code features, and other studio frills. However, it is still a digital 2-track recorder, priced right for the studio looking for low cost, digital recording.
There are only a handful of DAT recorders in this price range, and though their features are few, some offer features the others don't. For example, the Technics SV-DA10 offers a handy fade-in/fade-out function which the Sony DTC-670 does not. But, the Sony offers 32kHz sampling, or "Long Play" mode, and the Technics unit does not. For the most part, the differences are minor, and in each case, you get what you pay for. The point is, a DAT deck for under $750 will be basic, but you'll be getting into CD quality digital recording for the price of a high-end analog cassette deck.
Though the 670 is a "basic" DAT deck, there are a few features that make a fast first impression. We've played with a lot of DAT decks and got used to some lengthy tape load/unload times. Sony has introduced a modified transport system that significantly speeds up the process of loading and unloading a DAT cassette. Plus, the cassette compartment has a window so you can see what tape you have loaded. (If you already use DAT in your studio and can't view the tape inside the unit, you're familiar with the inconvenience of having to unload the tape to see what's in the deck!) Golf clap for the see-through window and faster tape loading/unloading!
The brightly lit LED display also gets points. You get more than just the "basic" information, and a glance at the display lets you know exactly what functions are in use at any time. The time display shows Absolute Time, Program Time, and Remaining Time, and indicators show which time display mode is in effect. There are three indicators for sampling frequency -- 32kHz, 44.1kHz, and 48kHz. The unit employs two digital inputs, optical and coaxial, with indicators on the display to show which digital input is in use. If the analog inputs are selected (with the input knob on the front panel), the digital input indicators turn off. Of course, you get the usual indicators for the sub-codes and their functions -- Start ID, Skip ID, End ID, ID Write, ID Erase, and Renumber.