Page 1 of 3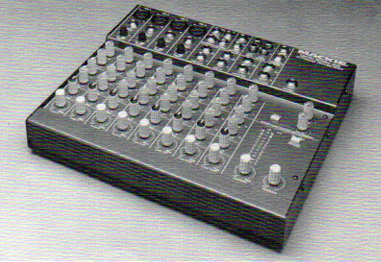 by Jerry Vigil
If you've ever shopped for a small mixer, whether it be for your home studio or for remote station broadcasts or even as a submixer for your present production console, you probably have a good idea of what these small mixers cost and what you get for your money. If the price tags and features you've seen have been less than attractive, you'll love what you see in Mackie's Micro Series 1202 12-channel Mic/Line Mixer. At a suggested list price of just $399, the 1202 blows the competition out of the water.
Greg Mackie, the founder of Mackie Designs, Inc., may ring a bell to some of you veteran "musician types" as the founder of Tapco, a company whose mixers were quite popular back in the seventies. Mr. Mackie's extensive experience with mixers and an obvious understanding of the limited budgets of people in the music industry have come together in the 1202 to provide a mixer that both meets the needs of its user and comes at a price that makes it hard to resist. Mackie Designs, Inc. is only three years old, and from the looks of things, we will be hearing a lot more from them and seeing a lot more of their mixers as time goes on.
The company does have larger consoles with more inputs and more features, and amazingly enough, the prices are still incredibly low. For example, their model 1604 16-channel mixer is priced at under $1,100! We thought about taking a look at this unit, but there's just something about a 12-channel mixer for $399 that made us choose the 1202 for this review.
If you're looking at the photo and saying, "Twelve channels...I only see eight," that's because four of the "channels" are stereo. You get four mono inputs at channels 1 through 4. Channels 5-6, 7-8, 9-10, and 11-12 are the stereo pairs. The connectors and controls on the 1202 can be divided into three groups: the patchbay, the channel strips, and the output section. We'll begin with the patchbay.
At the top left of the mixer are four XLR mike inputs. There's no need to have external mike preamps; the 1202 has four discrete, balanced preamps, and they're very quiet. "But," you say, "I have big, professional mikes that need phantom power." No problem. Each of the four XLR inputs provides phantom power controlled by the PHANTOM switch on the rear panel. You say you don't need that many mike inputs and you'd rather have more line inputs? Okay. Use the ¼-inch TRS line inputs on channels 1 through 4. These inputs accept balanced or unbalanced signals. Directly below these inputs are four trim pots for channels 1 through 4 which provide enough gain to handle virtually any input level you throw at them.