Page 1 of 2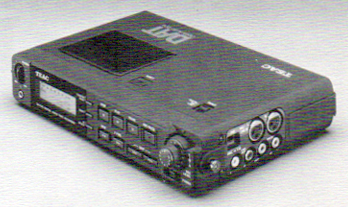 by Jerry Vigil
A couple of years ago, we reviewed a portable DAT player from Panasonic, the SV-250. We talked about the many features found on such a small box, and we talked about the unit's $2,700 price tag. Time rolled on, and the cost of many electronic products dropped considerably. Today, you can pick up the Teac DA-P20, which has essentially the same features as the Panasonic unit, for almost one-third the price -- $999 list. Now there's a price tag that can put the power of portable digital recording in the hands of many!
Why consider getting a portable DAT? Here are a few good reasons:
1) Think about those promos you've cut with "on-site" listener clips recorded with a portable cassette deck and its built-in condenser mike. Replace that clip with a quality digital recording, made with good mikes plugged into a stereo DAT recorder. The difference is tremendous, and the stereo effects can add a lot to the clip.
2) Having a stereo, digital recorder under your arms makes it possible to begin collecting your own sound effects, custom made to order.
3) How many times have people at your station had to wait around for a studio to become available to do simple voice work or interviews? With a portable DAT machine and a good mike, studio quality interviews and voice tracks can be done in any relatively sound proof room at your station. When your main studio is avail-able, you can then add any voice processing to the tracks.
4) Take a portable DAT to a client's place of business to get customer testimonials. Back at the station, your finished spot is going to sound incredibly clean. Even if you don't have a DAT machine in the studio, you can still reap the benefits of a portable DAT. Once you're back at the studio, simply patch the unit into your console to retrieve your recordings.
The portable DA-P20 gets its power from a rechargeable battery, or the unit can be powered with an A/C adaptor (both included). This stereo recorder accommodates both analog and digital inputs. The XLR analog inputs accept both balanced and unbalanced signals as well as mike or line level inputs. If you're familiar with DAT operation, you'll find nothing difficult about using the DA-P20.
Front panel controls, starting at the far left, include a headphone jack and headphone level control. There is no internal speaker on the unit, so headphones are necessary. To the right of the LCD display are the COUNTER MODE, RESET, and ID SELECT buttons. Pressing the COUNTER MODE button selects display of Absolute Time, Program Time, Remaining Time on the tape, or the Tape Counter. The RESET button resets the Tape Counter.