December 1989 - February 1990
Over the past three months, we solicited salaries from our readers in various markets. The salaries are for the position of Production Director. Obviously, this position's job description varies greatly from station to station. Some Production Directors have an airshift while others don't. Some handle the Continuity Director's duties or write copy while others don't. Some have assistants drawing from the budget for production while others do the job alone. These differences will vary the salaries in similar markets considerably. Therefore, the ranges indicated below may swing fairly wide. The averages will offer a more accurate indication of which direction from the middle this swing takes place. Read 'em and weep, or (if you're lucky) read 'em and hope your boss doesn't see this and realize you're overpaid!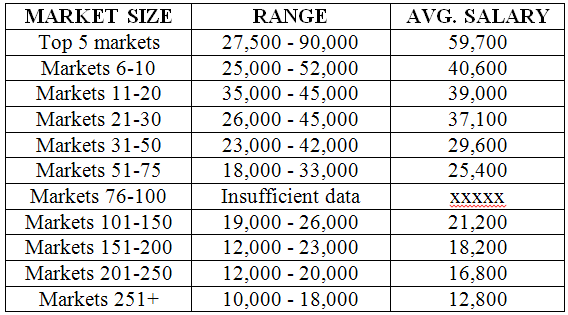 As you noticed, we didn't receive enough data for markets 76-100. Also, only a few responses came from markets smaller than 251, so the figures for this category won't be as accurate as those for the larger markets for which we had a greater sample. Nevertheless, we reported what we did receive. Finally, word has it that there are a handful of top producers in New York and LA well into six figures. They obviously didn't participate in this poll. What the heck, when you're making six figures as a Production Director, you're too busy spending money to take some foolish poll!
Thanks to all who participated. We hope you can use these figures to your advantage in future negotiations. It's easier to guess your value when you know what the market pays. Many supportive comments were received regarding this poll, so we'll likely do it again next year. It'll be interesting to see how the figures change by then.
♦