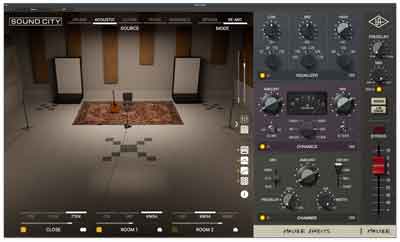 Universal Audio Inc. introduces UAD Sound City Studios, the first plug-in emulation of one of the most famous recording studios in music history. Located in Van Nuys, California, Sound City Studios served as the birthplace for more than 100 gold and platinum records since its opening in 1969, including classic records from Nirvana, Metallica, Fleetwood Mac, Tom Petty, Rage Against the Machine, and more.*
UA's most complete studio emulation to date, the UAD Sound City Studios plug in delivers every aspect of this famous creative space, including its room, mics, analog gear and legendary mixing console. Using the plug in, music makers can now record and mix their music in the legendary home of countless hits.
"Rock music is alive and well," says Bill Putnam Jr., CEO of Universal Audio. "Sound City is a studio that was crucial to so many records that we all love, and we're thrilled to open its doors to music creators around the world."
"Sound City has always been a place that nurtures talent, helping artists to find their voice," says Sandy Skeeter, President of Sound City Inc.. "Thanks to UA, a new generation of artists can put their music through our historic Studio A live room and carry out the same sonic techniques secretly used by their favorite rock heroes over the decades."
Available only from Universal Audio, UAD Sound City Studios lets music creators add the vibe and character of this legendary space to their drums, guitars, vocals, synths and more.
UAD Sound City Studios allows you to quickly dial in sounds by choosing your source, and selecting from presets based on time honed room and mic combinations. Using Dynamic Room Modeling technology, move classic condenser and ribbon mics, in realtime, for authenticity far beyond static IR based room modeling plug ins. UAD Sound City Studios – $349 (US MSRP)
UAD Sound City Studios Key Features:
Place your drums, guitars, vocals, and more inside Sound City's famous Studio A
Transform your sources with a collection of vintage, hit-making mics
Sculpt perfect guitar tones with expertly placed cabinet and mic setups
Get the authentic tone of an iconic '70s custom British console, including 3 band EQ and inline compression, based on the legendary Sound City desk
Smash your tracks with Sound City's collection of analog outboard gear including "secret weapon" Dolby A style effects, 1176 limiting, and more
Put your sources in Sound City's lush sounding reverb chamber
Available for music creators starting November 14, 2023 – no UA hardware required
UAD Sound City Studios is joined by the new C Suite C Max Limiter plug in, and various new UAD Bundles – including the UAD Producer Edition, UAD Studio Edition, UAD Signature Edition, UAD Ultimate 12, and UAD Complete 2 in UAD Software v11.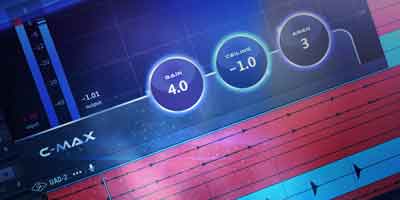 UAD C Suite C Max Limiter - $349 (US MSRP) - allows creators to get transparent to colorful limiting on masters and more. Developed by C Suite Audio™ exclusively for Apollo interfaces and UAD hardware, C Max gives you ultra transparent limiting to extreme maximizing and distortion effects, with three simple controls.
UAD C Suite C Max Limiter Key Features:
Deliver transparent, loud masters without artifacts for competitive modern mixes
Add aggression and color with sophisticated dynamic signal processing
Get professional results quickly using realtime spectral display
Explore creative distortion textures on drums, vocals, and more
*Use of artist names does not constitute official endorsement of Sound City Studios software. All trademarks are property of their respective owners and used only to represent the effects modeled as part of Sound City Studios software.
Learn more about UAD Sound City Studios at https://www.uaudio.com/uad-plugins/sound-city-studios.html.
Learn more about UAD C-Suite C-Max Limiter at https://www.uaudio.com/uad-plugins/compressors-limiters/c-suite-c-max-limiter.html.