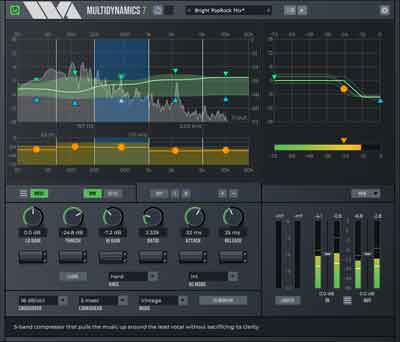 MultiDynamics 7 is a powerful multi-band dynamics processor useful for mastering, track processing, sound design, and noise reduction. MultiDynamics provides up to 6 bands with independent compression or expansion/gating per band.
Multiband dynamics processing combines the techniques of equalization and dynamics processing, but is more powerful than a static equalizer or a single band dynamics processor. Below are some of the possible ways to use MultiDynamics 7:
Frequency-dependent dynamics. A simple application of multiband dynamics is to apply compression or expansion to a specific frequency range. For example, you may want to compress the vocals in a mix without affecting the low or high frequencies.
Level-dependent EQ. You can also think of multiband dynamics as providing EQ which is dependent on the level of the input sound. For example, you might want to brighten the sound of a high hat, but only when the drums are played softly.
Noise reduction. Another powerful use of MultiDynamics 7 is noise reduction. MultiDynamics 7 excels at de-noising and doesn't suffer from artifacts typical of FFT-based de-noisers.
Ducking. You can use MultiDynamics 7 to duck music behind narration so the foreground dialog stays intelligible when mixed with the background music.
Some of what's new in MultiDynamics 7:
All new interface with dark theme.
Now supports extensive sidechain capability. Each dynamics band can be driven from the input signal or an external sidechain input. You can also specify wide-band or band-filtered signal, or select either the input or external signal filtered by a separate sidechain EQ. Hence you can drive one frequency band based on the signal from another frequency band.
New Learn feature automatically sets band thresholds to detected peak or RMS levels.
A peak limiter has been added to the output processing.
Input meters and an input gain control have been added.
User selectable display ranges for dynamics gain and input levels.
New metering section with options for peak, peak & RMS, RMS, and K-system meters.
Realtime spectrum display with many options.
PRICING & UPGRADE
MultiDynamics 7 is being offered at an introductory price of $99, normally $129. MultiDynamics v6 users can upgrade for $25, v5 users can upgrade for $75. More at www.wavearts.com.