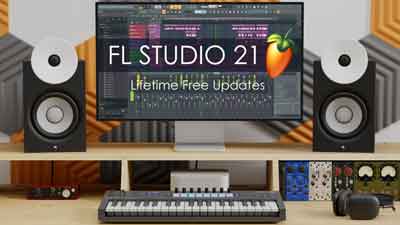 FL Studio 21.1 is out with faster and more creative note editing with scale snapping and custom note tools in the Piano roll; colored waveforms for better sample management; an extreme chorus plugin, 'Hyper Chorus', AI Declipper in Edison and much more. FL Studio updates are free for existing customers because we love Lifetime Free Updates.
What's New:
FL Studio
Colored waveforms - Allows better identification of waveforms by grading the low, mid and high frequencies from red to blue. See General Settings - 'Colored waveforms'. Applies to the Browser, Playlist, Sampler Channel etc.
MIDI Control - New 'External sync' mode & improved clock stability. This allows FL Studio to sync to an external MIDI Clock so that it plays in time to an external MIDI clock source.
Automated updates - Never miss updates again. Optionally download updates and apply them at the next restart.
Bug fixes - See the What's New Change Log.
Piano roll
Snap to Scale - Snap notes to the selected scale when placed or moved. Choose scales and activate snapping with the new 'Note' icon on the toolbar.
Menu > Tools > Script - Python based scripts allow custom manipulation of Piano roll data. Use the supplied scripts or write your own. Scripting includes automatic user interface creation. See the Piano roll scripting forum to share and discuss Scripts.
New & Updated Plugins
Hyper Chorus - Extreme chorus FX plugin, included with Producer Edition and up.
Edison Declipper - New Machine Learning (AI) declipping tool replaces the original digital signal processing one. The new AI system can restore previously unrecoverable clipped recordings.
SliceX - Now resizable by dragging the lower-right corner for better visibility and editing of slices