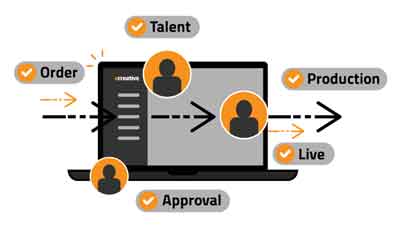 vCreative, the leading multi-platform workflow software for media, and Yamanair Creative, America's leading creative service for radio, just signed a long-term contract where vPro by vCreative will be the primary operational platform for all of Yamanair's services.
"We have been serving the same clients collectively for 15 years with some limited integration. Now, it is a match made in heaven," commented the CEO of Yamanair Creative, Yaman Coskun. "This will upgrade our operational systems as we migrate to a platform created by seasoned radio people for media, and it is best-in-class, which will give us more agility, tighter control, and accelerated workflow."
In addition to streamlining Yamanair's internal operations, this partnership also means less manual order entry for mutual clients, saving time by sending completed creative work from Yamanair directly to their vCreative account.
"Yamanair is a force in radio creative and we are thrilled that they have chosen our new vPro platform," adds vCreative CEO, Mary DelGrande. "This partnership will streamline operations for our mutual customers who will see immediate and impactful efficiencies in their creative process."
About vCreative
vCreative is the nation's leading provider of media workflow solutions. Its cloud-based technology enables customers to thrive by eliminating errors and streamlining complex processes. It provides software solutions to radio, TV, network, and digital media companies. vCreative helps to expand creative and promotional revenue by giving valuable time back to its users. vCreative clients include: Audacy, TelevisaUnivision Radio & TV, Townsquare, Cumulus Media, Urban One, and many others. Learn more at www.vcreativeinc.com.
About Yamanair
Yamanair Creative, a division of Compass Media Networks, was founded in 2001 by Yaman Coskun. In 2004, Yaman helped conceive and launch The Creative Services Group for iHeart. In 2007, Coskun launched Cash by Creative, followed by the 2014 rollout of SPECbyte . Yamanair's other white-labeled services were developed later and serve nearly 600 markets today. All of Yamanair brands serve the radio industry as new business development tools and virtual production services providing pre-tested, instantly customizable audio, video and digital content.