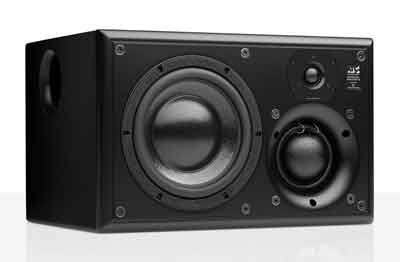 With their creative non-stop drive for product improvement, driven by forward-thinking management and talented engineering, ATC's UK-based manufacturing facility is introducing an upgraded model of their highly-acclaimed SCM25A Pro, which is featured in high-end studios worldwide aiding to create award-winning music and media. The SCM25A Pro Mk2 will include ATC's hand-built SH25-765 dual-suspension, high-frequency tweeter. Prior to this endeavour ATC was using an OEM tweeter for the SCM25A that met performance standards, yet ATC's engineering team sought to elevate high-frequency performance. Their in-house manufacturing process of all key components such as drivers and amplifiers provide no compromise quality control and performance, defying many of today's manufacturing procedures. Like many of ATCs product developments, the SCM25A Pro Mk2 is the evolution of its predecessor, maintaining the core of the product while refining key areas of its design and performance.
Noted Ben Lilly, ATC's technical sales manager, "The SCM25A Pro was first released in 2010 and has proved to be both exceptionally popular and a valuable tool in the modern studio. However, we knew we could make improvements to performance, and offer improved in-house consistency with the rest of the Pro product range."
New for the Mk2 version is ATC's SH25-76S 'dual-suspension' high-frequency driver that employs both an upper and lower suspension to better support and control the coil and dome motion. This allows a narrower magnetic gap, resulting in higher magnetic flux which, in turn, extends the high frequency response and reduces third harmonic distortion. The sound of the Mk2 is very similar to the original, but with improved high-frequency performance, due to lower distortion compared the original.
The mid-band is still handled by the renowned ATC-built, three-inch (75mm) soft-dome mid-range. Its combination of high efficiency, high power handling, low distortion and wide dispersion ensure class-leading performance in this critical frequency range. This component is a mainstay of ATC's product range, ensuring consistency from near-field to main-monitors.
Supporting the mid & high frequency elements is a 6.5-inch (164mm) proprietary bass driver featuring a carbon loaded paper cone. The driver motor employs a short coil, operating in a long magnetic gap, helping to minimise distortion generated by drive force modulation. In addition, a large two-inch (50mm) voice coil and generous excursion capability ensure outstanding dynamic range.
The tri-amplified class AB MOSFET amp pack provides 235W of exceptionally clean power and with very low levels of noise. Drive unit integration is handled by three-way Linkwitz-Riley filter network, with the addition of two all-pass stages to achieve the best possible phase response through the crossover regions, audibly improving the tonal balance and stereo imaging."
TransAudio's President, Brad Lunde, added, "This is the step we've been waiting for. Now a completely consistent family sound from smallest all the way to the 150s. This enables the user to choose the right size monitor for their application and still get the same great ATC sound."
The ATC SCM25 Pro Mk2 is now available to order. USA MAP Price $9490/pair. More info here.