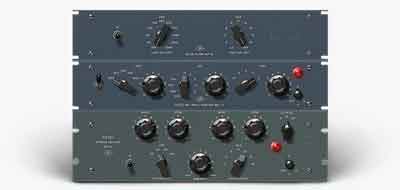 Universal Audio Inc. (UA), a worldwide leader in audio production tools including Apollo and Volt audio interfaces, UAD plug ins, UA mics, and UAFX guitar pedals, is proud to announce the addition of the Pultec Passive EQ Collection to UAD Spark, UA's plug in subscription service. With this update, UAD Spark is now also compatible with native Apple M1 Silicon based Macs.
Available natively for the first time ever (no UA hardware required), the UAD Pultec Passive EQ Collection gives music creators the most authentic plug in emulations of the greatest tube equalizers ever made for sculpting vocals, guitars, bass, drums, and more.
Originally developed as a UAD Powered Plug-In for the award-winning line of Apollo audio interfaces – and one of UA's best-selling plug-ins of all time – the Pultec Passive EQ Collection for UAD Spark leverages extensive end to end analog circuit modeling to capture the full essence of the highly coveted vintage hardware.
"It's fitting that the Pultec EQ Collection is now available in UAD Spark, alongside plug ins from so many other iconic audio brands," says Bill Putnam Jr., CEO of Universal Audio. "We created UAD Spark to bring the sound of the best studio hardware ever made to all music creators, and these classic equalizers certainly belong in that category."
The Pultec Passive EQ Collection is available to demo free for 14 days in UAD Spark, with an exclusive 30 day trial for Volt audio interface owners. Featuring over 20 plug ins, with titles from Neve,® API,® Moog,® Lexicon® and more, the UAD Spark subscription is available for $19.99/month.*
* UAD Spark plug ins are available for Mac (Windows coming Fall 2022); no UA hardware required.
Key Features: Pultec Passive EQ Collection
EQ collection includes plug-in emulations of EQP-1A, MEQ-5, and HLF-3C units
Sculpt vocals, guitars, drums and more with the sound of the greatest tube EQs ever made
Get pro sound quickly with over 100 presets from Jeff Balding, Richard Dodd, John Paterno, The Glitch Mob, and more
UAD Spark now compatible with native Apple M1 Silicon based Macs.
Learn more about the Pultec Passive EQ Collection: www.uaudio.com/uad-plugins/equalizers/pultec-passive-eq-collection.html