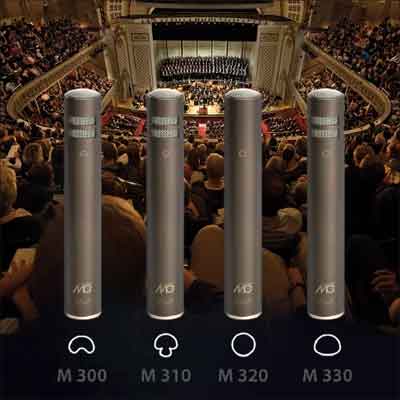 The M 330 (wide-cardioid), presented for the first time at Prolight & Sound 2022 and Hamburg open 2022, completes the proven M 300 series and expands its range of applications in the professional and semi-professional sector.
The small-diaphragm microphone is particularly suitable for vocal and instrumental recordings in both mono and stereo applications.
It is recommended for choir, grand piano, percussion overhead, plucked and stringed instruments, as well as for sound reinforcement applications even under acoustically demanding conditions, e.g. in churches.
As a wide cardioid, it is positioned between omnidirectional and cardioid. As with the cardioid, maximum cancellation is also found at an angle of 180°, but this is less pronounced with the wide cardioid.
Like all microphones in the M 300 series (M 300/cardioid, M 310 /supercardioid, M 320/ omnidirectional), the M 330 is a compact studio-quality condenser microphone.
The microphones have a wide, smooth, frequency response that is practically linear for a wide range of sound incidence and have a smooth treble boost rising to about 3 dB between 6 and 10 kHz. The bass end is excellent for pressure-gradient microphones, with the -4dB point being at a low 20Hz for the M 300.
Even though the design of the M 300 series resembles that of most other small-diaphragm condenser microphones at first glance, there are some significant differences.
The housing of the M 300 capsule used, with a gold coated 16 mm mylar diaphragm, for example, is not made of metal, but of ceramic. This ensures optimum temperature resistance.
The capsule design here is based on experience gained in the development of robust and highly sensitive Microtech Gefell test and measurement microphones.
Another advantage is the capsule protection by a three-layer wire mesh on the front side and a two-layer mesh for the rear openings.
On the electronics side, sophisticated technology is used for powering the circuits and capsule bias.
A new low-noise hybrid integrated circuit and transformerless circuit design provide an extremely wide dynamic range with very low self-noise and high operational reliability.
To ensure the highest quality, the phantom power is boosted significantly via a DC/DC converter. This high polarization voltage provides the impressive sound pressure level and reduces the inherent noise to a minimum.
In addition, the polarization voltage is delivered to the capsule via an optocoupler, which decouples the supply, reduces ripple and virtually eliminates phantom power noise and/or spurious.
The electronics here are based on a special optically isolated power supply technology in which a high-intensity LED fed directly from phantom power exposes a photocell that drives a DC-DC converter. This innovative approach isolates the current rails of the capsule bias and impedance converter from the phantom power, resulting in very low noise floor.
This effectively does the job of a transformer, without the ringing or bandwidth limiting normally associated with it.
By supplying pure DC power to the capsule, one gets both improved performance and lower inherent noise, especially in the wideband range. RFI protection is high, so susceptibility to radio interference is extremely low.
The M 300 series connects via a 3-pin XLR connector and requires 48 V phantom power according to IEC 286-15.
The microphones are also available as a stereo set - as a matched pair, complete with MH 93 microphone mounts, stereo rod and carrying strap (except for the M 320, which is supplied without stereo rod and carrying strap).
More at https://www.microtechgefell.de/