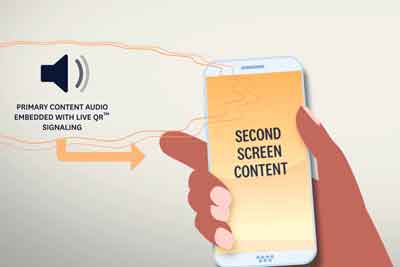 Audazzio, an innovative software startup and recent participant in Comcast NBCUniversal's SportsTech Accelerator program, announces the first wave of the rollout of its proprietary "Live QR™" technology, which leverages ultrasonic, data-encoded sound waves to instantly synchronize handheld devices, creating valuable second-screen opportunities on viewer phones and tablets. In much the same way that a QR code graphic provides a unique digital fingerprint for a variety of uses, Audazzio's Live QR algorithm encodes data as sound that is ultrasonic (inaudible) to the human ear but perfectly discernable by mobile devices – opening the door to a whole world of applications for savvy broadcasters, sponsors and beyond.
Audazzio provides clients with tools used to improve messaging directly to fans in real time, either at home or in a stadium or arena. And crucially, it provides clients the ability to understand exactly who is engaged with a game or event, creating proximity marketing opportunities previously unavailable to sponsors and broadcasters. Sports broadcast and in-person event experiences are obvious areas of application for this technology; however, this only scratches the surface of the possible applications of these technologies, which are already being workshopped for functions far beyond sports and telecast.
Audio and video industry veteran Danny Abelson serves as Chief Operating Officer, overseeing day-to-day operations of the fast-growing and disruptive solutions-development company. Abelson manages all aspects of the business, including product strategy and ideation, business development, engineering, administration and marketing. Abelson is charged with leveraging Audazzio's proprietary technologies to create new fan and guest experiences in the broadcast, sports and live event markets. Abelson joined the organization after serving as its Lead Mentor in Comcast NBCUniversal's SportsTech Accelerator program.
Additionally, Abelson has drawn on his years of experience in the industry to assemble a leading advisory team that includes Fred Aldous, a 27-time Sports Emmy award-winning audio engineer whose career spans several decades and is credited with forging new ground for live surround mixing in sports, including the number-one spectator sport in the U.S., NASCAR. Aldous has designed systems and mixed audio for FOX Sports, CBS Sports, NBC Sports, ABC/ESPN, MTV, Turner Sports, Showtime, HBO and countless others, working on such high-profile events as Super Bowls, the Olympics, multiple World Series games, NCAA National Basketball championships and Daytona 500s. Joining Aldous is Roger Charlesworth, a multi-disciplined audio and television professional who currently works as an independent consultant on media production technology. Among his primary focuses is the integration of mainstream IT with the television production landscape, and the accompanying challenges of change management in re-engineering traditional TV workflows. As an industry expert on multi-channel audio for television, Charlesworth also serves as Executive Director of the DTV Audio Group, an organization of senior-level broadcast network executives promoting best practices and successful strategies for the production and distribution of audio for digital television and related media, with the goal of facilitating expanded personalization, universal accessibility and advanced surround sound. In this role, Charlesworth is active in standards development efforts with AES, ATSC, CTA and SMPTE. His consultancy on numerous music specials and live entertainment productions has led to advisory roles in live audio production with ESPN, Fox Sports, NBC Sports and Warner Media.
Abelson remarks, "Audazzio's Live QR technology coordinates second screens to enhance consumer's primary experience while creating a new revenue stream. It removes the need to scan something, and therefore the frustration often associated with a traditional QR code, Live QR technology can deliver powerful, fully coordinated, second screen experiences for the most passionate of audiences, whether at a live event or watching TV. Anywhere there's a sound system, Audazzio can change the content on mobile phones and tablets, effortlessly and silently. We call it frictionless engagement. It is a whole new marketing channel. We feel that we are on the precipice of something truly game-changing. The sky is the limit, and possibilities are limited only by the imagination."
Audazzio will have further important announcements in the coming weeks. Visit www.audazzio.com/explainer for a video primer on Audazzio's Live QR technology.