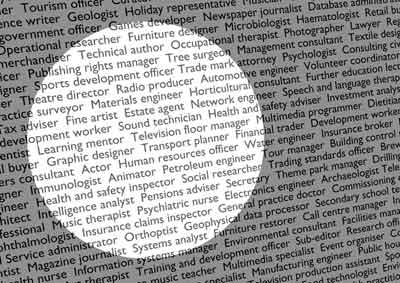 Well, last month I knew I'd piss some people off, and boy did I ever! Reading back on some of the comments I got accused of being a bully, a liar, and (gasp) un-Canadian. I also got called out for not offering any solutions, and Andy was right! As an instructor of young people who are entering this industry (and many other industries), I should "provide knowledge"! So, here is… a follow-up to last month's article "Don't go away bitter, just go away!"
If you didn't get a chance to read the article, it basically talks about a friend who posted on their Facebook page that they just got laid off, and suddenly "Radio sucks, it's an awful business, radio is dying, and everyone should just leave right now".
This month's article is about "what do we do next". Radio is NOT a career that will last forever anymore, so what do you do with all those skills AFTER you've left radio? Thankfully, almost all of them are transferable skills to MANY other careers and industries. Whether you realize it or not, you learned a ton of stuff while working in radio. Problem Solving, Organizational skills, working in Teams, writing skills, meeting a deadline, technical skills, attention to detail, multi-tasking skills, and so many more. And let's not forget the most important one…Communication skills -- dealing with sales people, listeners, clients, fellow employees, speaking confidently in front of a large audience, ability to ad-lib. ALL of those can be transferred to another career. The most important thing is to be ready when it is time…or better yet, plan your own exit strategy. Seriously, do it now. One day it will happen and you should be ready. Last month's article basically said how shocked I was that people who were laid off, didn't see it coming. There were signs, but they refused to see them. They thought they were invincible. They learned, unfortunately the hard way, that everyone is replaceable. But, what's next?
Below is a list of some of those careers (outside of broadcasting) that former radio people now do.
Communications Liaison for Municipal Government
Communications and Marketing Advisor
Promotions Director for Community Services Organization
Public Outreach Coordinator for Provincial Mental Health
Founder / Owner of Media Management Company
Media Liaison for Municipal Police Force Department
Event Planner / Coordinator / Organizer
Political Communications Advisor
Media Relations for Fire Sales
Corporate Digital Specialist
Digital Engagement Strategist
Manager of Marketing and Communications
Digital Marketing and Growth Manager
Press Secretary for Provincial Government
Fitness Instructor
Digital Communications Advisor
Video Producer for magazine website
Calgary Firefighter
Project Manager
Tour Manager for Musician / Theatre
Brand ambassador – Field Marketing and Promotions
Media Relations for Police Association
Not for Profit Communications Advisor
Corporate Writer
Social Media Coordinator
Marketing Specialist
Media Liaison Officer for City
Political Consultant
Travel Magazine Writer
Corporate Communications Director for College
Manager of Corporate Communications
Post-Secondary Public Relations Specialist
Alumni Development Liaison for College
Real Estate Agent
On-Line Content / Marketing Director
Communications Officer / Specialist for Government
Digital Broadcast Journalist for Magazine
Public Relations Director for Oil Company
Political Executive Assistant
Manager of Public Affairs
College professor / Instructor
Communications Assistant for Regional Health Authority
Manager of Multi-cultural Video Services
Public Relations Assistant for Art Gallery
Funeral Director
Air Traffic Controller
High School Communications Teacher
Home Staging Stylist
Social Media Educator
Professional Stage Actor / Actress
Professional Event Planner
Website Content Specialist
Marketing / Communications Assistant
Creative Writer for Websites
Politician
Hospital internal video production
I could go through all of them, but I'd like to highlight just one of those careers listed…Funeral Director. Believe me, I didn't see the connection either. Not until a former colleague was laid off. He had just gotten married and said he needed something more stable than radio, so he went into being a funeral director. Years later, I re-connected with him as he was the one I turned to when my mom and dad passed away. After their funerals, I asked him "Stu, what the hell did you ever learn in radio (or radio school) that could ever help you in being a funeral director?" He looked at me like I was green, he said "Richard, I learned almost everything I ever needed from radio to be successful at this." Now, I should explain, he does not do the embalming, but he "directs" the funeral. He attends to all the details, and believe me, there's a lot to do when it comes to a funeral. He plans the whole event, it's not like a concert or a movie premiere. It's a sad event, but it still needs to be coordinated, organized, booked. Schedules for the church, the funeral home, the priest, the cemetery…they ALL need to be taken care of and organized (Organizational Skills and Attention to Detail). It takes several people to make this event happen, and it needs to be perfect because they are all already crying (working in Teams, meeting a deadline, being dependable). He is communicating, not with just his team, but with the family…at the worst time of their lives. Writing skills for the newspaper posting, or the pamphlet (Spelling, Grammar…maybe not much creativity though). Technical skills are needed to make the video and make sure the audio / video system works right, the first time, because there are no make-goods. That's where the problem-solving skills kick in. And then there's the financial side, taking care of how much it all costs (Budgeting).
He was right, radio gave him SO many skills that were completely transferable. Now, if those apply to being a funeral director, well it's pretty easy to make the connection to damn near any career. All of those ones listed would need some of the skills acquired and fine-tuned through radio. And this is just the tip of the iceberg. If you can think of any other careers, feel free to put them in the comments section. Now, you just need to decide "what you want to do with them".