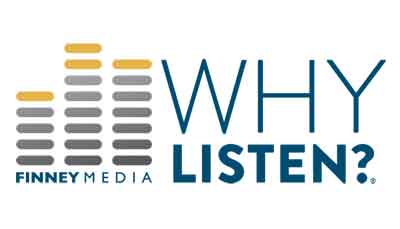 Finney Media, a Christian Media consultancy based in Southlake, Texas, is releasing its new survey findings from the 2021 Why Listen® Survey. The nationwide survey takes a look into the attitudes and behaviors of Christian radio listeners in Listenership Reasons, Tuneouts, Giving and other key measures. Expanded this year was a look into how listeners are engaging with their Christian radio stations and programs through podcasts and social media.
"The past year has changed the way many of us work and live," said Chuck Finney, President. "Christian radio has been that safe haven for so many during a very difficult year. The Christian broadcaster's role continues to evolve."
Among the findings in the 2021 survey, Christian radio listeners are highly likely to recommend their Christian radio station or program to friends and family. This year's Net Promoter Score overall of +77, moved up from +71 from the 2018 Why Listen Survey.
Nearly 11,000 Christian radio listeners of Contemporary Christian Music (CCM), Teaching Stations/Programs, and Hybrid stations from around the United States participated in the survey, the third Finney Media Why Listen® Survey. Previous surveys were conducted in 2016 and 2018.
Additional insights will be released from the survey throughout the year. President Chuck Finney will present top level findings for Christian music stations at the 2021 CMB Momentum Conference happening June 2-4, 2021 in Orlando, FL.
Christian radio professionals and those interested in gaining more insights from the survey findings can sign up for a special Why Listen® Results Webinar happening on Tuesday, July 13, 2021 at 12 p.m. central time/1 p.m. eastern time. For more information visit www.finneymedia.com.