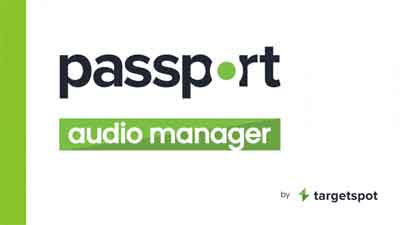 Targetspot, a fast growing audio adtech company, is announcing the private beta launch of Passport Audio Manager, a new platform that allows small and medium sized businesses to manage their digital audio campaigns as easily as a Facebook or Google campaign.
Targetspot continues its efforts to innovate and develop solutions that democratize access to digital audio supply with its proprietary technology. With Passport Audio Manager, brands and agencies, especially in the SME or middle market segment, can tap into the power of sound and the phenomenal growth of digital audio consumption. It's as simple as running their online marketing campaigns.
The new Passport Audio Manager platform allows the creation, planning, management and optimization, tracking and reporting of advertising campaigns in digital audio.
Passport Audio Manager is a proprietary technology, entirely designed and developed by Targetspot. The advantages of this new platform are easiness of use, greater flexibility and endless possibilities for personalization, end-to-end connectivity, targeting and attribution.
"We are launching Passport Audio Manager, initially in private beta testing mode, with a string of strategic partners (media agencies and brands) in the US," explains Eric van der Haegen, Strategic Partner Development Director at Targetspot. "We are looking to gather opinions and feedback first in North America as we prepare for a full-scale global launch in early 2022 ."
N.Y. based agency Fifteen Degrees is one of these partners, already providing very encouraging feedback as explained by Richard A. Clarke, its Director of Client Services : "With Targetspot's buying platform we are able to build targeted campaigns and reach a precise audience market by market, having total buying control and comprehensive tracking and reporting. It's a game changer for our business. The platform is so easy to use, with a dashboard providing full, easy control for us and campaign analytics quickly."
"Targetspot's proprietary technology allows our team to continually innovate solutions that will drive benefits for brands and publishers with Digital Audio. The development of Passport Audio Manager is the most recent example. This new product will allow us to enhance and customize our offering to the market," explains Dominick Milano, SVP/Sales & Business Development North America "This is a unique opportunity for brands, typically those not connected to an audio DSP, to manage their own campaigns and add digital audio to their mix, with a tool as simple and familiar as Google Ad or Facebook Ads Manager." It's also an opportunity for local market radio sales teams to expand their digital audio scale and capabilities. "
About Targetspot
Targetspot, part of AudioValley, is a global Adtech company, pioneer in digital audio marketing solutions to connect brands to their audience through a premium portfolio of publishers across all dimensions of digital audio. Thanks to a proprietary set of technologies, we provide convenient end-to-end integration between brands and publishers for direct and programmatic advertising, lasersharp cookieless targeting, and advanced attribution. For more information visit: www.targetspot.com.