MIDI 2.0, the next-generation music and arts specification that enhances virtually all aspects of 1983's original MIDI 1.0 spec, made its world-wide debut at the Winter NAMM music industry trade show.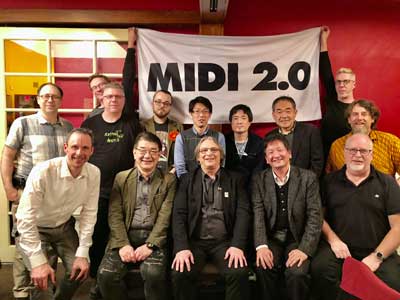 Current MIDI users wanted more nuanced expressiveness, higher resolution, and increased ease of use, but also demanded backward compatibility with the billions of existing MIDI 1.0 devices. The suite of MIDI 2.0 specifications adopted at the Winter NAMM 2020 meeting of the MIDI Manufacturers Association delivers on those promises.
Manufacturers can now start creating products with confidence that they will work with not only with new MIDI 2.0 gear, but with legacy MIDI gear as well. Furthermore, Roland introduced the A-88 MK—the first MIDI 2.0-ready controller keyboard. It realizes MIDI 2.0's promise of greater expressiveness thanks to higher controller and velocity resolution, coupled with the ability to take advantage of MIDI 2.0's vastly extended range of controllers.
MIDI 2.0 educational sessions that were part of the A3E (Advanced Audio + Applications Exchange) attracted overflow crowds, underscoring the interest in what many are calling the most significant advance in the music industry in decades. The MMA also had a booth presence on the show floor itself, giving MIDI device manufacturers the opportunity to demonstrate their latest products to dealers, musicians, and the media.
Meanwhile, The MIDI Association—the free, global community of people who work, play and create with MIDI—continues to grow. Now with over 23,000 members in 113 countries, the midi.org web site has become the epicenter for everything relating to MIDI, including news, applications, articles and tutorials, downloads of the MIDI specification, discussion forums, and more.
According to industry veteran Gene Joly, the MMA's current President, "MIDI 2.0 has been a long time in the making, because the industry wanted to make sure we created something that would be viable for decades, be ready for new technologies, and retain backward compatibility with existing MIDI gear. And once again, the music industry has proven it can do what few other industries have done: set aside competitive differences, and join together for the good of creative artists around the world."
More at www.midi.org.