PreSonus has released several new State Space Modeled plug-ins in VST, AU, and AAX formats, including the Ampire State Space Modeling amplifier and effects suite. The company has made its Channel Strip plug-in collection and Fat Channel XT plug-in available in VST, AU, and AAX format, released a free VU Meter plug-in, and lowered prices on its Fat Channel Collection plug-ins.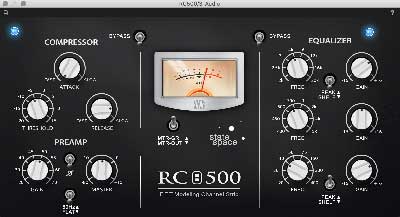 These are the first State Space Models ever released in VST, AU, and AAX format; previously, PreSonus has only used this meticulous modeling technology to develop Studio One® Native Effects plug-ins.
The newly updated Ampire plug-in features all-new State Space models of classic amplifiers and pedal effects. State Space Modeling is a mathematical method of transferring each component of an analog circuit into the digital domain while maintaining the unique sonic characteristics of the original hardware. Ampire offers five new State Space-modeled amplifiers, 13 effects pedals, and 16 impulse response-based cabinet models, plus a user model to load in custom IRs.
The new amp models include the MCM800 1980s-vintage British high-gain amp; VC30 1970s-vintage British amp with signature tremolo/vibrato; Blackface Twin, a 1965 American amp known for its clean sound and spring reverb; Dual Amplifier, a heavy metal standard for high-gain sounds; and Amp STV, a model of the legendary late 1960s bass beast. In addition, Ampire introduces an updated pedalboard featuring State Space Modeling re-creations of several classic pedals, a precision tuner that is switchable between Standard and Strobe modes, and a choice of user interface options. A separate Pedalboard plug-in with just the pedalboard and 13 stompbox effects models is included with Ampire.
Ampire is available in VST3, AU, and AAX formats for a U.S. price of $59.95 from the PreSonus Shop. Studio One Prime and Artist users can upgrade their Ampire experience with this Add-on. Studio One 4 Professional users will receive a complimentary license for Ampire in VST3/AU/AAX formats.
PreSonus has also made its Fat Channel XT plug-in and Channel Strip Collection available for the first time in VST3, AU, and AAX formats. Additional Fat Channel XT compressor and EQ models are available as Add-ons for Fat Channel XT. Fat Channel XT and Channel Strip Collection are available for a U.S. street price of $59.95 each. Please visit the PreSonus Shop for Fat Channel XT and other Add-on bundle options and pricing. Studio One 4 Professional users will receive a complimentary license for Fat Channel XT in VST3/AU/AAX formats.
To top it off, PreSonus is offering a free VU Meter VST3, AU, and AAX plug-in with a built-in correlation meter and variable sensitivity. Finally, the company released its free PreSonus Hub universal plug-in manager application for macOS and Windows.
For more information, please visit the PreSonus Shop at https://shop.presonus.com.