FirstCom Music, a division of Universal Publishing Production Music (UPPM), has partnered with Capitol Studios to create the new production music label, Capitol Studio Masters. This marks the first time that the sister companies have come together to combine the power of their iconic brands, legendary genres, and world-class artists. The collection is designed to represent the spirit of Capitol's history with relevant music spanning virtually every generation and every genre.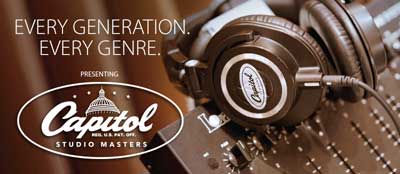 "Capitol Studio Masters has been carefully curated to capture the energy and legacy of the iconic Capitol brand," says Michael Sammis, President of UPPM. "We are extremely proud to be working with our sister company on this landmark musical partnership."
"Our legendary studios are where countless hit records were born and today's top talent comes to record," said Paula Salvatore, Vice President Capitol Studios. "We are delighted that we have now inspired the Capitol Studio Masters label, which promises to bring our definitive music experience to a variety of producers and editors."
Capitol Studio Masters is a collection of curated original music recorded, mixed and mastered at the iconic Capitol Studios and will adhere to the studios exceptionally high recording standards. The collection is designed for content creators in Film, Broadcast and Advertising, and offers tracks with stems for custom mixing and VR/AR environments. The Capitol Studio Masters Label debuts with 4 albums:
Classic Rhythm & Blues: A rhythm and brass powered homage to classic R&B. Propelled by legacy performers to deliver bass ripped, funk inspired power sessions of delicious riffs, hooks and grooves from the golden era of R&B. Recorded and Produced by Tom Hambridge.
Best Beach: A love letter to the laid-back Cali beach scene! Conceived as an updated SoCal beach style very much in line with what's happening with this sound now. West Coast pop and indie songs featuring the band Saticöy among others.
Feature First: Capitol has a rich tradition in feature film and soundtrack recording. Feature First pays tribute to that tradition while being true to form in current film sound and attitude. This album is powerful in scope with emotional string orchestra scores as the driving, unifying sound. By film score and sound designer Marc Aaron Jacobs.
Open Notes: Not your traditional Jazz, this unique approach takes the classic trio and adds a splash of sonic creativity to weave a web of intriguing underscores, powerful themes and moody atmospheres all delivered through virtuoso performances by M. B. Gordy, John Adams and Steve Fawcett.
Soundtrack of Dreams – Coming Soon: An expansive, cinematic and atmospheric blend of emotive synth pop and shoegaze electro. Swelling synthesizers, tepid drumming, scattered bass-lines, saxophones, and a seemingly endless supply of guitars - creates swelling and over-the-top synthetic stadium-prog that builds to a beyond-satisfying crescendo.
All tracks are available for licensing exclusively via FirstCom Music in the US and Canada. The label is soon to be available via Kapagama in France and Universal Production Music in the rest of the World.
Capitol Studio Masters has built relationships with top composers, artists and musicians including film score and sound designer Marc Aaron Jacobs, Grammy winners Tom Hambridge and M.B. Gordy, and up and coming artists such as Saticöy, who bring a contemporary approach to the offering. M.B. Gordy, featured on CSM "Open Notes" album, is best known for his work on I, Robot, The Core, Transformers and Spider-Man. His filmography includes hundreds of credits in notable productions spanning four decades. Gordy won his first Grammy in 2018 for his work on the album "Opium Moon".
Alt-Pop innovators Saticöy, featured on CSM "Best Beach" album, went public in September 2018, after a 6-month self-described "incubation period", with their debut single "Faded from Color". Self-written, self-produced, and self-promoted, the group has maintained a refreshingly unique take on modern indie-pop. When asked about the project band member Jaron Takach, said, "We'd best describe the music we made for this project as beachfront Dream Pop. Being in the Capitol Studios building was surreal. To be involved with the studio that once recorded the likes of Frank Sinatra and The Beach Boys, even in as small a role as we played, is incredible."
"Our creative vision was to reflect on the artists that represent the legacy of Capitol Records and Capitol Studios and to create a collection that pays homage to the styles of those artists." says Ken Nelson SVP, Head of Global Production UPPM/ Executive Producer, FirstCom Music. "We had the resources to bring the best artists and composers to this project and the result is a very authentic sound of exceptional quality. We are confident this will be an incredible resource for our clients."
About FirstCom Music
FirstCom Music, a leading production music services provider for nearly four decades, offers the most comprehensive music solutions worldwide. With more than 260,000 tracks, FirstCom Music is dedicated to providing high quality, easy-to-license music to the production community.
Founded in 1980, FirstCom Music was one of the first to release production music libraries on compact disc. Today, FirstCom Music produces and markets music services for Broadcast, Film, and digital media content creators in the U.S. and abroad. FirstCom Music is located in Dallas, Texas with offices in Los Angeles, California and New York, New York. FirstCom Music is a Universal Publishing Production Music company. Find out more at: http://www.universalmusic.com.
About Capitol Studios
Capitol Studios is part of Capitol Music Group, which consists of Capitol Records, Virgin Records, Motown Records, Blue Note Records, Astralwerks, Harvest Records and Capitol Christian Music Group and the company's independent distribution and label services arm, Caroline.
For over 60 years, Capitol Studios has been where many of the world's top musicians have come to collaborate and record their most important projects. Housed in the historic Capitol Tower in Hollywood, Studio A and B have hosted legends ranging from Frank Sinatra, Dean Martin and Nat King Cole to Bob Dylan, the Beach Boys and contemporary greats such as Green Day and John Mayer. Capitol Studios specializes in live recording sessions, webcasts, string dates, mixing to film shoots and videos, as well as mastering to vinyl. Capitol Studios was completely renovated with state-of-the-art analogue and digital technology in 2014. Its staff maintains its commitment to sonic integrity and to fostering an environment of creativity and energy. The studios, including their world-famous underground echo chambers, are a creative beacon for producers, engineers and recording artists the world over. Find out more at https://www.capitolstudios.com/studios/.