DVR250-DT is a groundbreaking reverb unit that brings vintage reverb, glistening sway and sweet character to your DAW.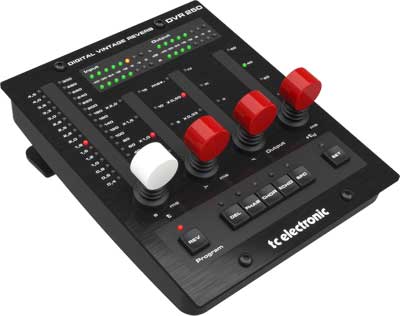 Software meets hardware
With its original fusion of software processing and a hardware interface, DVR250-DT captures the amazing sound and unique tactile controls of one of the best sounding reverb effects ever designed, the EMT 250 Electronic Reverberator.
In the hands of celebrated sound smiths, such as George Massenburg, Kendrick Lamar, Nick Hook, Brian Eno and Bruce Swedien, however, the legendary EMT 250 has branded itself solidly into the very fabric of music. Like its 100 lb. forefather, DVR250-DT sounds absolutely amazing on everything from lead vocals and synths to drum hits and percussion. Actually, it's the perfect match for any track that needs sonic perfection and a warm vintage vibe.
DVR250-DT features
Hardware controlled plug-in emulates the iconic EMT 250
VST, Audio Units and AAX plug-in processing
Dedicated desktop interface with intuitive hands-on control
Built-in echo, delay, chorus, phasing and space effects
The TC ICON Series
DVR250-DT is part of the TC ICON series, our trailblazing range of hardware-controlled effect plug-ins. With their superior algorithms, fun and intuitive hardware controls and seamless DAW integration, these modules are ideal additions to any modern studio environment. Price: US$ 349.99 MAP. Read more.